Ever since adhesive companies like 3M came up with high-quality sticker materials, companies have slowly but surely been licensing brands, logos and artwork to help us personalize our laptops, car windows and personal electronics. The first generation were a pain to work with because the stickers were often too sticky: put them on slightly wrong and you were quite literally "stuck" and lifting corners to erase stray bubbles or seams could end up ruining the skin and leave it unstuck on one side.
The latest generation are a huge improvement with their increased thickness and extraordinary vivid color retention. They can be cut into extremely accurate forms and custom fit whatever device you have. With iPhones, they wrap around the back of the phone and include cut-outs for the camera lens and an irregular edge that neatly extends the sticker without covering up any of the controls.
But are they worth it? Should you rush out and drop $15-20 to emblazon your favorite band, artist or comic book hero on the back of your iPhone?
To find out, I was given sample skins from the two main players in this market: GelaSkins and MusicSkins. Both use the exact same 3M film, and both seem to use the same die to cut their stickers to fit the iPhone, so the difference is primarily in the graphic itself. But there's more to it than that, as you'll see…
Since both use the same sort of film, let's get that experience out of the way first, because both had the same problem and gave me a very similar result on my Apple iPhone 3GS, one that was cool, but not perfect.
The problem I faced was that neither of them actually went on perfectly and both had tiny little folds and bubbles along the edges, even as I exerted rather a lot of pressure trying to smooth them down.
Let's start with the imagery, though: The GelaSkins skin was from a graffiti artist and was quite striking to see, as you can see below, while the MusicSkins skin was based on the terrific Sgt. Pepper's Lonely Hearts Club Band album cover from The Beatles.
Here are both of them: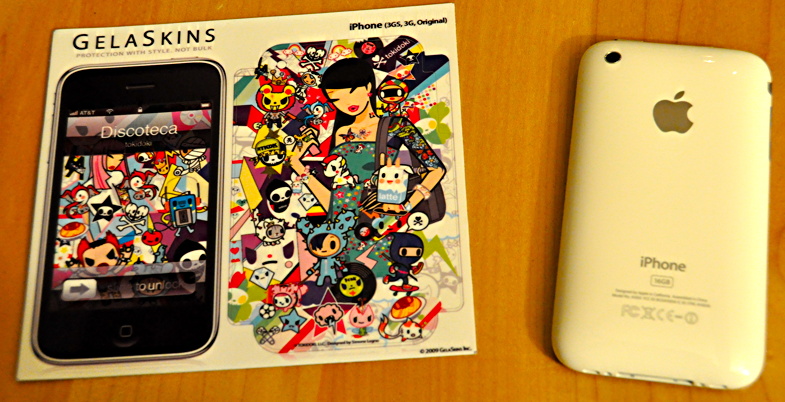 GelaSkins "discoteca" design for the Apple iPhone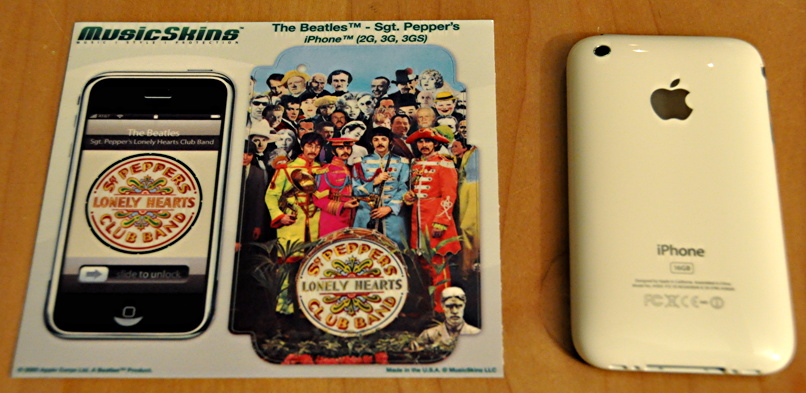 MusicSkins "Sgt. Pepper's Lonely Hearts Club Band" design for the Apple iPhone
The first thing that'll strike you when you look at these is that the left side image that suggests there's an included wallpaper for your phone screen? There isn't. It's just part of the printing, but not anything you can actually use. Kinda weird and wasteful, actually.
They peel off from a corner, giving you a sense of the thickness: these feel just about impossible to tear: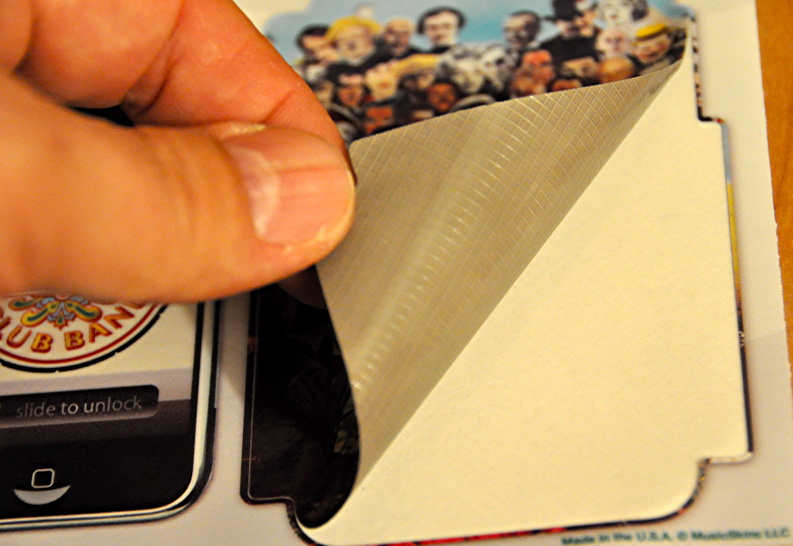 Next step is to carefully line things up and put the skin on your iPhone/device. Here you can see the Discoteca skin partially affixed:
Try as I might, though, I could never get rid of every single imperfection on my phone. In fact, both skins had exactly the same imperfections, which makes sense when you remember that they're the same product, just different print jobs. Here's a close up:
Can you see those spots I've circled? Yeah, maybe I want perfection, but it
is annoying
when you want something to be smooth and it's not.
If the only difference between the two companies was the printed image on the skin, that'd be the end of the review, but Gelaskins goes further and has matching wallpaper images you can install on your iPhone too, which makes for a nice unified appearance. Better yet, it's a free download from the App store so you can just grab
Wallpapers by GelaSkins
[iTunes link] and explore the many different artists they're working with on this app and the skins.
Go through their app and you'll see lots of cool images: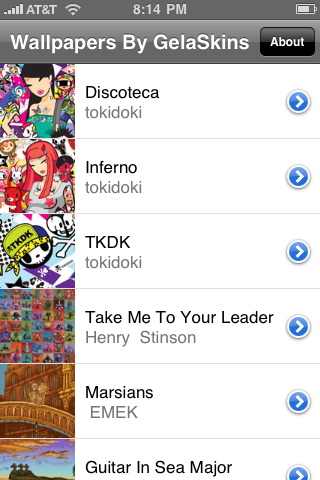 Pick the one that matches (or one that looks cool) and save it, which puts it in your photo album. Now go find it there, and tap on the Use As Wallpaper button:
This might seem unrelated to the iPhone skin review, but a quick glance shows that the two companies aren't offering up the same product after all, even if they're using the same sticky material. MusicSkins is all about the imagery they've licensed, while GelaSkins is looking at the entire experience of customizing your iPhone or other device. If all you want is a sticker on the back of your phone, both will work fine, but if you want something consistent on both sides of the device, GelaSkins is a superior choice.
Me? I tried both, enjoyed them (though was bugged by them not being a perfect fit) and ultimately went back to my hard case because I figured my iPhone just needs a bit more protection than they offered.