If you're highly mobile, if you travel to trade shows or just walk around campus all day, or perhaps if you take long plane flights, you already know that for all the great features of the Apple iPhone, extended battery life ain't one of them.
Indeed, when we recently attended the 2009 Consumer Electronics Show it was by the end of the first day when it became apparent that the iPhone just didn't have the battery longevity we needed.
That's why we decided to test out extended iPhone compatible batteries at the show, seeking out vendors and asking them for samples and demo units. Most of them were not very good and I'll note that when I tried one that was powered by a pair of AA batteries it died before even completing a single charge. Useless.
Fortunately, I did find one that I was very impressed with, the Power Air Zpowerpac13 and have subsequently been sent a second that's also very good, the morphie juice pack.
The two are quite different products, with the Zpowerpac a more traditional secondary battery with a funky wire connector that lets you plug it into the iPhone, and the juice pack a sort of iPhone case that's just really fat but connects directly to the phone, no wires needed.
There are two factors to consider with these devices, particularly when traveling: charging power and simplicity of traveling with the device, what I call the "chance of losing some critical part" factor.
Batteries are also rated by milliamp hours (mAh) and I will say that when I looked at the different options, they were all rated 900 mAh, 1100 mAh, 1500 mAh. Sounds good until you see that, because of a different battery technology (Lithium Polymer), the Zpowerpack is rated at 4200 mAh.
For example, the much advertised Richard|Solo backup battery is rated at 1200 mAh (for $49.99). Yeah, 4200 mAh is quite a powerful battery.
The drag? While I can find information about the Zpowerpac13 on the company's site, I can't find anywhere you can actually buy one as of yet and they don't answer email queries so it's hard to tell if it's even a viable commercial product at this point.
On the other hand, mophie is definitely in business.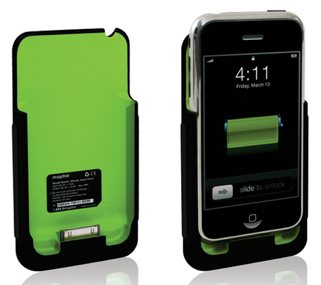 the mophie juice pack

The other device I received and am highly impressed with is the
mophie juice pack
. It's only 1800 mAh, by comparison, but the form factor and design are both so perfect that it's actually my favorite. It's expensive at $99.97 (jeez, can't we just say "$100" and get it over with??) but if you've ever had your iPhone die, you'll understand why it's such a smart investment.
To be fair, it's ugly, but they tell me that there's a new design coming, the "mophie juice pack air", and from the pictures, it's a full-on case design and is slimmer, but with the spare battery. The new one's only 1200mAh, which is suboptimal, but it might well be a good trade-off and it's definitely better than a case that doesn't offer any additional battery life.
Anyway, this is a weird sort of category to think about if you're a light iPhone user, but if you find that the battery just ain't what you need, a second battery can be a life saver. The battery extenders that work with two AA's, however, are completely useless, and what you do want to get is therefore a function of the form you desire and the trade-off you're willing to make of size versus power.

Now if only Powerair Corp would come out with the Zpowerpac13 in retail channels, it'd be a great alternative too, but until then, I guess I'm just really lucky to have one in our offices…