It's just sitting there in the App Store, laughing at you atop its price tag of $6.99. Why in the world would you spend your hard-earned money when there's so much awesome free stuff in the iOS App Store?
Answer: It's bloody well worth it.
Do you like the idea of being a powerful swordsman that shrugs off the attacks of a titan twice his size, only to eviscerate his enemy? Do you dream of towering citadels wrought with danger, seeing them as challenges to overcome? Do you like fighting things by swiping your finger across your screen?
If you said "yes" to any of the above, you should get Infinity Blade II.
The premise is rather deep and nebulous. You, Siris, are the warrior who defeated the God King (which happens in the first Infinity Blade). Only now that you've beaten him and have his mighty sword, the Infinity Blade, every demigod in existence is going to come looking for you. We can't have that, so you try to get rid of the sword. I won't spoil anything, but things don't go well, and you end up having to defeat four guardians to free a being called the "Worker of Secrets," someone who can help you.
You accomplish this goal of freeing the worker through a kind of bizarre loop of gameplay that the original Infinity Blade is well-known for. At the beginning of every "bloodline," or life, you start in the same place – in front of the citadel that houses the guardians and the prison of the Worker of Secrets. After reaching the citadel's interior, the path splits. Down the road, the path splits more, and depending on which direction you went at each fork, you will end at one of four different locations, each of which is home to one of the big baddies. When you defeat one of the said big baddies, you unlock part of the seal that imprisons the Worker… and you die.
Turns out you're immortal, though! After dying, your next Bloodline begins in the same location in front of the citadel (as I'm writing this, I'm on Bloodline 13).

Incidentally, said citidel is gorgeous. Infinity Blade II uses the Unreal 3 graphics engine.
Now the mechanics behind how you progress through the story and all are pretty cool, but the fun part is the fighting. Every battle is a duel between you and some kind of "titan" that's much larger and possibly much stronger than you are. Titans come in all shapes and sizes, from the sword-and-shield wielding soldier who's about your height, to a massive, metal golem with an equally massive mace that will try to step on you… 'cause it's just that big.
You're not limited to one kind of weapon, though! You can use a combination of a sword and shield, dual blades, or a single, "heavy" weapon that you hold with two hands. Each category of weapon operates differently and has its own quirks, but the idea is the same: The titan that you're fighting will execute a series of attacks, and you'll try to inflict a "break" on them by dodging, parrying and/or blocking with good timing and/or coordination. When you see that lovely "BREAK" text appear, indicating that your enemy is now vulnerable to attack, you get to wail on 'em with your fingers, executing combos, casting magic spells, or possibly stabbing them repeatedly and with excessively flashy maneuvers.
Does it sound a little daunting? It is, at first, but the game is extremely forgiving to newcomers, as your enemies are both slow to act and very weak. Over time, and as you begin to understand the way the game works, enemies get harder and move more quickly, leaving you less time to react.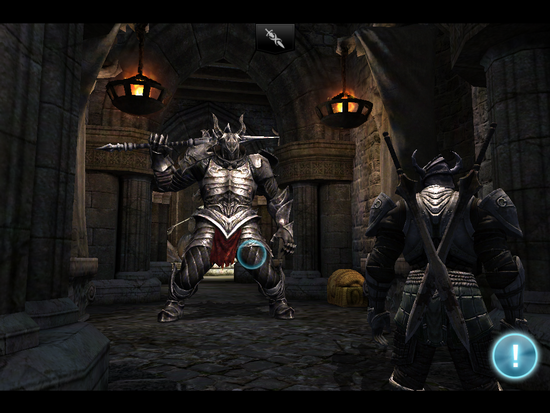 This guy would be a boss in any other game. In Infinity Blade, he's standard fare.
In fact, enemies scale with you. The more powerful you are, the stronger the titans you fight are. How do you get stronger, though? Answer: Get better items!
Almost every enemy you defeat in battle will reward you with the currency of the Infinity Blade universe. At any time outside of battle, you can access the shop in which you can buy several various types of items, including weapons, helmets, shields, suits of armor, magic rings, potions, and various other items. Each category of item has a few dozen items within it, each item costing more and generally being more powerful than the last.
Upon winning a battle, you get experience as well, but this experience is divvied up amongst the items you have equipped. For example, if you defeat an enemy and you get 5000 experience, 1000 XP goes to your weapon, 1000 to your helmet, 1000 to your armor, 1000 to your shield, and 1000 to your ring.
Once an item has gotten enough experience, you have "mastered" the item, and get a skill point to distribute into one of several stats as you see fit. You also have your own experience bar, and every time you level up, you get two skill points.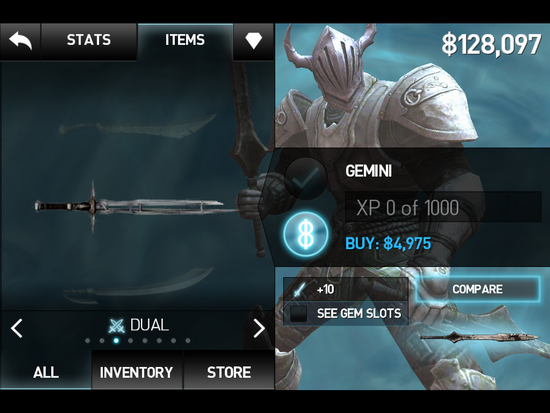 There is no shortage of brutal-looking weapons with which to strike down the next Titan.
This system of advancement means that the game boils down to what I would call the most exciting grindfest ever. You want that precious Infinity Blade in the shop? Tough, you're going to have to work for it. You're going to have to work hours for it, unless you decide to pay extra and buy a big bag of gold in the store with real cash.
It really does take a considerable amount of time to make real progress in Infinity Blade, but whether you call that a blessing or a curse depends entirely on your perspective. On one hand, it has virtually infinite replayability. On the other hand, well… it's a grind. There's no way around that.
If you don't mind the repetition, the odds are you're going to be both impressed and hooked on Infinity Blade II.
Infinity Blade II is available on the Apple App Store for both iPhone and iPad.
When not shouting at his computer screen, game reviewer Zach Comm is the chief editor for
GameCheetah.com
, a site centered on in-depth video game reviews and analysis.