I've been looking for a nice sounding clock radio that would let me dock and charge my iPods or iPhone 4, without having to break the bank. The Apple Store has some really nice ones, but at a premium price, like the terrific $399 Bose SoundDock that sounds great but requires a second mortgage.
Here's the funny thing about almost all of these iPod docks, however: they don't have clocks. Those were my two must-have items, actually. I wanted a clock so I could see the time at night, and I wanted a nice-sounding dock speaker system compatible with the range of iOS devices I own.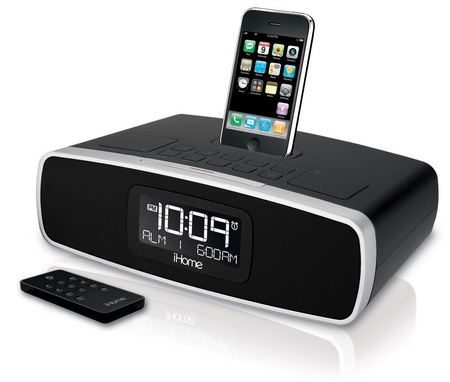 iHome iP90 ipod / iphone clock radio
Enter the iHome iP90 Am/Fm clock radio for iPod and iPhone. With a street price as low as $70 (see
Google Products
for your options), it's not breaking the bank, but it has nice sound and a lot of thoughtful features that made me glad I had it on my dresser…
Let's get the bad out of the way first, though. I don't know if it's because I live on the very edge of the Rocky Mountains, but I have yet to find a radio that has clear AM and FM reception. Yes, perhaps I shouldn't admit it, but I listen to the radio, not just Internet audio sources. In fact, my favorite FM station has a disappointingly weak signal, though fiddling with the included scrawny $0.05 FM antenna makes a tiny improvement.
Further, the audio quality of the AM stations, even when tuned in and with a decently strong signal, isn't very good. It's a marked and noticeable improvement in audio range when you switch from AM to FM. Part of this is the signal encoding system but I can't help but think that in this day and age some sort of dynamic range expansion filter for AM would be greatly appreciated by consumers.
One more complaint: the dock got confused sometimes when I was switching between my iPhone 4 and my iPod and I'd see the device think it was playing audio, but nothing was coming out of the iP90. Cycle power, no change. More than once I'd have to pull the device off the dock, power down the unit, power it back up and redock it for things to work.
Now, the good news. It's a pretty slick unit anyway and with its simple remote control and ability to sync time off the iPhone or iPod directly, it's easy to keep the clock on the correct date and time. Oh, and the display on the front? Settable brightness and it shows the date too, which is doubtless handy if you have it on a desk.
As with most iPod / iPhone devices, there are plastic inserts to make the dock the right size for your favorite device, but since I switch back and forth and — most importantly, dock my iPhone while it's in a case — I always just toss them all and leave it "naked". That's not a recommended configuration, but I've never really understood why. Just design docks so that it can handle this additional stress on the connector.


iHome iP90 remote control

I will give iHome credit: every iPod or iPhone I put on the dock was compatible and could charge, unlike many other devices on the market that aren't yet fully iPhone 4 compatible. That can be very important if you want to be able to just use it as a grab-and-go charger.
In addition to AM, FM, and iOS device dock, there's also an AUX in, presumably for Zune compatibility (zing!) or something. I never tested it, nor did I try setting up an alarm. I'm allergic to wake-up alarms, actually.
If I had a spare few hundred dollars, there are some iPod / iPhone dock speakers with far better sound, but if you want the combination of a very listenable clock radio and affordable price, I encourage you to give the iP90 a close look.
Disclaimer: iHome Audio supplied us with a review iP90 so we didn't actually buy the unit we tested out. Then again, I do still have it on my dresser two months later, so I really do like it. Now you know.