I've gone to the Consumer Electronics Show for years, and generally the innovations there are because something is bigger, faster or brighter (think TVs and audio gear). Occasionally you'll find a company that's rethought a common object — like, say, an iPod dock — and done good things with it, but mostly it's the same stuff you saw the previous year, just refined and reengineered.

For 2009 the commodity item at the show seems to have been headphones, ear buds and other personal listening devices to improve your iPod, cell phone, Gameboy, PSP, laptop and other handheld device listening experience. I came home with a half-dozen different ones!
The one that I found brilliant, however, wasn't the one with skulls on the ends (though that was cool), or the one with personalizable earbud ends (again, cool idea) or even the lower priced noise-reducing units. The winner in my book was the listening devices from iHearSafe that limit the max volume of what you're hearing…
The idea is a simple solution to a serious problem: children who are going progressively deaf from listening to music and game devices that are just too darn loud. It's not a joke, either. A recent MSNBC story, for example, stated that "A survey published this summer by Australia's National Acoustic Laboratories found, for instance, that about 25 percent of people using portable stereos had daily noise exposures high enough to cause hearing damage."
Suffice to say, as a parent of three, I'm very concerned that prolonged listening to loud music via earbuds or headphones will cause my kids to lost some of their hearing by the time they're out of college, a terrible thing.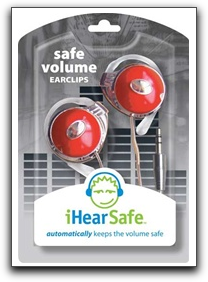 Enter iHearSafe, with its new line of "Safe Volume" devices that max out at 85dB volume to the ears regardless of how loud the device volume is actually set.
To test this, I had them give me a pair of their Ear Clips (pic shown on right) to see how they sounded and whether they really worked. The test rig? An iPhone and a laptop audio jack, with generic ear buds and Sony ear clips for comparison purposes.
We choose music from Abba and Bruce Hornsby for the audition and my 8yo son and 12yo daughter were the designated guinea pigs test subjects.
First we hooked up the Safe Volume ear clips to the computer and played some Hornsby at a typical listening volume for a quiet space. Sounded terrific, ear clips were very comfortable and my son was delighted with "his" new audio gear.
We then unplugged them and, without adjusting the audio, plugged in the ear buds. Holy cow! it was so loud that my daughter promptly ripped them out of her ears and glared at me, wondering what I was trying to do to her.
We plugged back in the Safe Volume and she decided that they were pretty nice.
Last test: iPhone cranked up to max on some Abba. Nice singalong, and the Safe Volume ear clips worked like champs, limiting the audio without having had to do any adjustments or tweaks.
My conclusion? At $25/pair these are a no-brainer gift for any adolescent and instead of then arguing about them remembering not to turn it up too loud, you can argue about them using the smart ear buds / ear clips instead. 🙂
Disclaimer: The iHearSafe Safe Volume Ear Clips were given to us without charge as a review unit. Kinda how it always works with reviews. I should also come clean that iHearSafe won a CES Innovation award for the Safe Volume clips and, as I was an innovations judge for the show, I can only say that my feelings upon reading their spec sheet were born out with actual usage. Well done!