Every time you hook up your iPhone to your PC the iTunes app immediately starts by doing a backup of everything that's on the phone. But what is it actually backing up and is there any way to get to the information that's there if you were to lose your phone or if you just want to poke around?
That's the purpose of iBackupBot (formerly known as iPodRobot), a slick little Windows app that makes access the contents of your backups a breeze, whether it's photos, videos, notes, SMS chats or your address book. Some of 'em are already accessible via iTunes, but if you wanted to grab a Note or save a particularly amusing (or incriminating!!) text message, Apple leaves you out to dry….
To set the scene, VOWSoft, Ltd. contacted me and asked if I'd review the application. Since I sync my iPhone on a Mac, not a PC, I had to copy my backup data files across to my Windows 7 system, but I did and it worked great right out of the [virtual] box.
The most difficult part of working with iBackupBot is finding where your iPhone or iPod Touch backup is stored on your PC. Theoretically, it should be here:
C:\Users\YOURUSERNAME\AppData\Roaming\MobileSync\Backup
but it might not be: if not, you might need to launch iTunes and look at how its preferences are set to figure out what's happening.
Once you've found that, launch iBackupBot and select the latest of your backups.
Then if you're like me and have lots of stuff on your Apple iPhone, you'll sit and watch this for a while as it digs through many megabytes of data, thousands of songs, hundreds of photos, hundreds of SMS text messages, etc etc., to organize it all: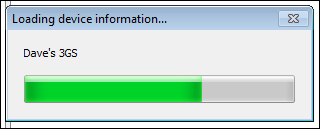 Finally, though, you'll see everything that's in your backup database, and that's where it gets pretty darn interesting. The default view is a file browser so it's pretty geeky:


Fortunately there's a toolbar along the top with reasonably understandable icons. For example, here's the one that gets you to where it can show you all the Notes you have on the iPod Touch / iPhone:



Click on it and you'll looking at your Notes and can easily save or copy them for use in other apps (a feature that is otherwise unavailable in iTunes for some odd reason):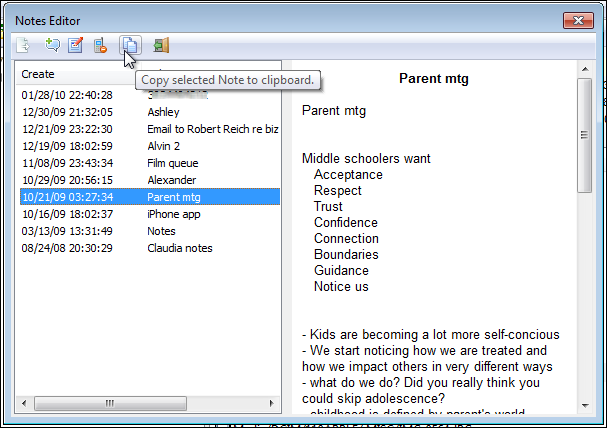 You can also access your Address Book list:


(I've blurred a bunch of it so my friends don't have their phone numbers blasted to a zillion Internet users. In the actual app it's not obscured at all)
One of the best features of iBackupBot is that it not only lets you access your SMS message archive, but threads them, newest-to-oldest, so you can even save or print a record of your conversations: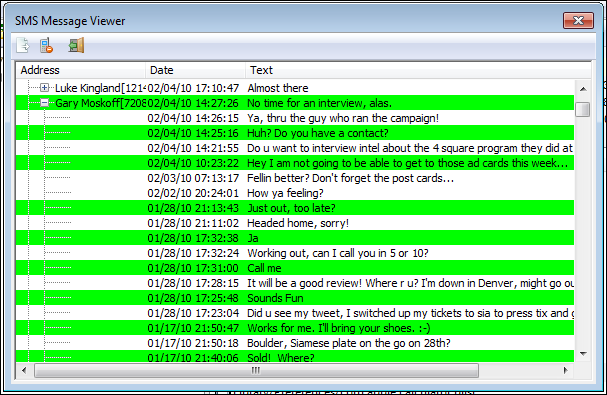 In the SMS view, the green lines are what I sent, so you can see the dialog. You could also do some basic statistical analysis, I suppose, so you can figure out who you text message the most often, but you probably already know that!
Whether you're an iPhone or iPod Touch (or "iTouch" as I hear a lot of people call them) user, you doubtless have lots of media files on your computer too, and another of the options on the toolbar that lets you browse all your media, with handy previews:


Now here's the downside: iBackupBot is $34.95, which seems pretty expensive for an app of this nature. Yes it lets you edit your backup data, which then resyncs and updates what's on your device, but is it worth $35? You'll have to decide for yourself. When I dug around I couldn't find much in the way of alternatives and while the interface might be a bit rough, the functionality is spot-on, and since there's no other way to get to things like SMS messages and Notes, you might find this a smart investment in data portability after all.
Note: iBackupBot is a pretty darn useful app, but we want to disclose that the vendor paid to ensure that we'd move our review of their product to the front of our queue. Still, if it didn't work, and work well, we wouldn't have chosen to write about it in the first place, and you can see that we had some issues with the app anyway. Now ya know. Caveat emptor.