It's a puzzle: is a Microsoft Windows Vista laptop with a crystal-clear 12.1-inch screen, 320GB hard drive, 4GB of RAM and a carrying weight – without the external Blu-Ray drive – of about four pounds a netbook? An ultralight notebook? A laptop? HP calls it an "Entertainment Notebook" and refers to it in press materials as "one of the thinnest, lightest notebooks in the market".
Whatever we call it, I was delighted to get my hands on one of these shiny, well-built DV2 computers that offered a very different PC experience than the usual low-budget, poorly assembled PC gear. Focused on multimedia capabilities and highly portable, the DV2 is a fast device with a terrific screen — plenty crisp and bright enough to let you enjoy movies, even Blu-Ray disks via the external drive — and a comfortable, solid feeling keyboard.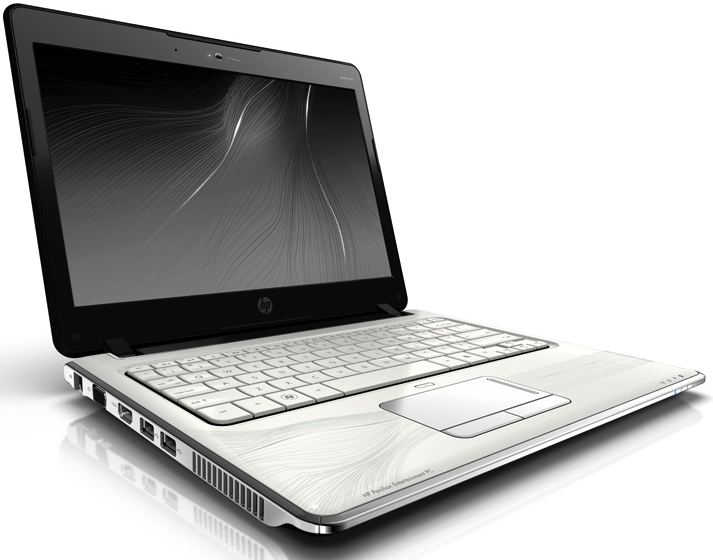 At $669 (with a $30 rebate that HP's currently offering as I write this review) the DV2 is not the least expensive notebook on the market and it's not even close to the cheapest notebook that HP offers, for that matter. But it's not price, it's value that counts, and that's where we get into another dilemma: would you be happy paying $700 for a multimedia laptop computer that only had a 12″ screen?
I think the answer is "yes", because from my own testing, the attractive DV2 fits in quite well between cheaper, small-screen netbooks and more expensive, bigger-screen, heavier notebooks…
Netbooks, a hot market segment, have 9-inch and 10-inch screens, and standard laptop computers have 15-inch and 17-inch screens, typically, leaving this sort of computer in limbo: 12-inch and 13-inch screens are somewhere between these two common hardware categories.
HP tells me that the DV2 was designed specifically to meet the needs of students (and those of their parents) and multimedia enthusiasts of all types, so for a student in particular, a slightly smaller screen coupled with a lighter weight device that can run demanding software like Adobe Photoshop or Wolfram Mathematica is a definite win.
For that matter, if you've only used Microsoft Windows Vista on an older, slow computer, you might be surprised what a pleasant experience it is on a faster system like the Pavilion DV2. You still need to tweak it (notably to tweak the default search parameters so that file search actually works) for the best experience, but a lot of the bad press that Vista received when first released is now undeserved in my opinion, though I know a lot of people will disagree with me. Still, I'm looking forward to Windows 7: I've run "release candidates" and still believe that it's "Vista fixed", so that'll be even better and snappier on the DV2.
Ports and Peripherals
The dv2-1199us has the usual zillion ports on the device (see image a bit further down), split between the left and right side of the 1-inch thick unit, including an HDMI plug (which let me utilize its multimedia capabilities on my big Sony HDTV, flawlessly) and a useful 5-in-1 digital media slot on the right side. Why is that useful? Well, if you have a digital camera, odds are that whatever memory device it uses, the DV2 can read it directly, and being able to slip that into your notebook makes it super-easy to grab the pics you want.


More importantly, the built-in reader means that you can treat external memory devices as extra drives (and they're cheap: a 4GB SD Card is $10 at Amazon). That means you can also drop your favorite movies or TV shows onto the card and slip it in when you want to watch a film on a plane, say, without fussing with the external drive. More on that a bit later in this review, though.
With Windows Vista and, soon, Windows 7, capable PC laptops really need to have a decent processor, a good graphics processor, and lots of RAM, and the DV2 meets these needs handily, with a 1.6GHz AMD "Yukon" Athlon Neo MV-40 processor and ATI Mobility Radeon HD3410 graphics unit. 4GB of RAM definitely helps Vista zoom along too, and the DV2 also includes SRS audio with Altec Lansing speakers, though you really need to hook it up to external speakers to get the benefit (just as you would with any laptop).
Modern computers are all about connectivity, however, so I should mention I appreciated that the unit included support for 802.11a/b/g/n wifi protocols, meaning that it'll work with old hardware (11b) and the newest high-speed wireless too (11n). You can also plug in an Ethernet jack directly if that's how your office (or hotel room) is configured. No modem, but then again, I haven't seen anyone use one of those for years and years anyway.
Along with the modem, however, the DV2 is also missing any sort of Bluetooth capability, which could be an issue for some multimedia enthusiasts (think wireless stereo bluetooth headsets). Fortunately, that's easily fixed with one of the many tiny USB Bluetooth adapters, but still, it's an additional expense and a surprising omission.
Fit and Finish
In terms of the fit and finish, I really liked the DV2 and found it felt a lot tougher and better assembled than just about any other PC laptop I've ever touched. The keyboard was solid, it's rigid enough that you can safely carry it by a corner, and opening and closing the display doesn't cause a single ripple on the screen. The seams all lined up and the ports are miraculously squeezed into the edge of the unit, notably the HDMI port which is a pretty tight fit!
Where I was disappointed with the HP unit was with the power adapter. I don't get it, actually. Apple is the only computer company I've ever seen that pays attention to the size and design of the power adapter that we all have to drag along with our computers. For all that the DV2 was beautiful, well built, and stylish, the power adapter is yet another huge, ugly black gizmo. What's up with that? Doesn't anyone else care about the size of these little bricks?
Battery Life
One important issue with me is battery life and the DV2 was decent in this regard. Leave the HP Pavilion DV2 at full brightness and skip any sort of OS tweaks and you'll see a bit more than two hours of battery life, barely enough to watch a single movie. Not so good. If you're willing to dim the screen and set Vista to "Power Saver" mode, however, you can squeeze another hour or two out of the 6-cell battery, and four hours is quite respectable in my book.
Multimedia? Well, sort of…
Though HP calls this a multimedia computer and includes HDMI output, I have to say that I find it a bit odd to call any device that doesn't include an integrated DVD reader a "multimedia device". We're getting to the point where streaming video and downloads are useful, but does anyone reading this review not have at least a dozen DVDs and music CDs sitting around?
If there was a legal way to copy your DVDs so that you could store the movie on your computer for travel, that'd be terrific. Heck, you could drop a few onto an SD Card and slip it into the 5-in-1 slot when you were ready to go, except that's not an option thanks to the
Motion Picture Association of America
. Instead, if you want to watch a few movies while on a business trip or while you're spending the night at a friend's house, you're stuck with what you can find on
Hulu
or
Netflix
streaming if you've a subscription.
To be fair, this isn't really an HP problem but an ongoing hassle for those of us that have one foot in new media and one foot in the old media world. I know some of my fellow PC writers scoffed when I brought this up as a concern, but my dream notebook is one that has the disk space to let me drop 20-30 of my favorite movies onto the drive and then be able to view them on a plane, hooked up via HDMI on a hotel TV, or anywhere else I'd like, without having to bring an external drive along.
Finally, is it worth the money?
Notebook computers are commodities in the end and it's hard to differentiate between HP, Dell, Gateway, Toshiba, and the other vendors. They all run Windows, they all have the same general processing capabilities and battery life. Where they differentiate is in how well they're made, what additional software is included, and their price-point in the hierarchy of notebook prices.
In this light, the HP DV2 multimedia notebook is a fine choice for anyone who wants the capabilities of a larger notebook but seeks less weight and a lower price. It's not as cheap as an entry-level Netbook, but it's scads more capable, able to run some of the most complex and demanding software on the market. With up to four hours of battery life it's also a fine choice for highly mobile professionals too.
---
Disclaimers: first off, I should mention I worked for HP years ago and still greatly respect the company and its founders. HP also sent me the DV2 as a review unit to keep in our offices, which was nice, but I hope it's clear that it didn't affect our honest review of the unit.