I'll admit it, I'm a fairly hardcore casual gamer. Wait, is that an oxymoron? Maybe. Anyway, I find that I often fill very short time periods during the day with a casual puzzle game on my iPhone. Nothing where I'm caught up for 20 minutes or longer, but literally just a few minutes at a time.
I've gone through – and finished or burned out on – a number of games in this category, notably Peggle [iTunes link] and Plants vs. Zombies [iTunes link], but a new game has hit my phone and, well, I'm very caught up in its play right now. The game is yet another variation on the popular puzzle matching style of Bejeweled [iTunes link], but somehow Gyrotate is way more fun and interesting…
Oh, and it's free. 🙂
The basic idea behind any of the "matching" games is that there are different pieces either falling from the top of the screen (e.g. Tetris) or that appear in a grid, replaced by new pieces as they're matched. Get three in a row, four in a row, five in a row, whatever, and they're removed, you get points, and new pieces appear.
There are number-based variations on this, like the tricky Drop 7 [Tunes link], but most of them seem to be jewels or other similar elements that offer shape and color variations. The more complicated ones allow you to match color or shape and give you a bonus for a double-match, but that starts to actually involve thinking 🙂 so they can be so complicated that it becomes rather less fun.
That's what I like about Gyrotate. It's simple enough that I could explain it to my kids in just a few seconds, but difficult enough that it's compelling, particularly as you get to the higher levels and more complexity is introduced.
Here's a simple level: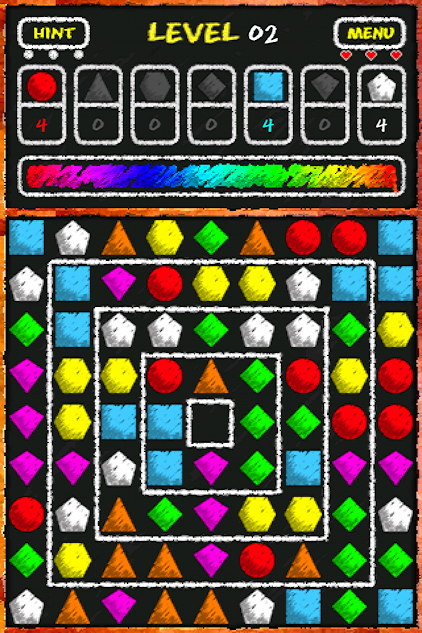 Notice that the pieces are laid out in concentric grid squares (the game developer calls them "layers"): the pieces in each of these squares can be rotated to line up matching pieces. That's basically the entire game: you spin each square to line pieces up and when you get four or more in a row, they vanish and you reduce your quota of each shape at that particular level.
The quotas, by color/shape, are shown along the top. Notice at this early level I only have four red, four blue and four white (e.g. one line) to collect before the time runs out. Even when the time does run out, you actually have three "lives" before the game ends, so it's very forgiving, a feature I like in a casual game.
Get all the items and you'll finish a level: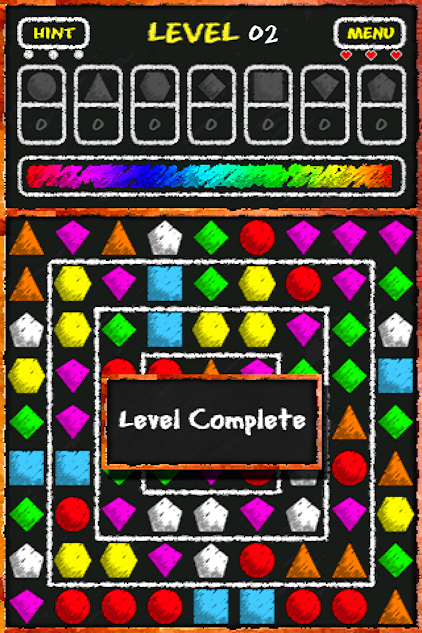 Like many iPhone games, by the way, Gyrotate looks and works great on the iPad if you just "2x" the display to fit the entire screen. Makes it a lot easier to play, particularly at the higher levels, on a bigger screen. I am hoping for a proper iPad version, perhaps one with an additional concentric square / layer as an option, but for now, don't eschew iPhone games if you are an iPad owner.
On the higher levels there are clock pieces that give you extra time, locks, wild-card rainbow matching pieces, a bomb piece, and even an annoying vortex piece that resets your color quota if you mistakenly include it in a match. More importantly, it's easy to find yourself in a situation where you need a match of a certain piece but it's not possible, so you have to quickly perform other matches – even though you've hit your quota in that color – so you can get new pieces on the board and win.
Gyrotate is also compatible with the Open Feint shared game score system, and generally has the polish and professionalism of paid games on the iPhone. I'm a bit surprised that it's free, actually, as I'd pay $0.99 — or even $2.99 now that I'm hooked! — for this slick little puzzle game. But hey, it's free! Download it, try it, let me know what you think.
Gyrotate
, free, for the iPhone and (in compatibility mode) iPad.