So, what is the first thing you do when you get a dead simple video camera? You take a video of your recent dental implant to send to your cousins in the UK! Imagine how happy my Doctor cousin was upon receiving such a wonderful surprise in their email.
What device am I talking about? The Flip Ultra video camera.
The camera, which is small enough to fit in a shirt pocket, weighs in at 5.2 oz. Very easy to carry with you to capture those precious moments.
I purchased my Flip from Amazon which at the time of writing was $117 US.
The recording time is 60 minutes on the Ultra at 640 x 480 resolution. The videos are saved in MPEG-4 AVI format. Did I say it was simple to use? Just point and shoot. The back of the camera has a 1.5″ TFT LCD screen to see what you are recording. You start recording by hitting a red button in back of the unit. You can zoom in and out using buttons in back of the unit. Hit it again to stop recording.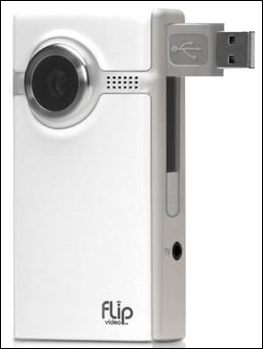 Two AA batteries power the unit, which proves more than enough power for 2 hours of recording. You can opt for lithium batteries for a 5 hours recording time, if you so desire.
Transferring the videos to your computer is super easy as well. There is a USB port that swings out from the camera by sliding a switch. Plug it into your PC or Mac and the camera automatically loads the video into the Flip software on your computer.
Just browse to the device in Explorer or Finder and there are your videos. They also include an NTSC cable to hook the Flip to your TV for playback.
Overall I would say the Flip takes great videos for what it is. The Flip will not replace your family video camera. What the Flip does is give you the ability to take video where you normally wouldn't be able to.
Nick Blackman is a computer geek turned Mac Nut. He never meet a gadget he didn't want! 🙂