I've been using black and white printers for so long that I see grayscale when I look at color, and have grown accustomed to things being, well, black and white when I print them. But modern printers have more capabilities than just being able to print whatever data you send to them, and when Epson offered us a chance to review their Artisan 837 All-In-One ink-jet printer, I was intrigued by its wide range of capabilities, including high-res color scanning and copying, not to mention its fax capability.

In fact, I consider the printer to have five major functions: scanning, copying, printing, faxing and photo printing. I realize that to Epson the two types of printing are the same, but for us consumers who worry about the cost of materials and supplies, there's a big difference between a cheap sheet of recycled white paper and an expensive piece of photo paper.
After having spent a few months with the Artisan 837, I have to say it's a terrific printer and small office peripheral, easy to configure and maintenance free. I'm now using it with the developer release of Mac OS X 10.8 (aka Mountain Lion) and the new Epson drivers work perfectly with that too.
But there were some definite hiccups and there's one major area of functionality that I still haven't been able to test, even after Epson replaced the first unit with a second device, hoping that would fix the problem…
The biggest complication with getting the Artisan 837 working on a Mac OS X system (our primary test device was a MacBook Pro) was that while all of its functionality is neatly contained in a single device, computer operating systems are designed for discrete peripheral devices. In other words, it considers a scanner, printer and fax as three separate devices. Further, given how infrequently modern technology users send or receive facsimiles, it was no surprise to find that the fax device was darn hard to set up properly.
In fact, I never did get the fax to work: Our office has a VOIP system rather than a standard telephone line coming in and while it's always worked just fine, it turned out to be incompatible with the Epson facsimile line detection and protocol negotiation circuitry. Try as I might — even with some of their best tech people on the line — we couldn't adjust the settings and preferences to let the device to either send or receive faxes. We don't really get too many faxes here at AskDaveTaylor, but still, if the functionality is there, it would have been nice to be able to use it in a pinch. But that part was a fail for us.
Otherwise, however, particularly once we figured out that the scanning functionality showed up rather magically once the printer was recognized and added by the operating system, the other features of the Epson Artisan 837 all worked marvelously.
To understand what I mean, check out the "Scan" tab that showed up rather magically in the Mac OS X printer window: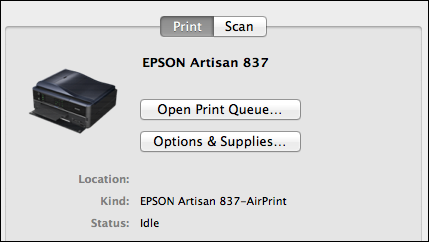 The printer hooks directly into the network rather than acting as a shared peripheral tied to a specific computer that then has to be up and running 24×7. Don't want it to be available on your wifi network? There's also the ability to plug it directly in via Ethernet if you have space on your router for another cable or even via USB if you only have one computer and don't need the network-friendly connectivity. In practice when other people came into our office, it was a matter of just a minute or two for them to have the Artisan 837 as an available device on their computer, Mac or PC.
If you look back at the picture at the top of this article, you can also see that the printer has a vivid 3.5-inch color screen. This works with its ability to print photos directly from SD Cards, something we experimented with to great results. With two photographers in the family, the 837's ability to print photos quickly — 4×6 in under 30 seconds! — was greatly appreciated.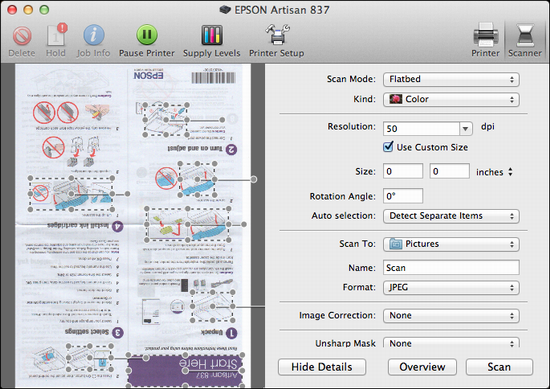 Going back to the scanner feature, what we ultimately settled on was sidestepping the Mac scan capabilities and instead using the terrific
VueScan
application. With the Epson drivers installed, VueScan automatically saw the network scanner device and offered much more flexibility than either the built-in Mac scanning software (picture, above) or the scanner app included in the box. Then again, we're already long-time fans of VueScan, so weren't a bit surprised that it knew how to work with network-based scanners.
IN SUMMARY
Other than being unable to utilize the fax capabilities due to our VOIP system, there's nothing we dislike about the Epson Artisan 837 All-in-One printer. It's fast, extraordinarily capable, Energy Star qualified, designed to be recycled, and supports wireless and wired networks, as well as being hooked directly into a computer via a USB cable. Recommended.
The Epson Artisan 837 Printer retails for $299.99, but you can find it at a street price of around $200 at Amazon.com, Best Buy and other online retailers. Learn more:
Epson Online Store: Artisan 837 Printer
Disclaimer: Epson supplied us with this printer to evaluate over a long period of time and review here on the blog.