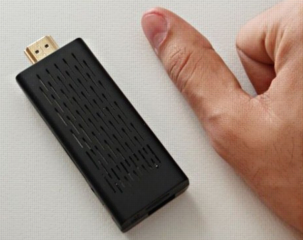 If you've been to an electronics store in the recent past, you know that "Smart TVs" are all the rage, televisions that have the built-in ability to run apps, display YouTube videos, access your photos, and access slick content like Google Play.
Heck, what if you want to have Netflix on your TV? Or join the world of Hulu and Hulu Plus instead of paying that ever-increasing cable TV bill?
What if you want those features but don't want to buy a new HDTV system?
That's where the slick CTL HDMI gizmo comes in. A tiny box not much bigger than a pack of gum, it plugs in to the HDMI port of your existing TV and gives you all the functionality of those expensive TVs. Without the cost.
Let's have a look!
First thing, in case it isn't obvious, you need to have a TV that has HDMI connections, but just about every modern TV supports at least one HDMI input. My Sony Bravia actually has two HDMI input ports on the back, as you'll see momentarily in the photos.
And therein lies one of the greatest weaknesses of the CTL HDMI system: Because the device isn't able to pass through an existing HDMI signal you not only need to have two or more HDMI ports on your TV, you have to switch back and forth between them with your TV remote.
A version of this device that had an HDMI input and a "pass through" feature would be greatly appreciated and would also allow people with a single HDMI port to use it too.
Still, if you really want to have Internet content on your TV, to be able to "smarten" your TV, it's a pretty slick, low cost ($129) Android-based solution.
Here's what it looks like plugged in to the back of my TV: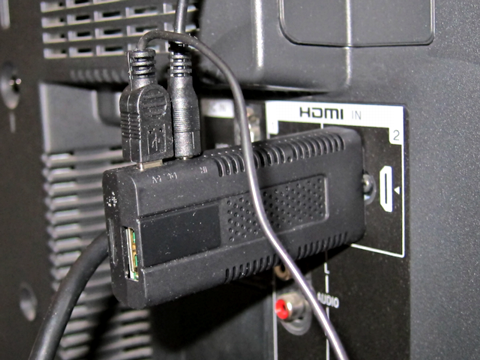 The USB connection on the top is connected to an external power adapter that plugs into the wall, and the smaller wire that's closer to the television is for the infrared remote receiver that I ended up just taping to the front of my television set.
Moving around to the front of the set, here's what I see on the television itself when I switch to HDMI 2 as the input:
It's in full 1080p HD and looks gorgeous. Notice along the top the primary areas: Apps, Browser, Video, Music, Photo and Settings. You can see on the main screen that I haven't done much to configure it or add apps, but there are a lot of options once you've got it configured to work with your wifi network (and yes, the CTL HDMI Android Micro Computer includes high-speed wifi support, a must-have for any smart TV).
Also notice that the option I have selected here, highlighted in the blue box, is Google Play. With a couple of downloads, I could also have Netflix and Hulu available too.
The browser offers an easy to use way to share Web sites or even just catch up on the news. A single click with the remote and I have a number of predefined options:
Another click on "CNN" and I'm quickly viewing the CNN home page, including any Flash content that might be present:
Truth is, the CTL device is a simple, low cost way to get the features of many bigger, more complicated set-top devices, and with its tiny size and smartphone remote (either iPhone or Android phone) it's an easy way to add a lot of sophistication to your existing HDTV without having to pay for a $1000 upgrade. Or more!
At the same time, however, the entire system does have a weirdly unfinished look to it, so much so that I actually emailed the company after I received it and asked if they'd sent me a production prototype rather than a finished, shipping product. Nope, I got the real thing. But look at this remote to see what I mean:
No branding, no logo, no real design work at all. Just something that looks like it could be shipped out of any of a thousand factories in China with incredibly little engineering effort.
Is that a show-stopper? Does that mean you shouldn't give this a serious look? Of course not. But if you're expecting a beautiful product experience like an
AppleTV
, well, that's not what CTL is offering with this HDMI Android Microcomputer.
In our office, we have an AppleTV and a
Western Digital TV Live
device already hooked up, both of which offer a more polished — and more expensive — smart TV feature set (and neither of which, I should hasten to add, offers an HDMI pass through feature as I discussed earlier in this review).
On the other hand, since it's so small, this would be an ideal device to take on the road and hook up to a convenient hotel or rental unit television, instantly gaining you tons of content for the cost of Internet access. Frequently traveling with my kids, having instant access to all of that content that doesn't have the exorbitant hotel TV pricetag associated would be amazingly helpful!
I'll give the CTL HDMI system a limited thumbs up. It offers the basic features at a great pricepoint and is highly portable but without any of the polish that has become standard in the marketplace. For many people, that's not a problem at all.
CTL HDMI Android Micromputer SmartTV system. $129.99. Available
directly from CTL
.
Disclaimer: CTL sent us an HDMI Android Microcomputer system for evaluation.