It was less than a year ago that I bought a 256MB thumb drive and thought "man, lots of space, that'll be handy". In fact, I added my keys and made it my keychain. Then I decided it was too small and upgraded to a Lexar "Jump Drive" with an impressive 512MB of space coupled with some encryption software that would ensure that if I lost the drive, I wouldn't be out of luck.
Problem is, unless you have incredible personal discipline, it becomes quickly obvious that it's useful to have more space, not less, and just like modern housebuying, while it's impossible to have too much space, it certainly is possible to have too little.
As a result, when Corsair contacted me and asked me if I would be interested in looking at their 8GB "Survivor" flash drive, I quickly assented: 8GB sounded like enough space that it could actually be useful.
After using it for a few months, I am pleased to report that it's a great little flash drive with a rugged (and amusing) form factor.
Though I am still unsure why it would be important, the Corsair Survivor flash drives are made with anodized aircraft-grade aluminum (you could drive a car over one of these babies without it being hurt) and are water resistant to 200 meters, along with being vibration and impact resistant through a shock-dampening collar on the device.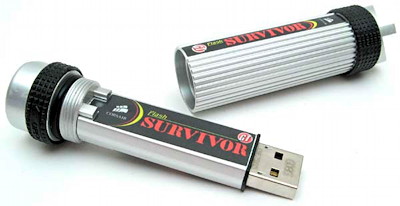 As you can see in the product picture on the right, it's basically an aluminum canister that unscrews on one end and the traditional thin rectangular drive itself is encased within. Safe, tough, still small enough to slip into a pocket or purse, and 8GB, well, that's a sweet amount of space, I'll say that. It's also fully USB 2.0 compatible, which means that transfer speeds should never be an issue (though I have seen it slow down sometimes on transfers on my Mac, so I'm not entirely sure what that's about. Nothing too ridiculous because it's so easy to do something else while waiting, but it's definitely not a Firewire unit)
One of the annoyances with any USB flash drive / thumb drive (what are these things supposed to be called anyway??) is that the advertised size is not the same as the available space. On a little guy of 512MB or 1GB, that's a significant issue, but as the units get bigger, the approx 10% taken up by disk formatting and layout become less of an issue. With the Corsair Flash Survivor GT 8GB, I see over 7.5GB of space, as you can see here: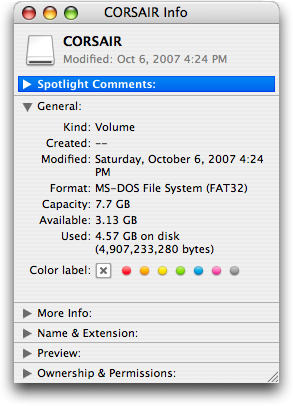 The only possible limitation: it kind of looks like some sort of small weapon or bomb or something, so I keep expecting someone in airport security to get jumpy and ask me to prove it's a computer storage device… If only it had a camouflage option! I will say that people are constantly amused when they see the device, until they realize I can throw it out the window of my car and it'll work just fine when we recover it.
That's about all there is to say about this device. Flash drives are a classic example of a commodity computing product, and like anything else storage-related, bigger is always better. The Corsair Survivor is a terrific unit and a good addition to the arsenal of any road warrior or student.
The unit price? It's not cheap: Amazon supplies it through Tiger Direct at
$179.99
. The new 16GB unit, non-GT (meaning it's slower) is only $20 more at Amazon, at
$199.99
.
Yes, that's expensive for a flash drive, but never having to worry about sitting on it, someone stepping on your backpack or even spilling a glass of water on it? Potentially priceless. 🙂