Does the idea of 64-man medieval battles excite you? Do you wish you could be a knight and charge at your enemies with a greatsword? Does the idea of lopping off someone's limbs cause you to salivate? If so, seek professional help – but also take a look at Chivalry: Medieval Warfare. A self-published title of the brand new Torn Banner Studios, Chivalry was released back in October 2012.
Does its "deep melee combat system" create a worthwhile experience? Let's have a look!
Chivalry is class-based with customizable loadouts. You can fight as an archer, man at war, vanguard, or knight, each with different speeds, health points, and available weapons. It's not quite safe to label it an FPS (first person shooter) because you're able to switch into three different camera angles of third person at any time (directly behind and over each shoulder of your character).
Combat involves making use of four different strikes – kick, slash, strike and stab – in addition to blocking/parrying, feigning, and if you're playing a man at war, dodging. Such a system makes Chivalry one of the most complex and freeing melee brawlers available, and its ease of use crushes genre predecessors such as Mount and Blade, whose combat involves four directional attacks and a block.
Of course, that's just for melee weapons. Every class, even the cumbersome knight, has access to javelins, throwing axes, incendiary grenades, etc.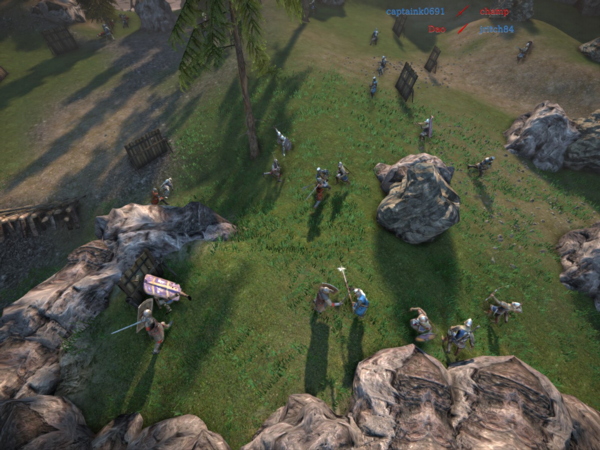 It doesn't take an expert to see there's a lot going on here. This is your average Chivalry match.
To make things more complex, there are sixty weapons in all. Every class begins with access to three "trees" of weapon class (through which you can unlock variations of the first weapon in the tree) for their primary weapon and at least two for their secondary. To give you an example, the archer's primary weapon trees are the bow, crossbow, and javelin.
This is also a perfect example of how weapon choices drastically affect gameplay. Bows are quick, fire at long ranges, and deal decent damage. Crossbows fire at even greater distances and deal significantly more damage, but you have to stand still for a considerably long period of time to reload, during which you are vulnerable. Javelins travel much shorter distances, but also deal great damage – they are simply more difficult to hit with and have far less ammunition, however they double as a melee weapon. The differences for the weapon trees of other classes aren't so pronounced, but melee weapons all have three varying stats: Damage, attack speed, and reach.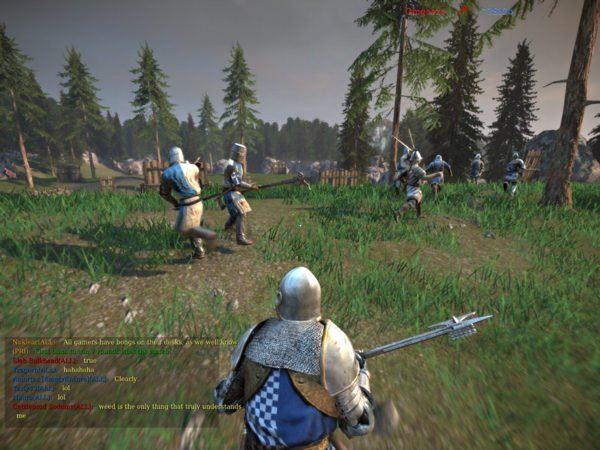 Charging toward the enemy with fifteen allies in front of you and fifteen at your back, all screaming bloody murder,
is actually a pretty awesome prelude to the bloodfest that follows.
Combine all of the above with free-for-all, team deathmatch, and objective-based game modes with up to 64 players. Chivalry is utter chaos, and usually in a good way.
What's the catch, you ask?
Teamkillers, for starters. It may not be that anyone on your team wants you dead for whatever reason – the community is quite good about calling votes to kick teamkillers, and nobody likes teamkillers. On the contrary, you will suffer accidental death after accidental death because the vanguard right next to you doesn't have the sense to attack the enemy with vertical strikes that don't put you at risk instead of wildly waving his gigantic sword wherever he wants to, including through the side of your chest. Whoops.
Continuing, combat simply isn't perfect. You can pull off the most well-timed and perfectly aimed blocks that you want, but something blockable attacks will go right on through. It's quite discouraging when an intense twenty-second fight with an enemy ends prematurely because your shield decided to become intangible. Animations may stutter or, in some cases, not even play. If you're watching an enemy in front of you in third person,you may see them run at you, not wind up for an attack and believe them to be open to attack. Wrong, they were swinging their weapon without the animation for the attack playing.
The classes themselves are flat-out imbalanced. Archers are extremely difficult to use because their projectiles have travel times. In melee combat, however, they are nearly defenseless, and certainly not at all effective. Even though their javelins double as melee weapons, they have the lowest health of all the classes and do not move as quickly as men at arms. Men at arms may be fast, but their class mechanic, dodging, is not sufficient for defense in combat. Their weapons don't reach as far or do as much damage as vanguards and knights, either.
Vanguards and knights give off the appearance of overgrown children giggling as they mash their left mouse button, swinging their hefty weapons back and forth and back and forth… and that's the way most vanguards and knights play. The sad part is that it often works. Because longer weapons require more effort to defend against, the amount of skill required merely to survive against one if you are an archer or man at arms is drastically more than is required on the vanguard's part.
The result of all of the above is a chaotic melee game that greatly varies in fun and frustration based off of your class and loadout choices. It's gorgeous, it's gory, and it's full of amusing shenanigans, but it leaves a lot to be desired. Chivalry falls into the same position as Borderlands 2: It's a decent game that's at the top of its genre because it simply doesn't have enough competition.
For $25, it's not a bad deal. If this is the kind of game you've always wanted, or if you were a huge
Mount and Blade
fan, Chivalry is definitely the game for you. There's no doubt that it was a fantastic first title for Torn Banner Studios, although hopefully, they will make improvements in the near future. Chivalry is currently only available on PC. Grab it via Steam at
store.steampowered.com/app/219640
While not maniacally spamming downward thrusts with an oversized hammer, Zach Comm writes analysis-oriented gaming articles and reviews for
GameCheetah.com
.