As I have moved more into conference calls via Skype and am now involved in two podcasts on a weekly basis (Boulder Open Podcast (or in iTunes) and Three Insight (or in iTunes), you are listening to them, right? I hope so!) I'm finding that the built-in microphone on my MacBook Pro isn't the optimal audio quality. Worse, there's also a frequent feedback loop of it picking up the audio coming out of the speakers which leads to a sort of weird echo/reverb loop.
As a result, I've been on the hunt for a good, small, portable microphone that will offer better audio quality and still be compact enough that I can have it in my computer bag without adding weight and bulk. My ideal is a tiny lavalier microphone that can be clipped onto my shirt and plug into the "mic" input on my MacBook Pro, but so far I haven't found a single manufacturer offering such a thing. Oddly, but maybe it's a tough problem.
When my colleagues and I have all been in the same room, we've been recording our podcasts using the Blue Microphone Snowball, which is a nice microphone but pretty big and bulky. When Blue Microphone contacted me and asked me if I wanted to evaluate the Snowflake, what they call their "portable professional USB mic", I was most interested…
The Snowflake is a nice, compact microphone, as they promise, though the actual "ball" of the microphone itself is about the size of a ping-pong ball, and the stand, within which it neatly stores, is about 3-inches x 4-inches and about an inch thick, but the ball sticks up so in total it's about two inches tall. Not tiny, but not too bad.
With a street price of about $45, it's a good price-point for a portable microphone, but the real question is what does it sound like?
To demonstrate, I've recorded two audio samples, one that's just from the built-in microphone on the Apple MacBook Pro, and one that's from the Snowflake.
Play the MacBook Pro built-in mic sample
and then
Play the Snowflake mic sample
My take? The Snowflake is definitely better, with less echo and a bit more crispness, but it' still not broadcast quality. Then again, in both cases, I had the mic at least a foot from my mouth so there's a lot of ambient noise being picked up too (indeed, if you listen carefully to the Snowflake sample, you'll hear my son stirring his tea near the end).
Here's how it looks when you pull the case apart and flip things around a bit: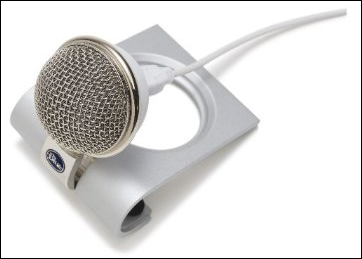 Here's another view, where you can see the case. Note that it slips off, so it's a smart place to store the USB wire (included) that hooks the mic up to the computer:
It's still a bit bigger than I'd like, but all in all, I think that if you're doing audio work, spend a lot of time on Skype calls, or are getting into the world of podcasts, the Snowflake can be a terrific addition to your equipment bag. Even better, with a bit of comparison shopping, you can find one for quite cheap.
It's also Mac and PC compatible, according to Blue Microphones. Specs: It's a pressure gradient transducer, with a cardioid pattern, frequency response of 35Hz – 20kHz responding at 44.1kHz and a max SPL of 120dB.