"It's… a nightmare! But can't you feel the true taste of life?"
"No, I feel like I need a manicure."
This and more precious gems of dialogue await you in the Blades of Time Dismal Swamp DLC (downloadable content).
Created as a standalone campaign for Blades of Time, the goofy duel-wielding hack and slasher for PC, Mac, Xbox 360 and PS3, Dismal Swamp is perhaps the most aptly named title for a single player campaign that I've seen all year. In this DLC, you play as Michelle, the bad-yet-good fringe character from the Blades of Time story mode. You are traveling with the Skyguards, a faction of biomechanical creatures, when your ship crashes. You are left alone in the swamp with a broken leg, and…
And you thought Blades of Time was a platforming hack and slasher. Ha!
With a broken leg, Michelle is effectively stripped of the ability to jump more than two feet into the air, and you're forced to wade through the swamp alone. Naturally, Michelle can't swim, and invisible sections of the pools of water you must wade through are too deep, leaving Michelle to flail and blubber uselessly. To make things more interesting, Michelle apparently… can't… drown. Your movement speed is simply slowed to a painful crawl and you have to watch and listen to your protagonist gurgle. It begins as stressful and unpleasant, but eventually her struggling through the swamp becomes rather comical.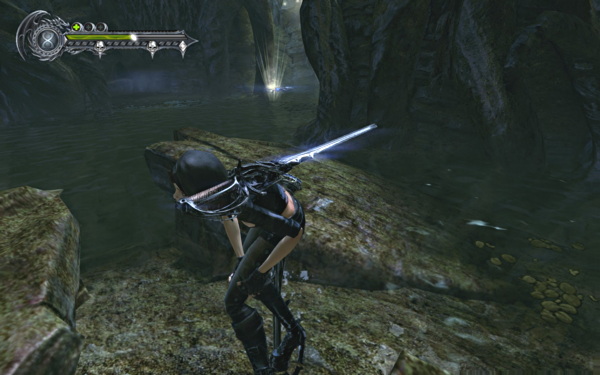 No mobility for you, Michelle. Not like she should have any with 4-inch platform boots, anyway.
You soon meet up with the Skyguards you were traveling with, and after a lot of boring combat that almost entirely involves you shooting one kind of enemy that shoots back, the leader of the Skyguard group just up and decides to heal your leg. Instantly. This disjointed story doesn't skip a beat, though, and you continue on your merry way with the ability to double jump, just as Ayumi is able to in the main campaign.
Think Dismal Swamp sounds bad yet? It gets worse – as Michelle is just some ordinary sword-dancing girl and not an empowered heroine like Ayumi, you have no time clones and no magic.
I repeat, you have no time clones and no magic.
The DLC compensates for that absolutely crippling lack of what makes the game decent in the first place by throwing massive hordes of three kinds of enemies, with a small sprinkle of living siege engines.
The foes you face are so easily dispatched that despite Dismal Swamp's best Hollywood attempt to make the climax intense or stressful, it feels more like you're a bowling ball scoring a strike than one of a small, heavily outnumbered group, desperately struggling to survive against overwhelming odds.
The entire DLC lasts about an hour to 90 minutes. Your reward for overcoming the waves and waves of colorless enemies? You get to listen to Michelle and Zero, Ayumi's sidekick, squabble nonsensically. No achievements, no chests in the world, not even an outfit for Michelle in outbreak mode. You get nothing.
Gaijin Entertainment dropped the ball on Dismal Swamp, there's no question. Skip this DLC entirely, unless you want to laugh at how terrible the dialogue and story are. In such a case,
you can buy Dismal Swamp for PC or Mac at the steam download store.
When not complaining about Michelle's high-heeled boots, game reviewer Zach Comm writes PC and iOS gaming articles over at Game Cheetah.com.