A new IP has hacked and slashed its way into the fast-action, combo-thrashing genre. The Gaijin-developed brawler, Blades of Time, is now released on the PC, Mac, PS3, and Xbox 360. With multiple successful franchises already dominating the hack 'n slash scene such as Devil May Cry and Darksiders, how does newcomer Blades stack up?
You play as the gorgeous Ayumi, a treasure-hunting girl with a thick accent and an intense tendency to endlessly speak her mind. That's it. The confusing and uninteresting story slaps you across the face repeatedly, starting with the opening cutscene. I couldn't even tell what the position of the other characters was relative to Ayumi, and from what I can tell, the core idea appears to be that Ayumi's thrillseeking lands her in the mysterious, danger-filled realm of "Dragonland" with the intent of unveiling its fabled treasure. Yawn.
Things start looking up from the first battle. Sure, it's easy to begin with, but the fluidity of the combat animations and the gradually increasing depth in the battle system combined with its fast pace is rather engaging.
At the start, all you have is twin swords with which you can execute two basic attacks that chain into basic combos, but the game introduces guns, dashing, and magic spells (which you can earn the power to cast by smacking enemies upside the head enough times) at a steady, comfortable pace. Enemies often move quickly or attack with multiple strikes, encouraging dextrous movement about the battlefield in order to isolate enemies, dodge attacks or position yourself for the most effective magic casts.
None of it feels cheap, however, as you're only punished for not getting out of the way or not taking an opportunity to counter an enemy. Death is very much your own fault.

This isn't Braid. Falling to your death will kill you, but the odds of that
happening when the mechanics are this simple are astronomical.
The gimmick that sets
Blades of Time
apart from other slashers is the concept of "time clones." Early on, you receive the ability to hold down a key or button that rewinds time. You stand still as you watch the past version of yourself perform all the actions you performed – it's like playing back a recording. Such an ability allows you to complete small puzzles, such as holding down multiple buttons on the ground at the same time or evading a deadly, invincible enemy. The fun part comes when you use time clones in combat.
Many enemies are either incredibly difficult or flat-out impossible to defeat without employing the services of one or more time clones. The first instance of such an enemy comes in the form of a standard enemy with a shield that you absolutely cannot break by yourself. Rewinding time multiple times in order to attack said enemy with multiple clones brings the shield down and opens it to fatal attack. Several boss fights necessitate the use of time clones, and during more difficult encounters, this can spell an epic struggle in which six Ayumis relentless pound a massive, vicious enemy in order to prepare it for a killing blow!
Of course, the system is rather rough around the edges. The rules by which an enemy decides which version of you to attack are incredibly fuzzy. I still haven't figured out how I'm attracting a monster's attention when it seemed perfectly happy to slam one of my clones into the ground just a few seconds before. Because enemies are not limited to the actions they first take, they move differently whereas your clones continue to attack empty space. It's actually humorous, watching half of your clones hack away at absolutely nothing.
If you damage an enemy, though, during the playback of that recording, the enemy will receive the same damage you dealt, at the times you dealt it, regardless of what random spot of nothingness your clone is attacking. Finally, animated events that involve pressing a button in order to leap onto an enemy and start executing a killing blow will magically teleport the enemy from wherever he is at the moment to wherever he was when you recorded yourself setting the enemy up with the special attack. The combination of all of the above interrupts the flow of combat and gives it a somewhat disjointed feel, moreso if you use time clones more often.
Remember when I said that Ayumi endlessly speaks her mind? When I say that, I mean it literally. Every little thought of any significance that pops into the treasure hunter's head comes out her mouth, complete with facial animation. This little annoyance is by far the game's greatest shortcoming. I'm not sure if I've gotten used to it, or if I'm just blocking out Ayumi's voice after several hours of the single player.
I was both laughing and literally yelling at my computer screen for her to shut up just five minutes into the game. Her character is hopelessly shallow, regardless of her role as the protagonist.
Thankfully, the beautiful environments help to distract from Ayumi's obnoxious narration. The colors in every area are surrealistically vibrant, even in the desert location. It's just plain fun to look at the plants, the sky, the enemies. Surroundings feel alive, even if they're not moving, and it's easy to immerse yourself in them.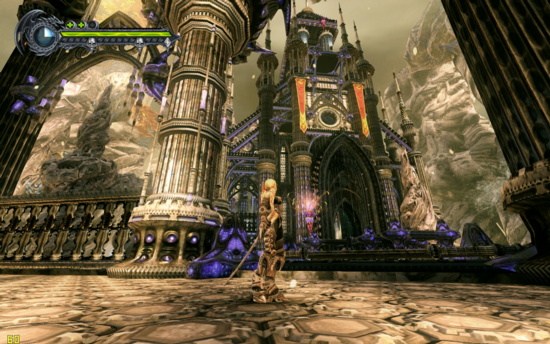 Interesting architecture and lighting make Blades a visual circus.
While the combat is entertaining (especially the time clone antics), and the environments are pretty,
Blades of Time
simply doesn't hold up to its competitors. If you're a die-hard hack 'n slasher and you don't mind the constant presence of mediocrity, I recommend picking Blades up for $20. Unfortunately, it's too new to be sold for that price yet. If you're interested,
keep an eye on it at Amazon
and/or on
its Steam page
.
When not feeding the Phantom Lancer, game reviewer Zach Comm writes PC and iOS gaming articles over at
Game Cheetah.com
.