I am old enough to remember when all you could do with a phone is make a call…heck I remember rotary dial telephones. I think my parents' were the last in the state to get with touchtone. I kept teasing them that the Smithsonian is going to come and confiscate their rotary phone.
In the 80's, I had one of those "mobile phones" there were the size of a loaf of bread, and weighed about the same as a third grader. But I was cool, listening to Depeche Mode and driving my 1971 Plymouth Fury. Risking hernia or concussion every time I used my "mobile phone".
Fast-forward to 2008….
Phones now can do everything from keeping your schedule, play your music, take pictures, and help you navigate to your destination. Oh yeah, you can make calls too.
I recently upgraded my phone to an AT&T BlackBerry Curve 8310. I've had it for one week, as of the writing of this review, and I think it's starting to grow on me.
I will most likely not use half of the capabilities of this amazing piece of electronic wizardry, but that doesn't negate how I am blown away by everything it is able to do: There is GPS navigation, you can play music and video, it has Bluetooth and computer sync available. And a camera that takes really high resolution pictures.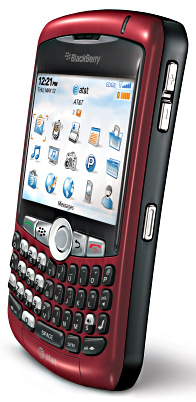 Here are some specs of the BlackBerry Curve 8310:
At only 3.9 ounces, this is the lightest BlackBerry. It measures 4.21 inches, 2.36 inches, 0.61 inches (LWH)
For ease in texting it has a fully QWERTY keyboard. I find that texting is very easy on this.
Internal GPS receiver with support for TeleNav software. Acts as a navigation system.
An AT&T exclusive push-to-talk (PTT) walkie talkie-style communication
2.0 megapixel camera with flash and 5x digital zoom.
Bluetooth wireless connectivity with stereo headset support
1100 mAh rechargeable battery provided me with a theoretical 240 minutes of talk time, 408 hours of standby time
It runs on the 850/900/1800/1900 GSM/GPRS/EDGE frequencies.
When you buy the phone, you also get the usual box full of goodies: a battery, charger, handsfree headset and USB Cable. Just as well, it wouldn't be much use without these things, but the hands-free headset is a nice addition nonetheless.
I find the BlackBerry Curve to be very ergonomic in my hands. It feels comfortable, even though it is larger than the previous phone I owned.
I opted for the red BlackBerry Curve, but it also comes in titanium. I like the shade of red that they've chosen too: not harsh or cheap looking, it's more of a cranberry tone. Deep and rich looking. Makes me feel hip and sophisticated!
On the negative side — and maybe this is just because this is my first BlackBerry, and I have to play with it for a while — I do find it tricky to sometimes operate the menus. The trackball seems too sensitive and moves over the icons too freely.
From the boy that grew up with a rotary dial phone, to a phone that I can now watch Depeche Mode on, if I so choose, I would say I am more than impressed with the BlackBerry Curve 8310 and glad to enter the 21st century!
Bernie Tague is an award winning screenwriter, who was born in Scotland. He moved to the states when he was a wee lad of two. He now lives and works in Southfield, Mi. The next movie capital of America.