I'm diligent with my backups. Probably more so than just about anyone who reads this. I have a constant backup to a 500GB network hard disk via Apple's set-and-forget Time Machine and I do manual monthly backups to a different 1TB drive, snapshots of my entire disk. Insurance.
But my backup strategy has the same limitation of most people's approach: if something happens to my house (a thorough break-in and theft, fire, meteor strike, etc) (alright, the last is less likely than the former!) then I'm hosed. Worst case scenario: Someone rips off my laptop while I'm on a business trip and simultaneously there's a fire and my house burns down. No backups. Nothing. Including the literally tens of thousands of irreplaceable photos of my children and our lives together, as well as my travels, manuscripts for my books, and much more.
The solution is something that wasn't an option even five years ago: a backup into the so-called cloud, where the data all lives in a secure data storage facility. I've looked at options, but with almost 400GB of data in my personal document folder, pictures, movies, etc., the cost was prohibitive. Then a friend mentioned she really liked Backblaze and I saw that they offered unlimited backup space on their cloud servers for $5/mo. That's cheap enough. But does it really work?
There are three parts to a cloud backup system, in my opinion: ability to have the backups transpire invisibly and constantly (you don't want to leave your computer running every night for them to happen, it should just steal bandwidth when it can), ability to restore from a backup in case of emergency, and — ideally — ability to securely access all the files you've backed up to their remote disk.
Backblaze has you covered with all three of these, and since it supports both Mac and PC users, it's also compatible across the wide range of systems, which is a definite benefit if you, like me, have both systems in your network. A unified solution? Excellent.
You can get started for free too, by downloading the Backblaze app. It then gives you 15 days of free backup before you have to switch to a paid account. What that accomplishes I'm not sure, but I suppose you can get the hang of it and see whether it adversely impacts your workflow or not without investing in a subscription.
I signed up and the company sent me a promo code good for a year of service so we could properly evaluate it during a longer period of time. Yup, that's a disclosure right there, gang. 🙂
Here's how the process worked…
First off, getting started is a breeze. Go to the Backblaze.com site and click on "Start Backing Up":

On the Mac it downloads a disk image that, when opened, has the installer all ready to double-click: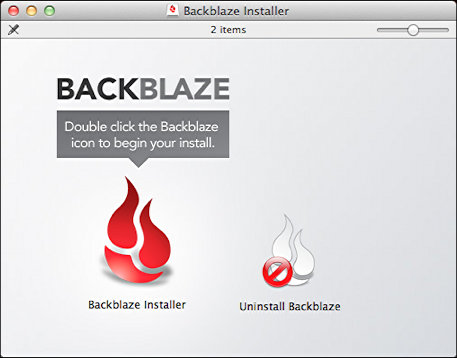 Once launched, Backblaze asks you to either log in to an existing account (which means that you can have multiple devices backed up on their service with a single account, a good thing because that means that later perusal of data via the Internet is even easier) or create a new one: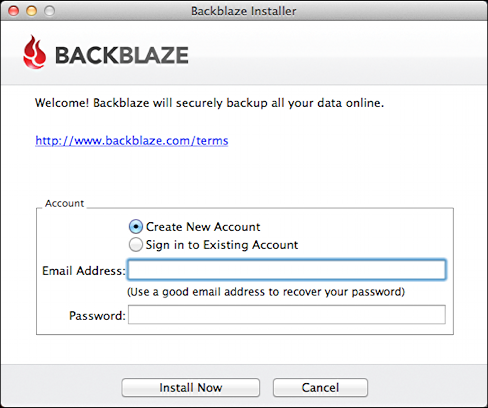 Account credentials entered? Click "Install Now" and while it installs it'll also analyze your disk to figure out what kind of information it's going to be backing up. As it does that, it'll show you some handy tips and information: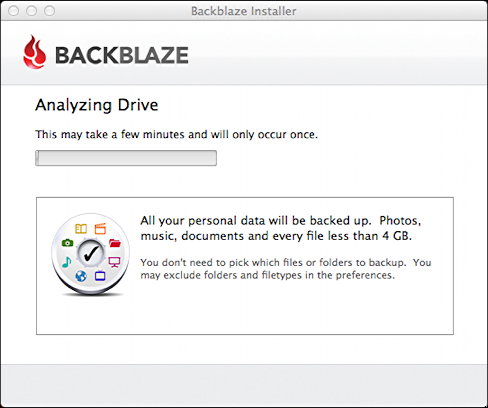 Then you find out that the first backup doesn't happen instantly but rather, well, you can read for yourself:

If the first backup takes a few weeks, of course, it doesn't really make sense to have a 15 day trial period, but let's not worry about that. 🙂
Finally the disk is analyzed and the install completes: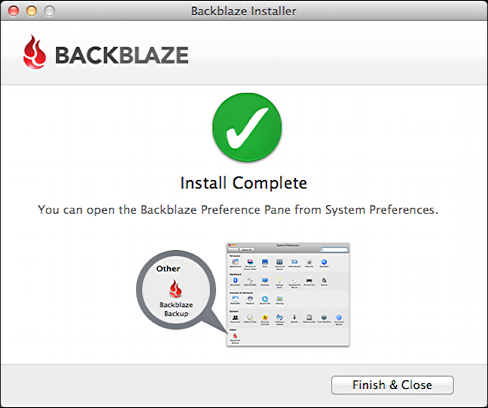 That's all I needed to do for Backblaze to begin the long, slow job of backing up my vast amount of data into its cloud servers. Simple and easy, no hassles and certainly once it's done the first full backup, painless too.
By the way, in System Preferences, there's now a new icon:

Click on "Backblaze Backup" and…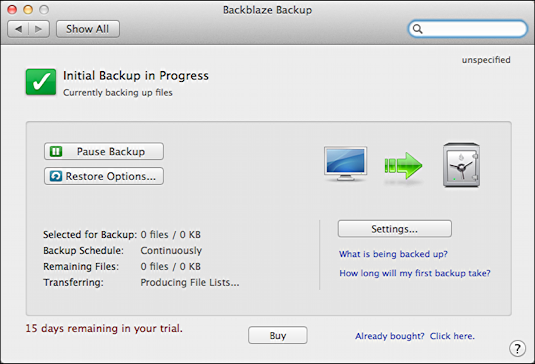 Looking closely at that? Yes, it's backed up 0 files so far, and is still "producing file lists…" Time passes, for sure!
Finally it's figured out my file structure and clicking on "Settings…" produces this interesting information graph:
Ah, 354GB, not 400GB. A bit better, but still, that's a whole lotta data to push up into the cloud, but I'm patient.
And as for Backblaze, it appears to be exactly what I want for my redundant redundant backup: invisible, efficient and quite inexpensive (the Time Capsule I use for my network backups in the office, by comparison, cost $299). For me, it's a keeper.
Learn more about Backblaze and its pricing models and capabilities at Backblaze.com.
Disclaimer: Backblaze not only gave us a one year license to test the product, we're also now members of the affiliate program. We like the app that much. By using our affiliate link, you pay the exact same amount but they spring for a commission that helps us keep the lights on and server running. Thanks!