I'm a fan of Audio-Technica consumer electronics gear and have been for many years. Decades ago, I'm pretty sure I had an Audio-Technica turntable and my earbuds of preference are Audio-Technica Quietpoint ATH-ANC3 (see my review: Audio-Technica ATH-ANC3 noise-reducing earbuds).
When I received a press release from the company about new foldable noise reducing headphones, it caught my interest, because my mainstay noise reducing headphones are the terrific Sennheiser PXC-300 headphones, but they have two issues: first, they're expensive at $150 (they were $300 when I got them two years ago!) and secondly the noise-reducing microphone electronics are big and unwieldy, the size of a small flashlight. A bit awkward.
So I asked Audio-Technica to send us a pair of the new ATH-ANC1 headphones to give a test run and so far, with one glitch, they've been great.
In my experience, the two key issues with headphones of this sort are noise isolation and size/weight. I'll start with the latter: in its travel bag, the ANC1 QuietPoint® Active Noise-cancelling On-Ear Headphones are about 5-inches x 6-inches and maybe 2/3-inch thick. The weight is truly negligible.
Audio-Technica claims that the ANC1 reduces "up to 85% of environmental noise", but as anyone who has tried noise-reducing headphones knows, it really depends on the frequency and intensity of the background or ambient noise. I will say that for a couple of days now I have had a lovely, peaceful listening experience with these headphones and my own music in cafés that are pretty loud. In fact, I've multiple times been surprised by how loud the ambient noise level is when I pull the phones off my ears.
On the other hand, I can still hear a small child talk to her father, and him respond, behind me when there's a lull in the music (Kate Bush, Mrs. Bartolozzi, if you're curious). Still, it's sufficient that people have to tap me on the shoulder to get my attention rather than just calling my name. That's good, right? 🙂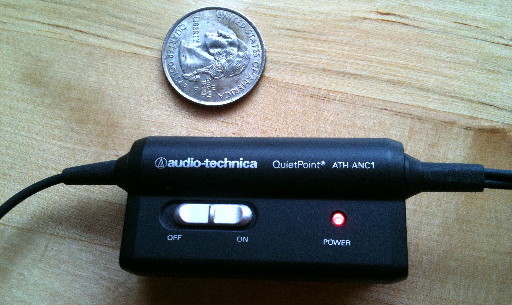 As you can see in the above photo, the control unit for the ATH-ANC1 is about the size of two AAA batteries (though it only requires one to power the device), with a sliding on-off switch and an LED power indicator. (why so many modern devices – including low-end Audio-Technica microphones – skip the LED indicator is beyond me)
That's all good. The problem? On my second day of usage suddenly there was no audio in the right earpiece. Just silence. Not good at all. Jiggling the on-off switch, flipping it back a few times, and it was all good again and has been fine since. Still, that's a worrying mechanical problem to have with a brand new out-of-the-box pair of $129 headphones.
That's what mars this otherwise very positive review. The headphones are small, portable, comfortable, do a quite credible job of reducing — and almost eliminating — ambient background noise, and with included adapters will work with an iPhone, iPod, computer, and even a dual-prong airplane plug.
So that's a qualified thumbs up from us. You shouldn't have any problems with these if you buy a pair, and with a street price of about $100 (I'm guessing: they're not yet on the market for me to ascertain that) they are a good audiophile compromise between the in-ear devices that tend to do a mediocre job of reducing background noise and the full cup headphones like the Bose that are big and heavy for many people.