Buying any sort of modern electronics device typically includes buying a case or holder for it, and while laptops can easily go into a computer bag you might already own, just about everyone I've seen with an Apple iPad has opted for an iPad case too, whether it's the black Apple case or from one of the increasing number of third parties offering a solution.
I've had a chance to try out a number of different iPad cases and compare them. Generally, I have my iPad in a case for protection, then mostly carry the entire unit in my computer bag or otherwise protected from the elements.
I started out with the Apple iPad Case, then switched to a Newer Technology iFolio and a Waterfield Designs iPad Smart Case, then a Macally Bookstand case and an Incase Nylon Sleeve, and have now settled on… well, read on to find the answer!
Even using the iPad for a short amount of time it becomes clear that having it just it on a table or on your lap works for a while, but eventually having it propped up at an optimal viewing angle is pretty darn critical.
Problem is, there are different optimal viewing angles depending on what you're doing. If you're on an airplane and want to prop it up on your tray table and watch a movie, that's a different angle to having it on the table in front of you to tap out some notes and catch up on email.
Apple iPad Case ($39.98)
When I first got the Apple case, I was impressed that it had a flap letting you have your iPad at about a 30-degree angle or 90-degrees either vertically or horizontally by flipping back and tucking the cover into a tab on the back of the case. Problem is, the 30-degree angle works great, but the other two angles are wobbly because of the low-profile design and I certainly haven't been able to have the iPad stand up reliably on a plane tray table.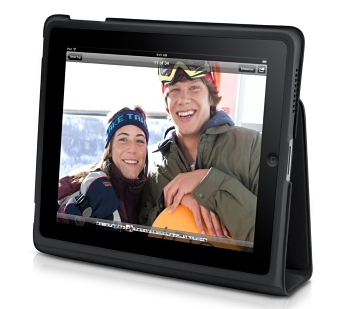 Apple iPad Case in 90-degree viewing mode.
There's a further problem with the iPad case that surprised me: it's made of a cheap material and the design is such that the edges are actually a bit sharp on the front cover: it is uncomfortable to carry for an extended period. It also shows dust, dirt, stains, and even errant finger swipes clearly due to the material, something that I didn't appreciate when my shiny new iPad started to look more old and beat up.
On the plus side, your iPad is securely held in the case, though there is no mechanism to keep the front cover over the unit: pick it up the wrong way and it can easily flip open, leaving your iPad screen exposed to scratches and the environment.
Verdict: Inexpensive and decent design, but materials problem and no way to keep closed.
Learn More
.
Newer Technology iFolio ($129.99)
This is the kind of iPad case that I imagine someone in a ritzy community might purchase, plush leather and designed to be carried as a mini-briefcase of its own. It even has handy pockets on the inside of the front cover and zips closed to ensure that your iPad is snugly inside. However, the iPad is kept in place by cheesy corner strips, as you can see in the picture below, and I found it a pain to get it properly positioned.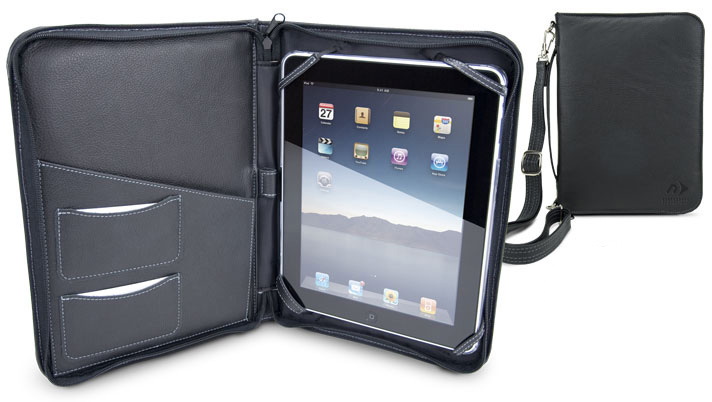 Newer Tech iFolio case.
The problem I had with this case is that it offers no benefit for positioning the iPad for actual use (indeed, you often have to pull the iPad out of the case to prop it up in a useful orientation) and that it takes the amazingly slim iPad and turns it into a thick clunker of a device, certainly too big for me to slip into my computer bag as an additional gadget. Then again, if I worked in an office and wanted to bring my iPad to meetings or perhaps wanted to have it accessible in court as a lawyer, it could be an ideal solution.
The price is a bit high too. A $129.99 case for a $499 device seems a bit out of line.
Verdict: Overpriced, bulky, but a good solution if you're looking for a folio style-case.
Learn More
.
Waterfield Designs iPad Smart Case ($59.00)
I like Waterfield Designs and thought this would be an interesting case to try as it's more of a "slipcase" than a case designed to hold your iPad while you're working. It's more akin to a car cover: you can't use the car with the cover on, but it can sure keep the vehicle clean and safe. I asked my friend Jeremy Tanner to test this one out and here's his verdict:
A sleeve style case in Nylon, with leather accents, suede lined, stiffened by what I'd expect is HDPE plastic with a slim, see-through pocket on the outside. Covers 3 sides, no retention (strap/velcro or zipper) Snug enough that the iPad doesn't fall out when upside down.

Waterfield Designs iPad Smart Case
I've been using it to keep the iPad from getting banged up inside a messenger bag while commuting and inside a backpack while traveling. That's where it preforms best, as a layer of screen / scratch protection inside a larger bag without proper laptop / gadget protection. It's lack of a strap or handle keep it from being a good stand-alone case, also it's open top would fare poorly if rain / snow were an issue. What it does that few other cases do? The iPad is a smudge factory, this case presents you with a clean screen every time you pull it out. The only real use I've had for the outside pocket was to hold a plane ticket / travel documents while keeping the iPad at the ready in the airport.
Worth it at $59? There's certainly cheaper options (including some from WaterField), but if you like the leather and the additional protection afforded by the stiffener, go for it.
Pros: Doesn't add much bulk; Possible to charge iPad inside case; cleans the screen.
Cons: Does not entirely cover the iPad.
Learn More
.
Macally BookStand ($49.99)
Offering a design similar to the Apple iPad case, the BookStand is my current favorite of those I've tried. It has a small leather strip that keeps the case closed and doubles as part of the stand when flipped around, and it offers the same 30-degree and 90-degree viewing angles.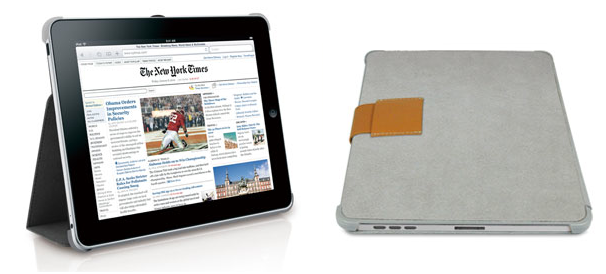 Macally BookStand for the iPad.
The difference: The Macally BookStand is a considerably better material, a brushed fabric available in black or grey (I have the grey unit) that also avoids any sort of problems with sharp edges. The fact that it's also the least expensive of the iPad cases I've tried is a nice boon too, though I admit that other than the Apple case, the rest were editorial loans from the manufacturers.
The design also lets you have easy access to all ports and switches without having to take the iPad out of its case, and adds surprisingly little bulk to the device when closed.
Verdict: The best of breed in my personal experience. Inexpensive, functional, and it helps the iPad retain its slim form factor.
Learn More
.
Incase Nylon Sleeve Plus for 13″ MacBooks
I kind of cheated on this one because it's actually a computer bag, but I really dig this thing because it's small, light, has lots of pockets, and has a nice fur-lined interior perfect for an iPad (if not a bit too big, actually).
Incase Nylon Sleeve Plus for 13″ MacBooks
If I am carrying notes, need an adapter and headphones, and want to have some cards handy, I find the Nylon Sleeve very well made and quite convenient as a sort of mini-computer bag. I don't know whether Incase is planning on a smaller iPad-specific version of this case, but it'd be nice: trimming it down another inch or two would help keep a snug fit for the device.
The case is well padded too, so while it's about 1.5-inches thick, there's plenty to help protect your iPad in a stylish ballistic nylon. Still, it's not an iPad case, per se, so I see this as a worthy adjunct to the Macally BookStand that I am currently using and when I'm not toting around my big computer bag, this is what I grab for my day's gear…
Verdict: A terrific little computer bag, it turns out to be perfect for iPads and gives you easy carrying handles and pockets. Lots of pockets.
Learn More
.
Yet to come…
With the remarkable popularity of the Apple iPad, I am confident that there are cool new iPad cases on the market I don't know about and even nicer ones to come. Your usage pattern might not require a screen cover when it's not in use, but for me, that's a must-have. Still, there are lots of options within that constraint, so I'll be eager to see what else hits the market.
Meanwhile, if you have an iPad, what kind of case do you have, and how's it working for you?