One of the many different gizmos we were given at the 2009 Consumer Electronics Show was a slick little portable speaker system from long-time audio component firm Altec Lansing.
Imagine a device not much bigger than a 2-inch tall Coke can that you can plug into your iPod or laptop and you've got an idea of what the orbit M speaker looks like.
What's interesting about being given this sort of gizmo is that it's hard to have any sense of how much it costs or whether it's widespread or not. Fortunately, we have Amazon.com, which reveals that either the orbit M is brand new or Amazon opted not to carry it: I couldn't find it on the site at all.
I did find information about it on the Altec Lansing site, however, where I learned that it retails for $39.95.
Here's a pic so you can get a sense of its appearance: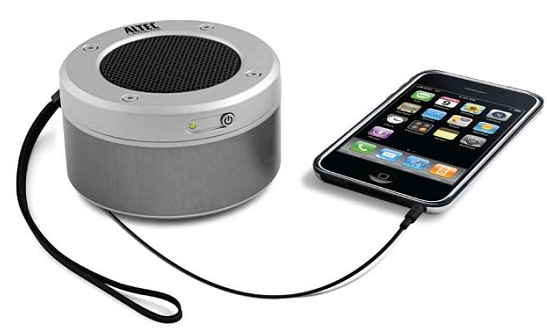 I took a tape measure and my crude measurements are that it's 3 1/2-inches across and 2-inches high. The weight is negligible and the product includes a nice little carrying case. Powered by three AAA batteries, the 2.5mm wire neatly coils into the bottom of the speaker.
The most important question of a device like this is
does it sound good?
Our answer? Yes. It's small, there's precious little bass, but as a single speaker unit for hooking up to your laptop, iPod or even iPhone while in a hotel room, it's perfect, with nice sound fidelity. And it's small enough that you won't regret packing it in your luggage.
As someone who spends a fair amount of time in hotel rooms, I'm always on the lookout for a small high-fidelity external speaker and the act that the Orbit M is compatible with both my iPhone (and its music library) and my laptop makes it a winner.