There are a lot of different cloud storage solutions available, from Dropbox to OneDrive, iCloud to Google Drive. Now, add a new competitor to the space, one that's super-fast, easy and free: ZeoSpace.
Our offices here at AskDaveTaylor are pretty typical, with Mac systems sharing the desk with Windows PC laptops, Win8 tablets stacked atop Apple iPads and a never-ending debate between our Android and Apple iPhones as to which is used more often. In the world of tech, it's a heterogeneous life and any system that's dedicated to a single platform is going to end up frustrating users.
The biggest problem we have in the office, however, isn't remembering which apps run on which systems but rather sharing data and files between systems. That's why we have every major cloud storage system set up, from iCloud to OneDrive to DropBox. Sometimes one works, sometimes it seems to just sit and spin, never actually uploading the content desired.
Into this maelstrom of solutions comes a terrific new option: ZeoSpace.
Built atop the Amazon Cloud Services platform, it's fast, easy to work with, and available for every device and OS I've listed so far (e.g., Windows, Mac, Android and iOS). Even better, some of the basic tasks that we do all the time here, like screen captures, are features built into the Zeospace app, so they're amazingly easy to produce and share.
And did I mention it's free? Well, you are allocated 10GB of space once you sign up and go through their nifty online tutorial, which highlights the three major features of the system: screen captures, file and folder sharing, and backups with ongoing sync (particularly handy if you have a shared folder or want your client to keep up with what you're building).
Let me show you how it works by starting with a PC ZeoSpace install…

You can click on the above if you're lazy! 🙂
Once you've clicked on the install button, ZeoSpace is fast to download and easy to set up.
As a shared service, you do need to either sign up for an account or log in using your Facebook credentials:
I signed up for a new account as I prefer to minimize how many third party services have knowledge of my account on Facebook, but you might have a different strategy and be a bit less paranoid about privacy.
Either way, get through that step and the software prompts you to go through their (fun and easy) online tutorial:
Just do it. You'll then be able to hit the ground running with ZeoSpace, knowing what you can accomplish.
Here's a typical tutorial screen: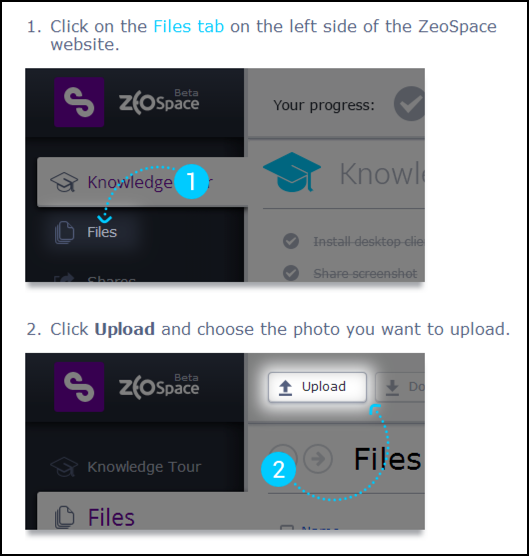 As you can see, the ZeoSpace has created an elegant front end to the system that makes it quite straightforward to accomplish any of the major tasks, including uploading individual files to your ZeoSpace archive.
For example, on a Windows 8.1 system, capturing the screen and sharing it to the ZeoSpace Amazon Web Services (AWS) -powered server is a single click:
Pretty darn simple, I'd say!
You can also set up ZeoSpace to share files with a friend or colleague, with email notification to the other party each time one of you adds something to the shared folder. This has obvious applications for a professional setting, but is just as useful amongst friends planning a party, sharing notes on a game or working on a project together.
So how does ZeoSpace make money? By selling space. If you never need more than that 10GB partition, you'll never pay a dime for this lightning fast cloud service, but if you do need more space, it's pretty darn cheap. You can buy 50GB of additional space for $4.49/mo, and an additional 100GB for $8.99/mo. Rather price it for a custom size? Additional space can be purchased at the ridiculously low price of $0.09/GB. This means if you really, really want a 500GB virtual drive, you can do so for about $45/mo.
There's also a Web-based interface to your ZeoSpace partition, as well as apps for Android and iPhones.
First off, the Web-based interface on a Mac system:
And the iPhone app, with the fourth entry ("IMG_3865.JPG") just uploaded from the iPhone 5s to ZeoSpace:
As I said in the beginning, we spend a lot of time sharing data and files between systems and the speed and features of ZeoSpace make it a great solution that's also easy to install, configure and use. And 10GB for free (after you take the feature tour) makes it plenty of space for our needs. Good stuff, well worth checking out.
ZeoSpace. Get Started. No activation code, no license key required. Lightning fast.
Disclaimer: ZeoSpace sponsored this review by working with us on this piece and paying a small fee. I wouldn't be using an app that wasn't cool, however, so you can rest assured that the product is worth checking out anyway.