Want an attractive smartwatch but don't like the multi-hundred dollar price tag of the Apple and Samsung options? I check out the Xiaomi alternative and find it's pretty darn nice…
It's not quite yet the case that everyone has a computer on their wrist, but the rise of smart watches and wearables might still have left you wanting to join the wearables club. Totally understandable! Problem is, not everyone can afford to spend $200-$300 or more on a way to tell the time and interact with the online world without having to pull a phone out of your pocket! The Samsung Gear S3 starts at $299 and the Apple Watch, well, the Series 2 unit will set you back at least that much, if not more. Heck, some of the bands for the Apple Watch run $500 or more!
Fortunately Xiaomi (pronounced "zah-oh-me") offers an interesting option for about $100 that works with both iPhones and Android smartphones and looks really smart on your wrist. Add sports and health tracking features and a really cool screen that's crystal clear and weirdly easy to read in direct sunlight, and you've got the Xiaomi Amazfit Pace.
I talked about the features on YouTube in one of my more popular reviews:
The popularity of the video demonstrates that there are a lot of Xiaomi fans, even if you haven't heard of them before.
As with every other category of consumer electronics, there's lots of competition in the wearable space, and so it's no surprise that Xiaomi has borrowed lots of ideas from Samsung and Apple for its own featureset and design. There's a free app [Android or iOS] that controls most of the watch functions, but like Snapchat, you can also swipe around on the watch itself to access various functions, specify that you're poised to start a run, or simply want to check remaining battery life.
Speaking of battery, the Amazfit Pace charges via a tiny docking base that plugs in to any handy MicroUSB cable (one is included) so no need to buy weird cables. A charge lasts 11 days. Yes, you read that right. 11 days. I found that charging it overnight once a week was more than enough for it to stay working without any issues or hassles. Take that not-even-24-hour-battery-life Apple Watch!
The app is bright and cheery, easy to work with and much better designed than some of the Chinese-produced apps I get to review with other devices: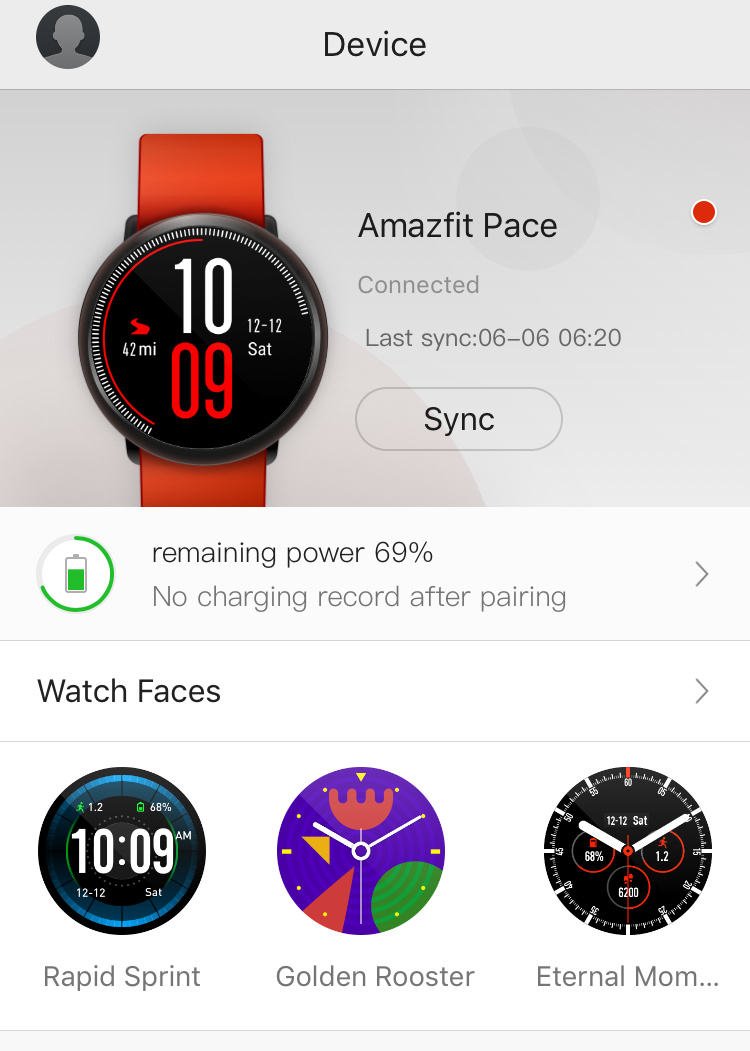 You can see a few of the many watch faces available too: just pick one and it's automatically downloaded to the watch. Very nice. You can also store music directly on the watch and connect bluetooth headphones or sports earbuds for listening to music while working out. Really, there's lots to really like about the watch and my teen daughter has since claimed it as her new official wearable on her wrist.
Some other things to know about this capable device: It can record your running time, heart rate, pace, calories, speed, cadence, altitude,  and location through a built-in GPS system, receive incoming calls and notify you of messages, email, and calendar events. It has a weather app and if you get caught in the rain, no worries, the Amazfit Pace is also IP67 waterproof.
The biggest complaint I had with the watch, however, was that while the display technology was gorgeous and vibrant in direct sunlight making it a fantastic outdoor smartwatch, I found it was a lot harder to read in low light, indoors, and since there's no brightness adjustment available, that's definitely something to keep in mind. Also, if you like a digital display of the time, be aware that the watch only offers a 24-hour clock, so there's no way to get "4:00 pm" to show up, though I expect that's something they'll be able to fix with a software upgrade sometime soon.
I also picked it up through Gear Best, a Chinese consumer electronics online store that offers a wide variety of Chinese-made electronics at terrific prices. Check it out at Gearbest.com and you can also check out the Xiaomi AMAZFIT Pace directly too. Note that the current "flash" price for the watch is $104 with free shipping. Not too bad.
Disclosure: Gear Best sent me a Xiaomi Amazfit Pace for the purposes of this review.