Bought yourself a pair of Apple AirPods but live in fear that you're going to lose one without noticing? Then PodStraps might be just the solution you seek…
Unexpected consequences are a fact of life if you're on the cutting edge of technology. It seems that there are just lots of use cases, lots of ways people use products that escape the imagination of product designers. Every parent knows this as they watch apps released for their children that demonstrate time and again how privacy just isn't on the radar at software development companies. Case in point: Ghost Mode in Snapchat, as I've written about before.
Which brings us the beautifully designed Apple AirPods. Tiny wireless earbuds that live in their own charging case, they're a typically Apple elegant solution to the problem of wanting good sounding earbuds without the hassles and tangles of earbud or headphone wires. Bluetooth, but tiny, just barely bigger than the "buds" themselves. And somehow they do manage to stay in your ears, even as you jog or move around doing chores.
Except when they don't. Most AirPod owners live with a constant level of anxiety that they're going to lose one of their AirPods and be unable to find it. Apple acknowledges the problem and added AirPods to Find My iPhone, the geomapping program that tracks the location of your Apple devices.
But there's a simpler solution that third party companies have identified: A leash for your AirPods. And that's what BudStraps is offering with the simple, effective PodStraps for the Apple AirPods.
Here's what they look like: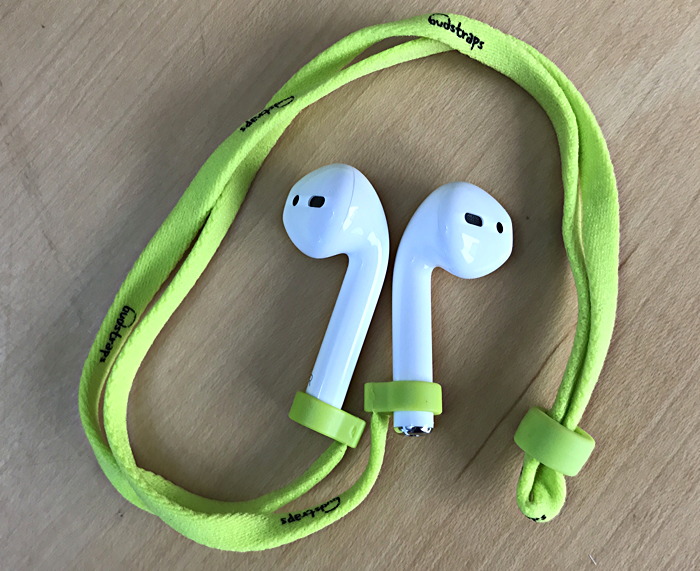 As you can see, it's basically a sunglasses leash with a custom end that perfectly fits on the AirPods, keeping them secure even while they sit comfortably in your ear. My daughter models them in use: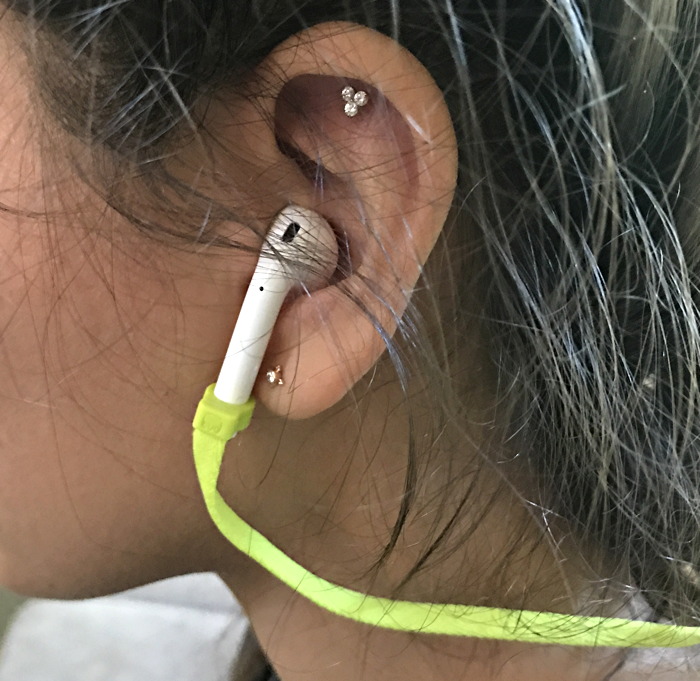 A simple, straightforward solution, and the PodStraps also comes with a small drawstring bag just perfect for both the AirPods carrying box (which, yes, looks like a dental floss container) and the PodStraps themselves:
Which brings us to the fundamental problem with PodStraps and every other solution for the Apple AirPods: You have to take them off to charge the AirPods. Every single time. And given that the AirPods are designed to only run on a charge for 4-5 hours, you can foreseeably be doing this multiple times a day.
And that makes them far less than desireable, certainly not something you'll want to permanently have connected to your AirPods throughout your day. Still, the PodStraps are a nice, simple solution and at $159/pair you don't want to have to purchase replacement AirPods after a quick morning workout or commute.
With a modest price tag of $14.99, my recommendation is that you pick up some PodStraps and then simply save them for when you are going to be doing something where the chance of losing – and being unable to subsequently find – your AirPods is high. Otherwise just leave them tucked in the bottom of your kit, ready for use.
Podstraps for Apple AirPods, in charcoal or yellow. $14.99 with carrying case included. At Budstraps.com.
Disclosure: BudStraps sent us a PodStraps for the purposes of this review.