I'm always thinking ahead to summer when the temperature rises above the 'you've got to be kidding' mark here in Alaska. I do a lot of camping where it's dusty and smoky and I was worried how my new iPad Air would handle that this summer. Thanks to Pelican, I got the chance to give the ProGear Vault case a test drive. It's a rugged case that is touted to be dust and shockproof, drop rated at 4 ft, and rated IP54 for water resistance and momentary immersion. Perfect for the rock-filled campground I go to for salmon fishing. My husband wouldn't let me make a campfire in the garage but I managed to give this case my best shot. ..
The Vault came nicely packaged but it isn't a drop in and go case, there's some work involved. You have to take it completely apart. There are 15 screws holding this together and it comes apart into three pieces. The top cover and a two part bottom piece. It didn't take more than 10 minutes to take the case apart, insert the iPad, and button it back up. They give you a tiny hex screwdriver to use and two extra screws, nice.
It's not a light case; it weighed in on my kitchen scale at 1 lb 3 oz, which is more than my iPad Air. In comparison, my soft case weighs 13 ounces so you are going to sacrifice some weight for the protection. But still 2 lbs 3 oz isn't much, I can't really notice a difference between this and my first gen iPad with its hard case which weighs in at 2lb 7 oz.
The Vault comes in a few color options, even a super bright Magenta; I'm a huge pink fan but I received the gray/white version. I'm not sure why Pelican picked white as the color for the rubberized surfaces, after only two weeks of use those edges are getting pretty grungy. But it's those rubber edges that seal out the rain, snow, and dust. It has a fabulous aluminum hinge that will probably never break and the cover will fold all the way back and lie flat against the case. The latch is solid and gives a reassuring click when you close it. This case doesn't have the magnetic wake/sleep feature so you'll have to get used to turning it off manually if you're worried about battery usage (or waiting till it goes to sleep on its own).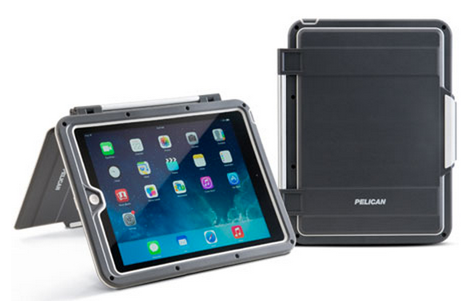 I have to say that using the case is nowhere near as comfortable as a soft case. But I guess that is to be expected from a rugged hard case. You do tend to get used to it. I found that even though it is supposed to have multiple viewing angles, on my desk at work it only has one. If I try to open it past this angle then it just slides all the way open and slams down on my desk. The rubberized edges just don't grip on a slick surface. It works fine on softer surfaces such as my lap.
Rubber plugs cover all the ports. They fit well and are easy to manipulate but they aren't the easiest to use. I can't just push my Lightning plug in without looking; I have to actually look into the plug to get it aligned. The buttons are all covered and are pretty hard to push. I use the slider controls most often so that really isn't much of an issue for me. That said, the button I use the most, the home button, is very responsive.
I was kind of surprised that it didn't have any cover for the glass but you could always use a screen protector if that bothers you.
You won't worry about the protection this case offers if you ever try to get your iPad out of it. It is in there solid. I thought this review would not be complete without trying to disassemble it. Once I had all 15 screws out I couldn't get the top off without prying it open with a butter knife. The two pieces of the case snap together so securely that it needed a bit of an assist to get it started. Once I got it started I was able to snap the top off and the iPad came out easily after that. This is one well-built case!
I love the peace of mind I get with this case. Pelican cases have been my go-to case for years when I wanted protection and I have no qualms about camping with my iPad Air now.
Pelican ProGear C2180 "Vault" iPad Air Case. $99.00 at Amazon.com or your favorite retail outlet.
Judi Wellnitz is a contributing editor to Ask Dave Taylor and is the long suffering sister of Dave Taylor. She has been using tech since the invention of home computers and has finally got an iPad that's newer than her brother's. She is also a renowned soft sculpture artist who blogs at
ArtDolls.info