Whether you're giving your iPhone or iPad to a child or selling it to a stranger, you want to make sure you really get rid of all your personal data. "Delete All Data" in Settings isn't enough to really protect you.
To be completely protected, we test out iMyFone Umate Pro for Mac with an Apple iPhone 7 and find it both useful and easy to work with, even if you're not trying to wipe all the data off your phone.
It may seem a bit paranoid to worry about text messages, emails and photos on an iPhone or iPad you're poised to see or give to a friend or family member, but identity theft is a major issue and the tools to recover 'deleted' data are free to download from the Internet. So even a curious cousin could extract all sorts of information — and photos! — you'd rather have stayed far, far from prying eyes.
But even if you aren't planning on getting rid of your iPhone, it's easy to have all the data ooze and grow to take up all the available space, and if you've ever run out of space on an iOS 10 device, it's not pretty. Things fail left and right, you can't take photos, capture video, and individual apps can become ridiculously slow and, eventually, unusable.
Fortunately iMyFone Umate Pro has you covered in both cases, and it's available in both a Windows and Mac version. We tested the Mac version on a brand new Macbook Pro with Touchbar and an iPhone 7.
To start, install the program and plug in your iPhone to proceed: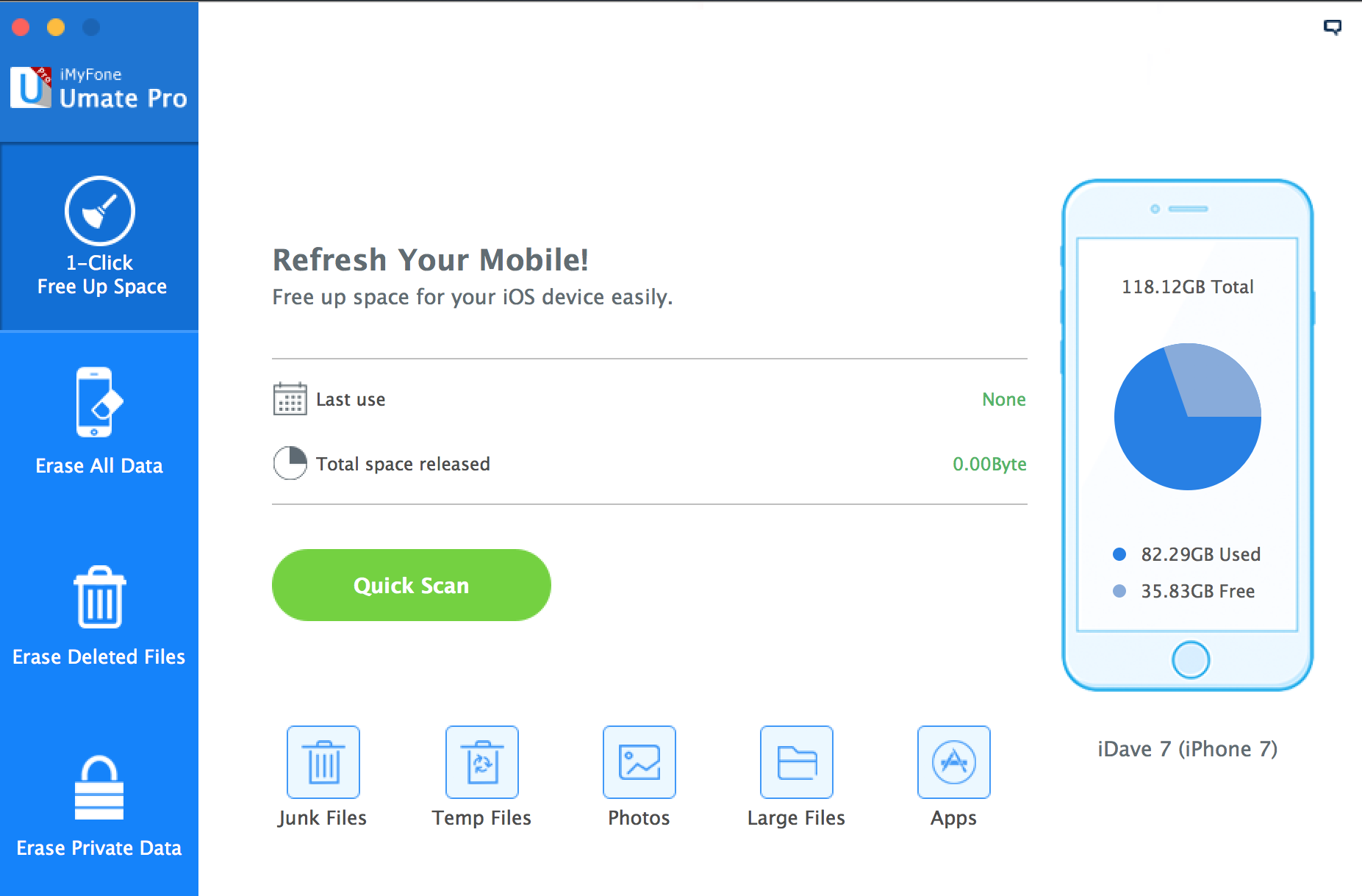 As you can see, the iPhone 7 has 128GB of space (118.12GB accessible), 82.29GB is used and 35.83GB is free. The main functions of the program are shown on the left: free up space, erase all data, erase deleted files, and erase private data.
How do you erase deleted files? You may ask, and a fair question that is. In fact, iOS has a bad habit of staging deleted files so if you "delete" a photo or video on your iPhone or iPad, it's actually still there, just in the "recently deleted folder". Frustrating, particularly if you're trying to free up space to make your device work better!
Click on "Quick Scan" to let the program dig around…

It'll take a few minutes, but once it's done you'll see all sorts of really easy ways to free up some space: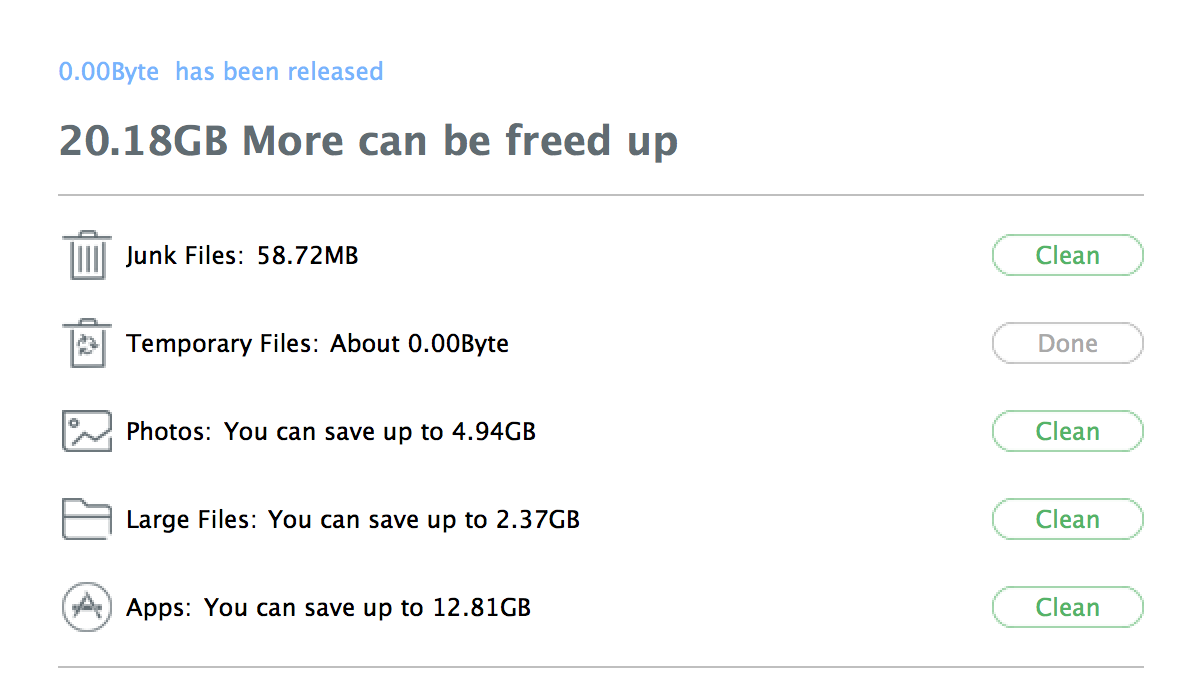 20GB. That's a lot of space! But don't get too excited, because you might not want to do everything recommended. To start, let's just have a quick look at the Junk Files by clicking on "Clean" adjacent.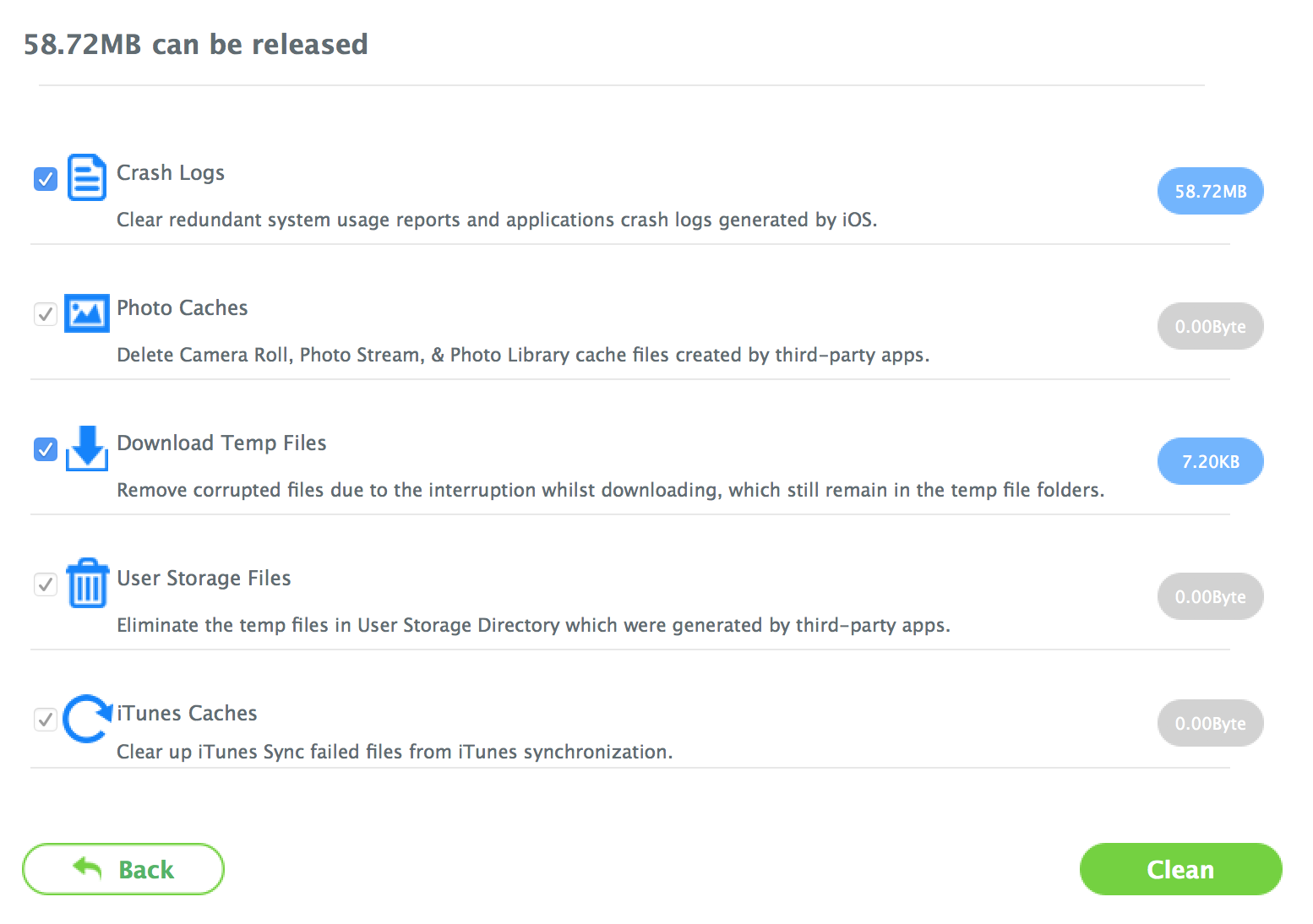 Okay, so this only frees up 58MB of space, but that's all space I'd rather have open for real things rather than eaten up with crash logs and the like. Your quantities will differ and for you these could free up quite a bit more space!
Where you can free up lots of space is to look at your photo archive. If you're like me, you have tons and tons of photos. They can be compressed to save space, and you can also use iMyFone Umate Pro to back up photos. On my phone, that's where a whole lot of space is being consumed as I can see when I choose Photos: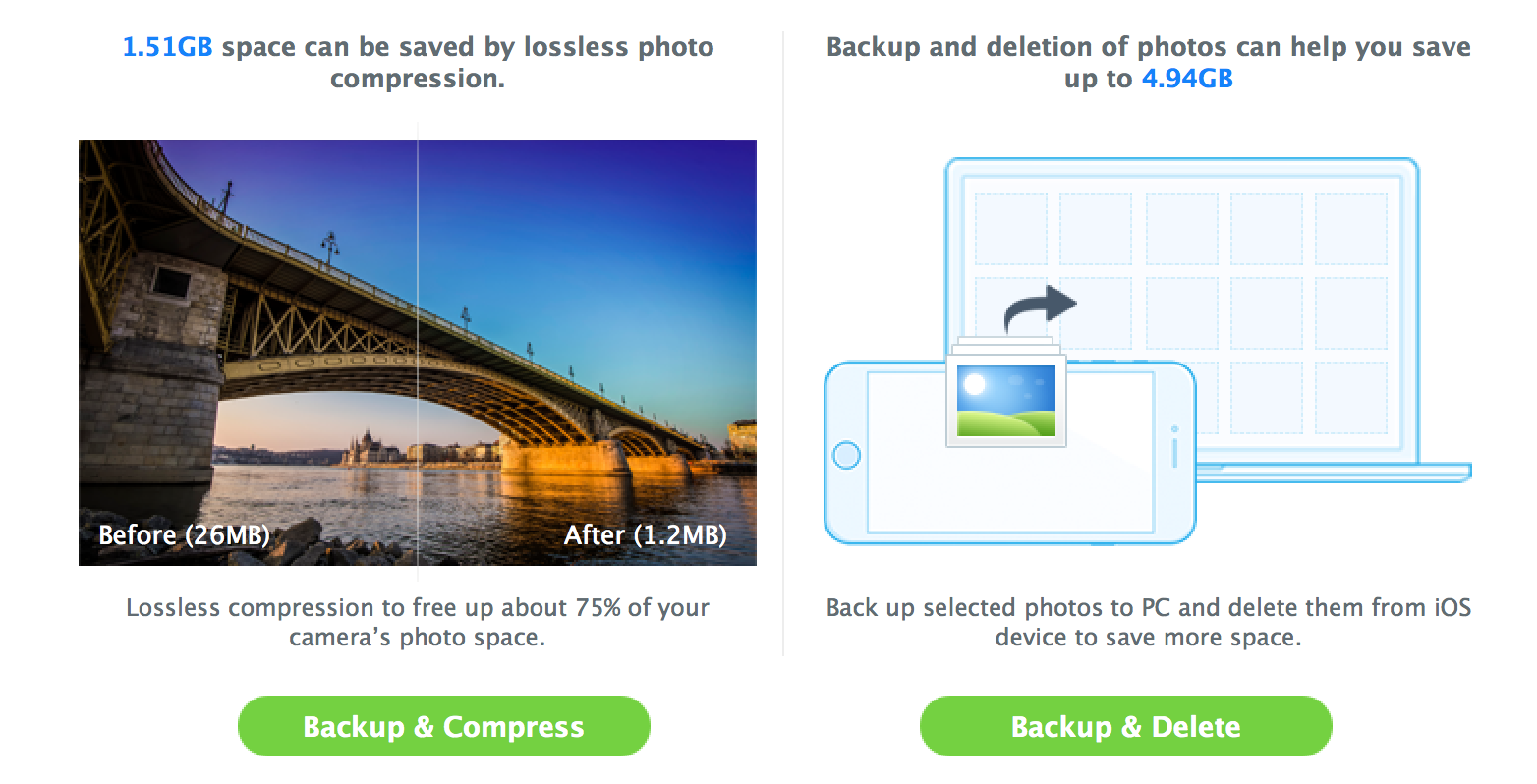 Compressing my biggest photos can save a quick 1.5GB, but the real savings is when I simply copy photos off my iPhone and onto my computer. They're hopefully also backed up in the cloud too, whether you use iCloud, Dropbox or a similar service. If I opted to clean up my photo library completely, I could save 4.94GB. That's a lotta space!
Or you can look at your Videos, in which case Umate Pro conveniently sorts them by size and even lets you filter out movies smaller than a specified size, as I've done here: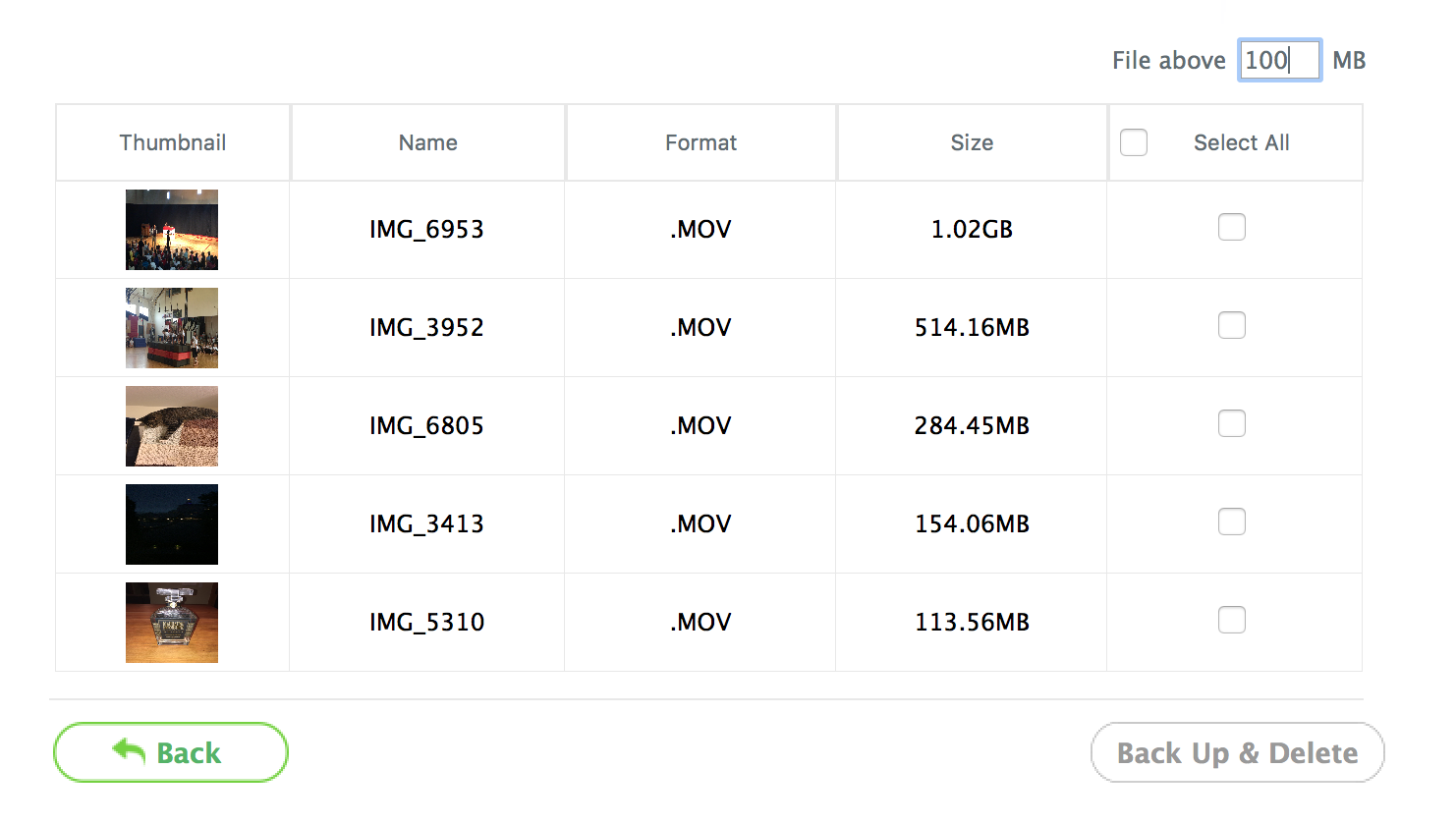 Notice that a single video file I have — IMG_6953.MOV — is over 1GB in size. Yikes. Now at this point I wish I could double click to at least get a bigger thumbnail if not actually preview the video, but that's not a capability of Umate Pro so after confirming it's indeed one I've already backed up onto the Mac, a click to select and "Back Up & Delete" gets rid of it. 1GB freed up!
Let's look at the other major functionality of the program too. To start, if you're about to hand your iPhone or iPad to a stranger (or overly curious nephew!) you'll want to know about Erase All Data in iMyFone Umate Pro:
The program uses a secure erase technology (erase, write junk, erase, in a loop) to ensure that there's no way even with forensic tools that people extract your deleted data after the fact. Erase All Data, however, is the lobotomy of options: don't use this if you aren't ready to start with an out-of-the-box iPhone.
The easier first step is to choose Erase Deleted Files:
As mentioned earlier, remember that deletions on the iPhone and iPad tend to just move that data to a holding area rather than wipe it. This means someone who knows their way around iOS 10 can recover everything. Not good. To remedy that, you can use the Umate Pro's Erase Deleted Files.
Scan by clicking the "Scan" button and if you're the type that encrypts your backups (smart!) you've got a hiccup:
You can read their instructions or just pop over to iTunes and look for the Encryption option on the iOS device info page:
Wait until iTunes does it's usual sync, then uncheck Encrypt iPhone backup (or the iPad equivalent). iTunes will perform another backup, then you'll be able to pick and choose what you want to delete from your device: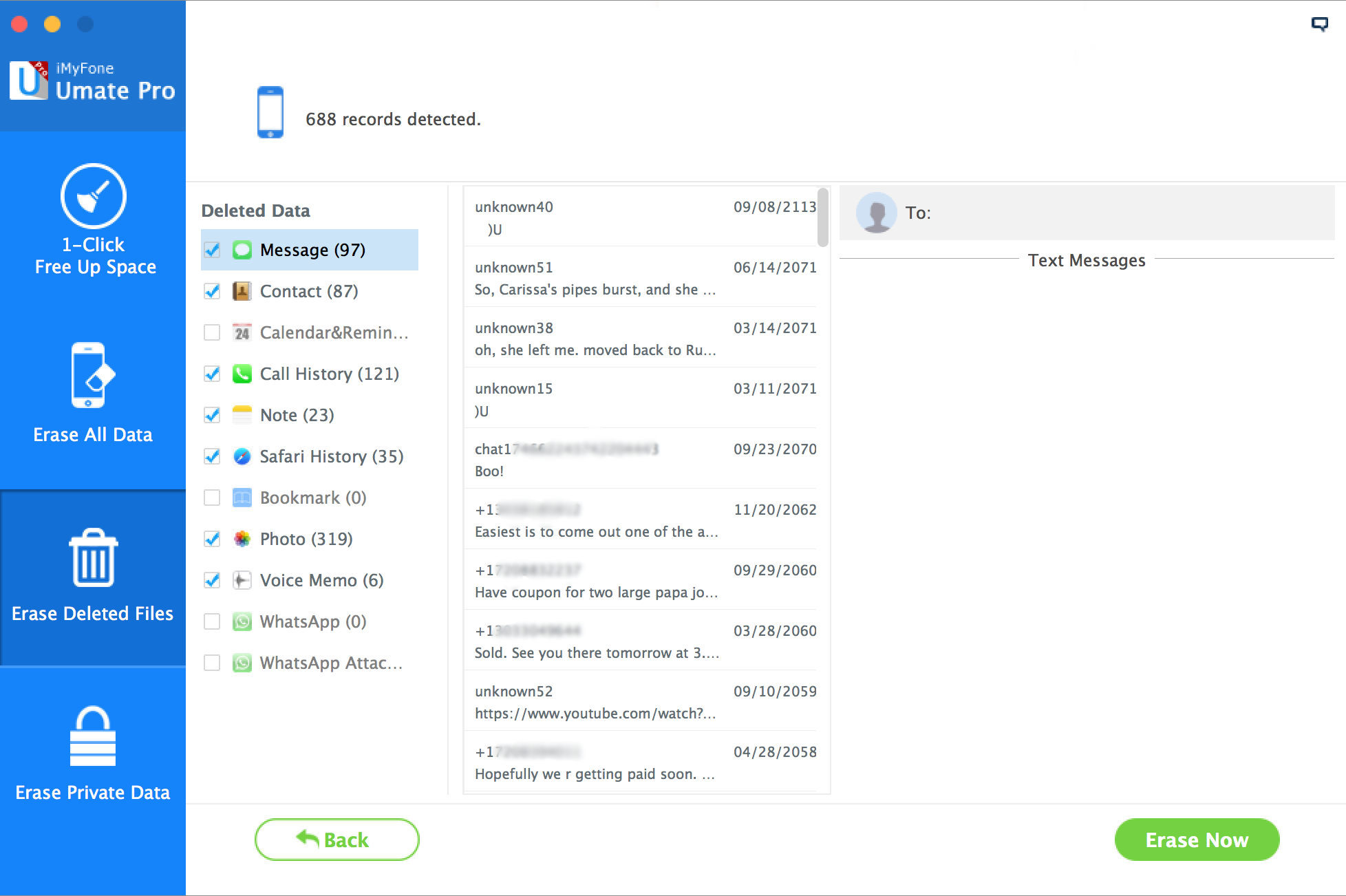 Note that it doesn't show all messages, all contacts, or all notes, just those that you've deleted and that iOS has decided not to actually delete.
You can also look more closely at the photos by clicking on "Photo" in the above display. For me, it is indeed over 300 photos that I thought I had deleted but apparently had just moved into a holding folder:
Pick and choose what you want — including WhatsApp messages and attachments! — and choose "Erase Now" and… you're done!
That's all there is to it. While its main functionality is to help you securely wipe all data from your iPhone or iPad before you part ways with it, turns out that iMyFone Umate Pro for Windows / Mac has a lot of other features and utility that makes it a good addition to your utility collection.
iMyFone Umate Pro for Windows or Mac is $29.95 for a full license. iMyFone also makes D-Back for Windows for data recovery, the other side of this equation. Learn more by clicking!
Disclaimer: iMyFone sent us a license key for Umate Pro for Mac for the purposes of this review.