I've been using my Human Scale Float desk for a few months now and must admit that it's added a whole new dimension to my workflow. It's simple, yet compelling design fits into any workspace, at home or at the office, and the design aesthetic hits the mark.
Being able to sit for certain conversations, but work while standing has changed the way I engage with my work. I've always had a more traditional workspace, one where I sat all day behind a big wooden desk, with giant drawers and plenty of room to lose all sorts of things to what inevitably becomes the junk drawer. When I was younger, I believed a messy desk meant I was working harder, but I've realized it was just an excuse to not bother keeping a clean desk. The Float makes that organization simple to achieve, as there is nowhere to leave papers or other items where they do not become clutter. It's sleek, modern design has led to a more organized workspace, which for me leads to a much better workflow.
The only issue I've had with the desk was setting it up, I was able to easily build it, but getting it to float up or down was more tricky. Unfortunately, Humanscale's customer service is only available during the work day and it was nearly impossible for me to engage with them between 9-5 during my work week. Eventually, my son had some time and was able to figure it out. Since then, the desk has been an amazingly positive addition to my office.
Here's what it looks like (company photo, not me standing at the desk!):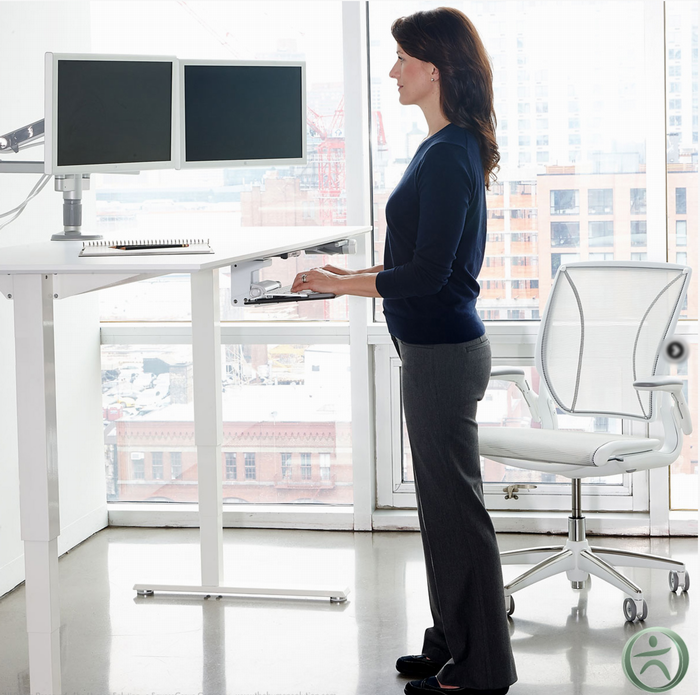 At the same time, I reviewed the Humanscale Freedom Headrest chair, which is a perfect addition to the Float Table. Since I began using the Float desk, I'm sitting less. So, when I do sit, I want to feel comfortable. I want to feel like my chair is my chair and the Freedom makes me feel that way. The chair uses body weight and gravity the "laws of physics" to adjust while reclining and adapt to anyone who takes a seat.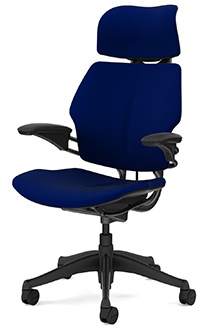 The contoured cushion is perfect for sitting all day. My one complaint about the chair is the mechanism for the arms: I just don't think the arms go high enough on the chair. It may be because I'm using a standing desk, so the height of everything is in flux, but I do wish the design of the chair allowed the arms to float a bit higher. That said, the armrests are comfortable and easy to adjust.
Once again, Humanscale takes design simplicity to the next level, as this chair is not only comfortable, but fits into almost any environment, from office to kitchen, this chair would both blend in and enhance the space
Overall, I think the Humanscale Freedom Headrest chair is both comfortable and has an overall sleek design. It's been a welcomed addition to my office and while it is not perfect, it comes close. I am happy to trust the health of my back and shoulders to this well designed chair.
The Humanscale Float Table Desk is $1749.00 and the Freedom Task Chair with Headrest is $1,169.00.
Disclaimer: Humanscale sent both a desk and chair along for the purposes of this review.
Review author Gary Moskoff is a contributing editor to Ask Dave Taylor and the Managing Director of Sleeping Giant. He specializes in understanding consumers needs and developing experiences that compliment to their lifestyles.