Do you have a GoPro Hero 3 or Hero 4 and want some great accessories to help you capture underwater videos, keep your batteries charged in the field or just have a smart, compact case to keep all of your gear safe and organized?
I did and with the help of Polar Pro, GoCase and RageCams, achieved all three goals easily, and without stress.
With its great design and easy interface, having a GoPro Hero 4 and taking videos is easy, but getting footage that looks clear, crisp, and stable is still a challenge, and much more so if you're working underwater. Having just returned from two weeks in Hawaii field testing the camera and accessories (and working on my tan), I'm going to give you some tips and list a few products that helped me achieve these tasks.
The first challenge was filming underwater, because the light that comes through the water has its spectrum changed so color correcting filters are required for good results. To address that, I had Polar Pro Filters send out two different filter systems, the Switchblade 2.0 filter ($59.99, shown below) and the Red Filter 2.0 ($29.99) from the Aqua Series. Both are red to compensate for the deep blue colors underwater.
I filmed in beautiful Hawaii and got some really cool shots, but you don't need to be in the surf or coral reef for these to be beneficial. I would suggest these filters for anything and everything underwater including, deep sea diving, filming your children in the swimming pool, snorkeling and capturing footage of sea turtles and colorful fish. The filters themselves are also small, versatile and easy to take on and off.
If you ever need to charge your GoPro or use an attachment and can't find it in your backpack, the GOcase H4 for GoPro ($59.99) portable carry case would be a lifesaver. I love it because I have two siblings that are constantly taking the GoPro charging and data cords, leaving me without much needed connectivity. To have all the cords, accessories, and batteries in one neatly organized bag is great, especially if you're running out the door and want to grab your camera.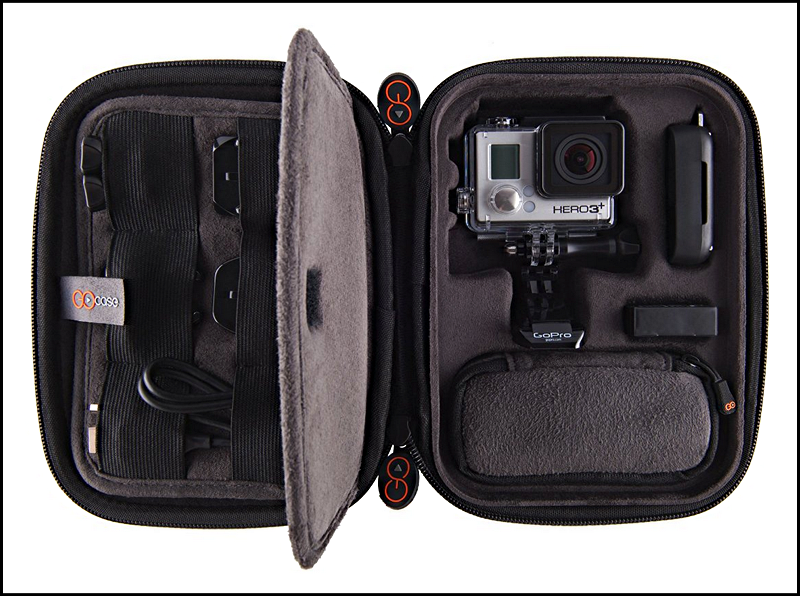 The GOcase H4 is designed to hold your GoPro camera, an extra battery, lenses, chargers, cables, and the Wi-Fi remote. And it's amazingly small for something so darn useful.
There's one more piece to the puzzle that I needed in the field: a smart battery charging system for the two GoPro batteries I use with the Hero 4 camera, and that's where RageCams GoPro dual battery charger ($39.99) proved invaluable. The unit houses and charges two GoPro hero 4 batteries simultaneously, in a unit that's roughly the size of an Altoids tin. A micro-USB cord input goes from the case to your computer or wall plug and it's easy to work with whether you're plugging in to grab some juice while on a lunch break or charging the batteries overnight.
The GoPro is a great camera and being able to add just the right accessories makes it even more fun. Here's some footage to show you just what I mean:
Disclaimer: Polar Pro, GOcase, and RageCams supplied us with review products.