Whether it's ripping a copy of a favorite DVD before a trip, downloading a video from the Web so you can watch it on the train where there's no wifi or simply converting video content from one format to another, the wide range of formats can be one big headache. Which is why the many capabilities of FonePaw Video Converter Ultimate is so darn useful. Let's have a look…
It never fails, a client sends me a video in one format but I need it in another. AVI, MKV, WMV, MP4, whatever format it's in, odds are I need it in another. And that can be a real pain because programs that are adept at showing one format are rarely able to handle the others, whether it's Apple's iTunes, Windows Media Player or even popular Web browsers. That's why whether you're on a Mac or Windows system, you're going to be very interested to learn more about the capable Video Converter Ultimate.
But, like a late night informercial, that's not all! VCU also has built-in the ability to rip your favorite DVD movies and can also download video from online sites as easy as copying and pasting a link from YouTube or similar.
Let's start with just that, grabbing a copy of a YouTube video. For this example, I'll download a copy of one of my own recent reviews, of the MyCharge PlugHub.
Launch the program and you'll be ready to go immediately with its clear, simple interface:
To download a video from the Web, click on "Download".
It'll prompt you for a URL:
Copy and paste from YouTube, click "Analyze" and it analyzes the video, offering up all the available resolutions for your download:
Always pick the highest resolution for the best results, so in this case I'm going to pick 720p. That's a 26.8MB download, not too bad for video. Click "OK" and it immediately starts downloading:

Don't worry that it shows "No Audio" on the menu, that's just a transient problem, as you can see once it's done:
I also have an AVI format video file on my desktop, a copy of the documentary Trinity and Beyond that I'd like to convert into an MP4 format. That's also easily done by clicking on "Add File" from the main screen.
Up pops a file selection dialog, so just find the movie you want to convert:
Once selected, you can choose the output format and destination from the very bottom of the window, as shown:
Ready to be overwhelmed? Click on the "MPEG-4 Video (*.mp4)" option and rather open up a menu, an entire menu shows up, a demonstration of just how many darn formats there are: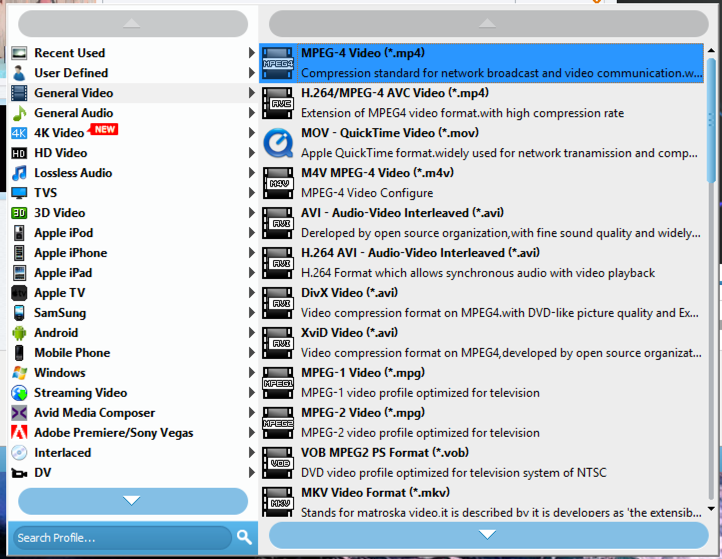 As you can see, if it exists, FonePaw Video Converter Ultimate supports it!
I'll stick with MP4 and with a click on the "Convert" button, the program whirs away:
After a short period of time, the output folder is opened up and you can see both the downloaded video and the Trinity and Beyond documentary converted from AVI format to MP4 format:
Just to make sure it worked, I'll double-click on the documentary film and as you can see, it looks good:
I didn't have a chance to test the DVD conversion function because none of our PCs have optical drives, a rather modern problem, but the two primary capabilities tested, downloading video off the Web and converting video files from one format to another both worked splendidly. Not only that, but the program lets you chop the start and stop points and other basic edits to make sure that the video that it saves is exactly what you need.
If you want a Swiss Army Knife video conversion tool, FonePaw's Video Converter Ultimate is a good choice.
FonePaw Video Converter Ultimate. Available for Mac or PC ($39.95 for single user license).