Got a gamer PC and want a solid, low-cost keyboard that's ready for the latest games and has some slick features? We check out the Cherry Corporation MX-Board 3.0…
Do you have a desktop, laptop that you can connect to a TV by HDMI, or just a need for an awesome keyboard?Well, I did.
I have a desktop system but the stock keyboard is lackluster at best, so I got a Cherry Corporation wired MX-Board 3.0 keyboard to replace it. The MX-Board is tough, rugged, and uses what they call "Gold Crosspoint contacts" in the keys, ensuring perfect and extremely fast keystrokes. You can even hold down as many as a dozen keys simultaneously and they'll all be registered and sent to the computer.
In a nutshell, this keyboard is awesome!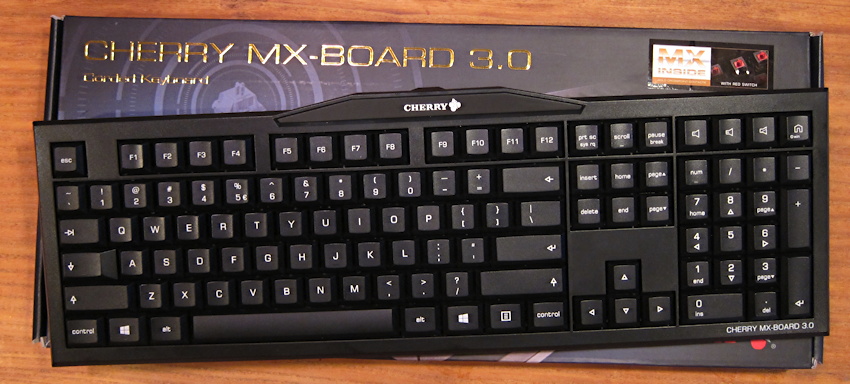 Some pros are it includes a long cord, which is darn useful if you like to plug your laptop into a TV via HDMI and then stretch a keyboard across the room so you can relax while gaming, a separate number pad if you actually want to do work, and if you're into gaming, it has no lagging or a delayed response at all.
I am certainly a gamer and I found it worked great with Call of Duty, BO2, Counter Strike Global Offensive, Call of Duty MW3, and Grand Theft Auto.
I love everything about this keyboard except one thing: I have rather large fingers and it is not uncommon for me to be typing and press down two or three keys by accident. This will doubtless improve as I use the keyboard more, but it's worth knowing if you have really big fingers.
Some things to keep in mind are also that unlike many keyboards of its class, the Cherry MX-Board 3.0 isn't backlit and it is rather loud, so if you work in a room that your child also sleeps in, this isn't the keyboard for you.

On the back of the keyboard, there are two spaces for rubber grip pads, in case you use a mount that's slanted. You connect them by adhesive. Also on the back, there are two "legs." They come with rubber covers as well so it won't slip around on your desk.
Oe of the things I really like about the Cherry MX-Board 3.0: it has a standard Mini-USB connector and includes a nice long cord, a cord you can replace at any Target or Wal-Mart cheaply enough. This is particularly useful if you lose cords (or have them stolen by siblings)!
The Cherry MX-Board 3.0 Keyboard. $85.00 at Amazon.com
Disclaimer: Cherry Corporation supplied us with a unit for the purposes of this review.