Are you tired of trying to plug your computer into a projector or TV screen just to find that there's an adapter that's missing? Or using Chromecast or AirPlay just to have it flake out? Benq solves that with the spendy, but excellent BenQ InstaShow. My review…
Whether you're a teacher, an entrepreneur or just sitting in a meeting, it's all too common for people to end up crowding around a laptop or tablet screen to see a presentation because the connectivity of the devices in the room are lacking. Sure you can set up the conference room with a big TV or projector and a ChromeCast receiver and/or AppleTV, but do they work reliably? Are they secure? Do people need to set up and possibly even install new software to use them for that presentation?
That's the last thing you want to be focused on when you really just want them to get on with the presentation or class. I know, because I've watched people – and even had personal experience – with conferences where the speaker couldn't proceed without a special dongle being found first. Worst case, you see people having to make a presentation off a borrowed computer because theirs just doesn't work (and their invariably messed up slides which ruin the presentation!)
The BenQ InstaShow flips this all on its head with an encrypted, high bandwidth transmitter and receiver setup that looks to the transmitting computer exactly like a second monitor has been plugged in (e.g., no special software, no setup). Here's the full set of gear included with the BenQ InstaShow WDC10: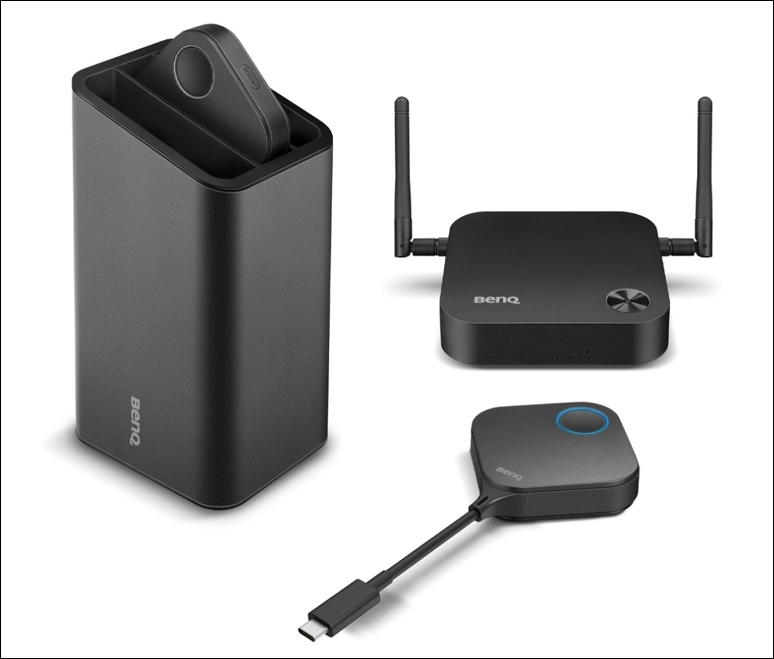 The big unit on the left is actually just a conference table storage device; all the actual electronics are the two units on the right. The top is the receiver: that's plugged into the TV or projector system and left powered on 24×7. It's pretty darn small, about 5″ on a side. The much more interesting piece is the lower right: that's the transmitter and as you can see this version (known as the model WDC10C) is based on USB-C connectivity.
Plug the transmitter into a computer with a USB-C connector, like an Apple MacBook Pro, and it's instantly seen as a second display and ready to use, either in mirroring mode (where what's projected is identical to what's on the computer screen) or as a second display (where it's controlled by the computer, but can be different. This is a much better configuration for presentations, for example).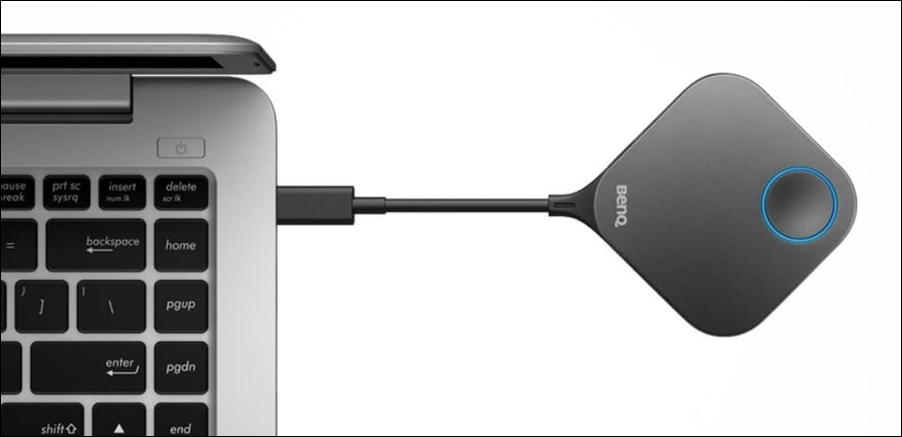 With the receiver hooked up and ready to go, it's as easy as plugging the transmitter into the computer and pushing the button. That's it. The two units establish a high-bandwidth, encrypted signal (so it can't be intercepted by devices not in the presentation, a major issue in some organizations) and within seconds you're good to go. That's it. No software to install, no special adapters.
Don't have USB-C? BenQ also has an HDMI + USB-3.0 transmitter unit too:
The whole thing works incredibly seamlessly and is terrific in actual use. I demonstrate how easy it all is in my YouTube review too:
The biggest downside is the price. This is not something priced for a hobbyist but for a corporation or developer who is kitting out a conference room. If you can afford it though, it's remarkably good and a big improvement over reliance on the flakey ChromeCast or Apple AirPlay protocols…
BenQ InstaShow with two USB-C transmitters, receiver and storage unit: $1099 at Amazon.com. The HDMI/USB-3.0 package is less expensive at $990 and you can buy additional transmitters individually too.
Disclosure: BenQ sent me an InstaShow package for testing and review purposes.