The Belkin WeMo Insight Switch is a wifi-enabled power outlet that turns any appliance into a smart device. And it's surprisingly useful and interesting!
We see a lot of devices, a lot of gadgets here at AskDaveTaylor and quite frankly, some of them immediately make us wonder whether the development team ever did field trials. That was my first reaction when Belkin sent over a WeMo Insight Switch. It's a wifi enabled power outlet adapter that you can control from a smart phone anywhere in the world, and can set up specific rules tied to events, time limitations, or energy usage. But why?
Hooking it up to a few different devices in the office revealed the truth: in fact, the WeMo Insight Switch is a terrific device to help you both gain control over your devices remotely and to simply monitor their usage and better understand how your fridge, TV, computer or other electrical device uses power at various times in its usage cycle. Without understanding what's eating up your electricity in the office or home, you certainly can't improve your "power footprint", right?
Let's start with a photo of the unit itself as they're pretty cool: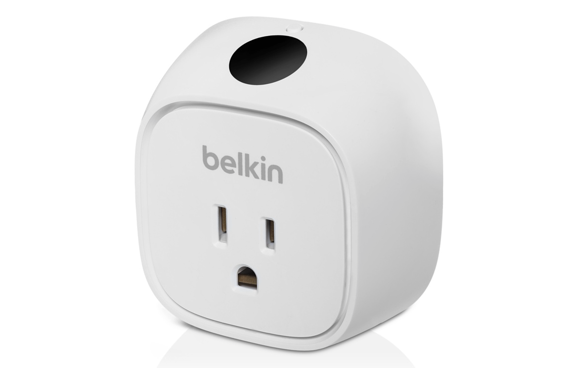 Setup takes a bit of fiddling with the iPhone app, but that's because like every other device that taps into wifi, you need to get it up on your local network as the first step. That's a pain, but it's still fairly quickly accomplished. To start, you plug in the Insight Switch and it creates its own wifi network to which you'll then connect:
You can see "WeMo.Insight.1F9" as one of the possible networks. When chosen and connected (there's no password, but that's only true during initial setup. Once it's up and running your neighbors won't in fact be able to hack into your home network) you then launch the simple WeMo app: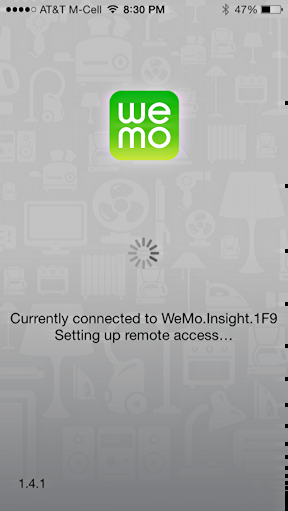 This phase took surprisingly long each time I reset and set up the Insight Switch, often a few minutes to establish a connection. Not sure if it's because our office has too darn many electrical signals and wifi signals floating around, but I expected it to take 10-15 seconds and each time was surprised at the duration of the app setup.
Finally, though, WeMo connects and the app pops up a request: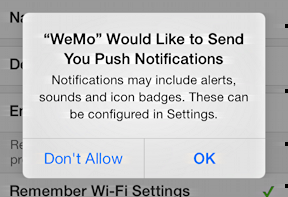 Once it's all set up and ready to go, you'll be told that your phone is now controlling the switch: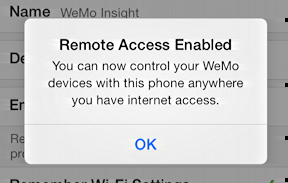 That's not too difficult!
Now the fun part: configuring the app so that you know which WeMo unit has what device plugged in. Yes, you can have more than one of these and in fact the WeMo line has a variety of controllers ranging from wall switches to a new motion sensor.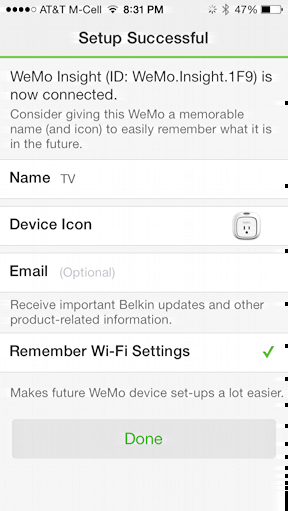 As you can see, this one we hooked up to our Sony HDTV unit to see what kind of power it, and the associated DVR and other peripherals use when they're all powered on or off, so it's named "TV", easily enough.
You could change the device icon to be a photo of whatever you've plugged in too, but I found the name was sufficient.
Why include email? Because you can set up notifications tied to specific events so, for example, it could email you when the Playstation or Xbox is turned on, a sneaky way to keep track of your children's device usage.
Once configured it shows up as one of many possible WeMo devices in the main app view:
After a moment or two it communicates with the base unit and can then show if the outlet is "on" or "off". You can, of course, control that remotely too, or via one or more rules you set up.
Tap on a specific device in the app and a lot more information is displayed: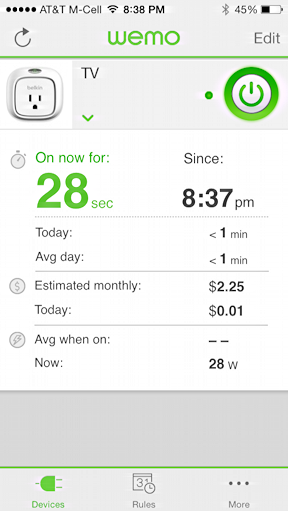 Look at the bottom. 28w of current power usage. And notice also that the power switch is green: the outlet is on and this 28w is actually the DVR alone: The TV is off. How do I know? Because if we power up the HDTV, power usage jumps:
140w for the Sony TV, Vizio Soundbar, and Comcast Xfinity X1 DVR. A fair amount of power if it were all on 24×7 but fortunately it's not.
There's a lot I like about the Insight Switch and the WeMo system, but truth be told, I found that having it hooked up to the entertainment system was of less value once the basic electrical monitoring lost its glamour because it's a bad idea to remotely power off the DVR, so most of the capabilities of the unit were useless.
We also hooked it up to the refrigerator and that was also interesting from an electricity usage perspective: when the fridge is closed and its condenser isn't running, it uses a remarkable 2w of power to stay alive. That's all, way less than the dimmest light bulb. But again, not so useful to be able to remotely power up or turn off!
And therein lies the dilemma with these sort of smart devices: how smart does your home really need to be? At $59 per empowered outlet, it's a bit expensive to hook everything up, and the vast majority of my lights are controlled through dimmer switches, not just plugged into a wall or wall outlet. WeMo includes replacement switches and switchplates, which offers one possible solution, but look around an office or home and you might be surprised how many devices really aren't worth a $60 investment to gain some additional control.
Still, there's something really cool about the WeMo system and the Insight Switch in particular, so it's something we'll definitely use, especially with the rules-based options available. If you want to start exploring the future of power management, it's a good buy. Just put some time into thinking about where and how you'll utilize it.
Belkin WeMo Insight Switch, $59.99 through the Apple Store and their Web site. WeMo app is a free download.
Disclaimer: Belkin supplied us with the Insight Switch to review.