Like most people, I spend a fair amount of time in my car driving back and forth, running errands and occasionally going on road trips. My oldest is also learning how to drive so it gets double duty as a teaching vehicle too.
But while our cars have become increasingly sophisticated with dozens of on-board computers, we know remarkably little about the day-to-day operation.
Enter the slick Automatic Smart Driving Assistant.
There are two parts to the Automatic Smart Driving Assistant, the $99 device that plugs into your vehicle and the free mobile app that interfaces with the unit. Just about every car made since 1996 has what's called an OBD, an on-board diagnostic port. Usually they're used by mechanics and auto companies to plug in their fancy diagnostic computers and analyze the usage data logs, but the protocol is open and the Automatic hardware unit plugs directly in. I have a 2008 Toyota Highlander, so my car was ready to go when the device arrived.
The second part is the companion app (the device and app share data via Bluetooth but otherwise the device has no user interface and is essentially invisible to all but the most eagle-eyed. In my car, it's tucked underneath the dashboard above the brake pedal to the left (and below) the steering wheel. The app is available for both Android and iOS too.
As a product tester, I actually already had a device plugged into the OBD port on the Toyota, the Audiovox Car Connection. Once unplugged, the OBD port was easily located and ready to go:

For scale, the port is approximately 3-inches across, and maybe an inch high.
With the Automatic Link unit plugged in, here's the view looking down: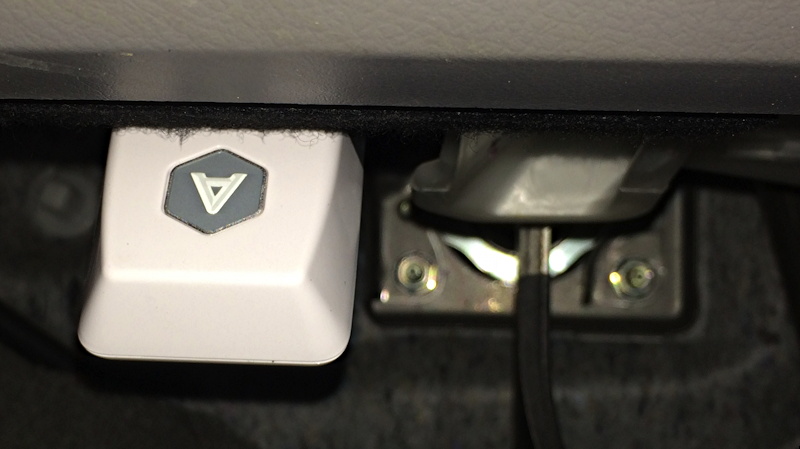 Again, the unit's not much bigger than a half-dollar, I've just zoomed way in so you can see it in action!
On the iPhone 5s, a quick click downloads the Automatic app: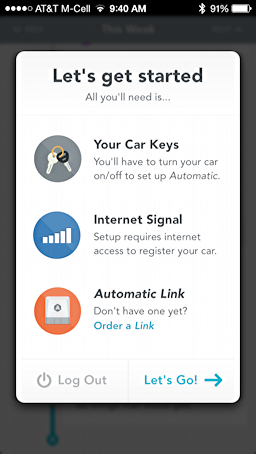 A few simple steps (including entering a unique serial number located on the Automatic Link) and…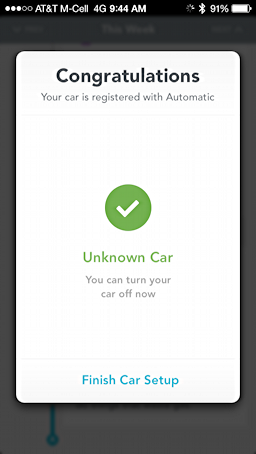 One thing: Cars apparently don't identify themselves to the app, so you'll need to tap on "Finish Car Setup" to add information about your particular vehicle. This also helps the Automatic Link figure out how to communicate with your vehicle: apparently there are at least five distinct protocols being used by OBD systems.
It does identify its own VIN (vehicle identification number), however, as shown when I go to finish the setup: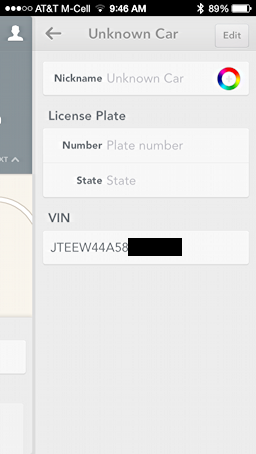 All easily accomplished.
When it's all setup, by default the little Link unit beeps if you're driving too fast, braking too hard or accelerating too aggressively. Neat when my daughter's driving (though disconcerting) but not so much when I'm behind the wheel.
Fortunately you can turn this feature off from within the app: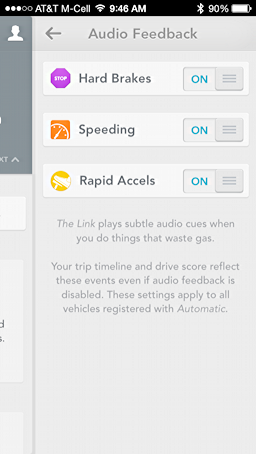 Whether or not you want the audio feedback, however, the main point of the Automatic Link is to analyze how you drive and give you feedback on your driving style and routes.
After a few days, here's what it was sharing with me: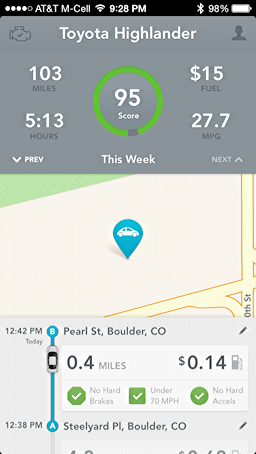 You can see that in the previous seven days I've driven 103 miles across 5:13, with an average fuel efficiency of 27.7 MPG. That translates to $15 in gas costs (though you can't tweak gas price so my assumption is that there's a standard price that it's getting from Automatic HQ).
More interestingly, I did well with a driving score of 95. Just a couple of times I braked too hard and once time I was a bit too eager to get going from a dead stop. This becomes far more interesting when my daughter starts being able to drive without me in the car, of course, and also note that for each segment driven, it shows starting and ending point, can show places you stopped for 15min or less, and gives a performance feedback score for that specific leg.
With the OBD being monitored by the Link, your smartphone can now pop up alerts when there are problems with the vehicle, darn handy but not something I could test short of draining out all my oil or throwing a tire iron in the fan. 🙂
Finally, the map shown is interactive and is handy when you're not sure where you parked. Better, if someone borrows your car and just leaves it, you can find it then too, as you could also if it's stolen (at least until the thief yanked the unit out). Carjackers, beware!
I really like the Automatic Smart Driving Assistant, actually. It's simple, small, super easy to install and offers up all sorts of interesting information and diagnostics about both your car and how you drive. Priced at $99 for everything you need, it's also quite affordable. Check it out: Automatic.com.
Disclaimer: Automatic sent us an Automatic Link for the purposes of this review.