I have a lot of Web sites I've signed up for on my iPhone and every time I go to sign in on my computer, I realize I don't know the password. Is there any way to retrieve and view the passwords Safari has saved on my phone? I'm running iOS 13 if that makes a difference.
Passwords are a clumsy security mechanism. Easy to guess ones are 10x worse, of course, but there's a hidden problem with software that suggests complex, secure passwords: You'll never remember it. Not a big deal if the system for saving passwords is reliable, but when you do want to get to that password so you can enter it on another device, it's… complicated.
This is a classic convenience vs. security tradeoff, though: You don't want it so impossible that you can't ever access your saved passwords outside of when you actually log in to a site, but you don't want it so easy to access that someone with 60 seconds could grab your key account credentials. Apple's done a good job of finding that middle ground and even have a hidden secret feature that helps keep your password even more secure.
To start out, go into Settings and scroll down until you can get to Passwords & Accounts:
That puts you here, where you can see how many passwords you have saved and tweak a few other details: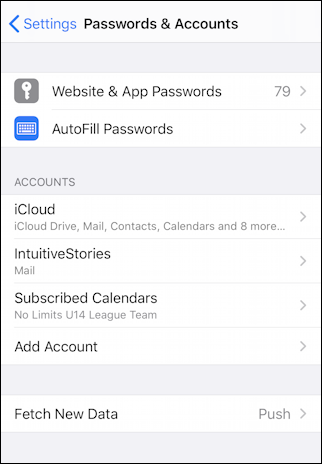 A tap on "Website & App Passwords" and you'll have to validate your identity. If you have face recognition enabled, it'll be a quick, passing image, otherwise your PIN will do the job. Then you'll be here: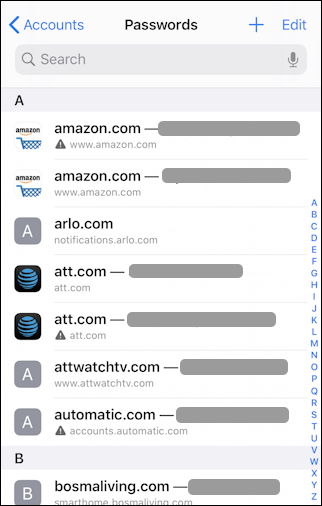 Why the same site ends up with more than one password record is unclear to me, but at this point you can swipe down to find the account and password credentials you seek or use the search box to enter a few letters of the site name.
Once you find a match, tap on it. For example, here's my Venmo account information after a quick search for "venm":
To find out my Venmo account and password (me, not you!) is just a tap away…
What's interesting about this particular screen is that if you take a screen capture, you'll find that it magically excludes the actual password. In fact, the image above had a blank space for the password, even though on my phone I could see it shown clearly. A neat trick on Apple's part to help you retain security even if someone wants to steal your info. Of course, there's nothing stopping you from taking a photo of the screen showing the login and password pair, but that's much harder to prevent.
That's how you can dig into the Safari account data archive on your iPhone or iPad and check on passwords and more. Pretty easy once you know where to look!
Pro Tip: I've been writing about the iPhone since the very first iPhone 1 (yes, I had one!). Please check out my quite extensive iPhone help area for lots more tutorials, guides and tricks while you're here. Thanks.