I was trying to update my Windows 10 laptop yesterday and noticed that it wouldn't actually apply the update because of "Battery Saver". How can I force an update or disable this feature?
Updating core software on a device, whether it's your TV, headphones, telephone or computer, can be a risky proposition: The updates are designed to start, run through without interruption, and finish up. But what happens if halfway through your update the power dies or you accidentally unplug it? With most modern devices, nothing particular onerous, but with other devices it can be catastrophic. Indeed, this is where the term "bricking" comes from; a failed update that turns your device into a brick. The worst with these have been video game systems and some systems (looking at you, Nintendo) were notorious for bricking devices during failed upgrades.
The long and short of it is that your Windows computer is actually being helpful when it refuses to apply an update because your battery is too low for safety. Remember, it would only need to happen once out of dozens or hundreds of updates to seriously mess up your computer and, by extension, your day. Worse, while battery power prediction utilities are smarter than they used to be, Microsoft is aware that estimated power remaining can be a gamble; 20% power might mean 15 minutes and it might mean 2 hours. So if you have 20% or less, battery saver, by default, is enabled, and you won't be able to update your PC!
There are ways to sidestep or disable this, but…
Anyway, here's how things would go down. First off, you check for an update…
Notice you can change "active hours" if you never want updates to happen during work hours. By default, it's 8am-5pm.
After a few moments, it will perhaps find an update or three. Then you're here:
Lots of updates and security updates to apply, but what about that Battery saver warning? I've highlighted it in red above: "Battery saver is on, so we've paused downloads. We'll resume when Battery Saver is off or click the "Download" button to do it now."
So one way to sidestep this safety feature is to click on the "Download" button. Smarter, though, is to plug your PC in at this point. After a few seconds, the download button and warning message will both just vanish and it'll resume the download automatically: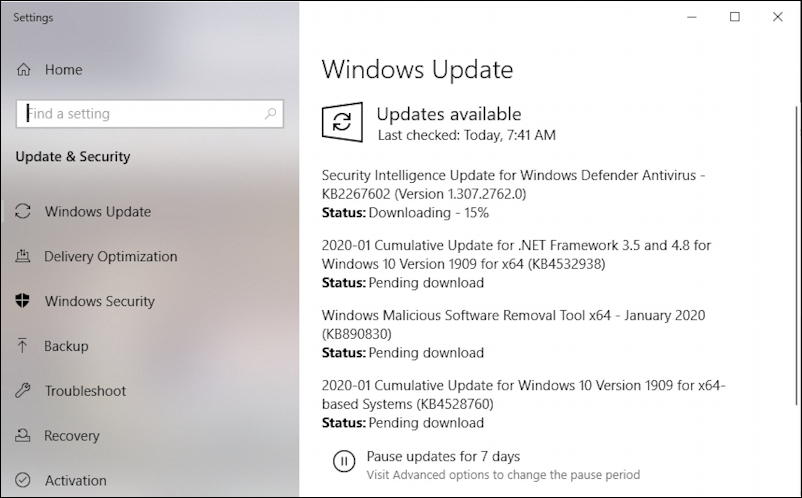 Good. Those sound like pretty important updates, particularly the "Security Intelligence Update".
But maybe you do want to disable Battery Saver. I don't recommend it, but it's your computer, right? Do a search right in the Control Panels window for 'battery saver' and you'll get these options: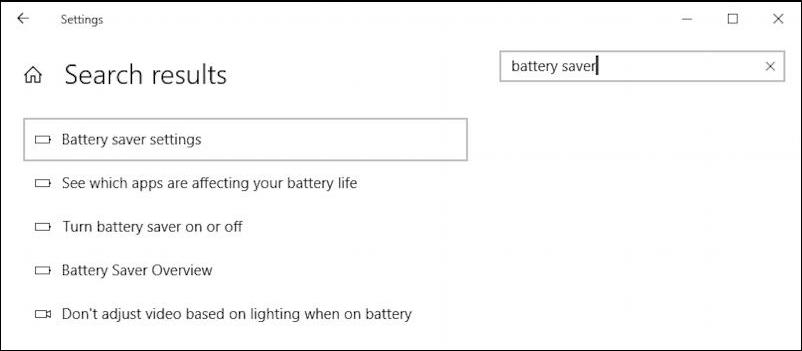 Choose "Battery saver settings" and you'll get to learn more about how Windows 10 manages your battery, computer performance and display than perhaps you ever realized you needed:
Of course, there's always the shortcut on the Notifications window too:
A click and it's disabled. Another click and it's back on. Seriously, though, leave it enabled. Someday you'll thank me.
Meanwhile, speaking of notifications, my updates are done: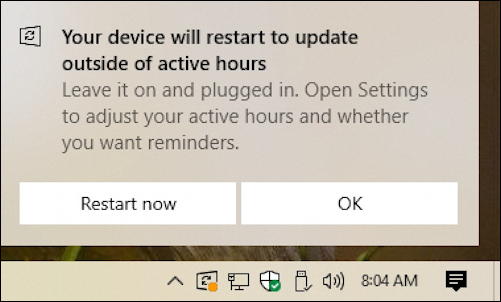 I'm at a good spot so a click on "Restart now" and everything's up-to-date. Phew.
Pro Tip: I've been writing about Windows 10 for a really long time. A really long time. Please check out some of my many Windows help pages for more tips and tutorials. Thanks!