I just got a new iPhone 4 and am excited to get it working, but when I try to use a "Restore" from a previous backup of my iPhone 3GS, I get an error that the software on the new phone is too old. How can the new phone have software that's too old to restore from an iTunes backup??
First off I have to warn you: while it's not a bad idea to restore from a backup if you've two identical phones (e.g., Apple replaces a damaged iPhone 4, for example), it's always a bad idea to restore from a different generation device. Ask any Apple Store employee and they'll cringe at the very idea…
Why? Because if the format of any of the preference files or other data files has changed from iOS version or from physical phone version to version, then you can potentially corrupt your new iPhone and cause it to act in a flaky or unpredictable manner. Not what you want at all!
When I recently upgraded my 16GB iPhone 4 to a 32GB iPhone 4, however, I experienced the same "The backup cannot be restored to this iPhone because the software on the iPhone is too old" error. At first I was baffled too, then I realized that it was iTunes acting as a safety net, making sure that I didn't inadvertently introduce any hiccups by restoring data files from iOS 4.0.6 onto a phone that actually had iOS 4.0.3b, for example. Remember, the backup data is essentially everything except the operating system itself.
The solution is to skip the restore and initialize the iPhone as if there's no backup from which you want to restore, let it update the phone OS, then do the restore from within iTunes. I'll show you, it's pretty complicated!
When I plugged in my new iPhone 4, here's what I saw in iTunes, a pretty standard first screen:



When I tried to restore from the backup of "iDave 4" (cute, eh?) I clicked "Continue" but instead of it zooming ahead, got the following "software too old" error message from iTunes: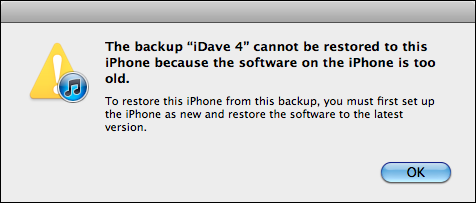 To get past this, I needed to choose "Set up as a new iPhone". Now when I clicked "Continue" it offered me a bunch of options:



Since the goal is to just update the iOS operating system software, I unchecked the boxes to save some data transfer time:



Clicking on "Done" has it fairly quickly install some very basic data and then comes back to iTunes, where the all-important "Update" option is now available to click:



If you guessed my next phrase would be "click on it", you're right. Click on "Update" and if there's an iOS update — and we know there is, based on the error message — then it'll start updating the phone. But first, a warning:



Proceed by clicking on "Update" and it'll download the new iOS firmware…


Eventually, the download finishes, it's verified (you don't want a corrupt download trashing or "bricking" your iPhone, do you?), and installed on the iPhone itself. Time for a reboot:


iTunes does all the work so all you need to do at this point is click on "OK", or even just wait for the warning message to vanish of its own accord.
Once it restarts, you'll be back to where you started, but this time there's no indication that an update is available:


Click on "Restore", and this time we'll be able to succeed at the process…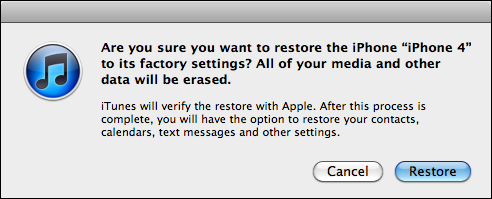 That's fine because we didn't copy anything (or sync anything) onto the iPhone. Click on "Restore" and then get up and stretch. It's going to take a while…


Much time later, you'll finally see the last few seconds of the progress meter appear:


Next thing that'll happen is that the iPhone 4 will again restart and when it reappears in iTunes, you should have everything copied across from your original backup.

Of course, my general experience is that "everything" doesn't include music, videos or photos, so you might have to select and sync them too before you're done. Just a heads up that this entire process will definitely take you a few hours or more!