What the heck happened to my trash can / recycle bin in Windows 10? It's not on my Desktop! How do I get it back, Dave?
In Microsoft's continuing efforts to lead the industry in green practices, Windows 10 now has a default configuration of zero waste, so there is no more trash can or recycle bin. The intention is for you to save electrons by not creating files, images, and documents in the first place. Want to download something? Just look at it online instead. They figure it'll save 130 terabytes of disk space every day!
Just kidding! Microsoft hasn't gotten rid of the delete feature!
Different people have very different expectations of how their computer should look, and so there are all sorts of ways you can customize your Windows desktop, whether you're running Windows XP (but you shouldn't be!), Windows Vista, or even the latest, Windows 10. One of these options is to have external drives, the trash can icon (oops, "recycle bin" icon) and others show up on your Desktop. Or not!
Sounds like you just have your recycle bin hidden. Easily fixed!
To start, as always, search Cortana. This time, search for "desktop icon":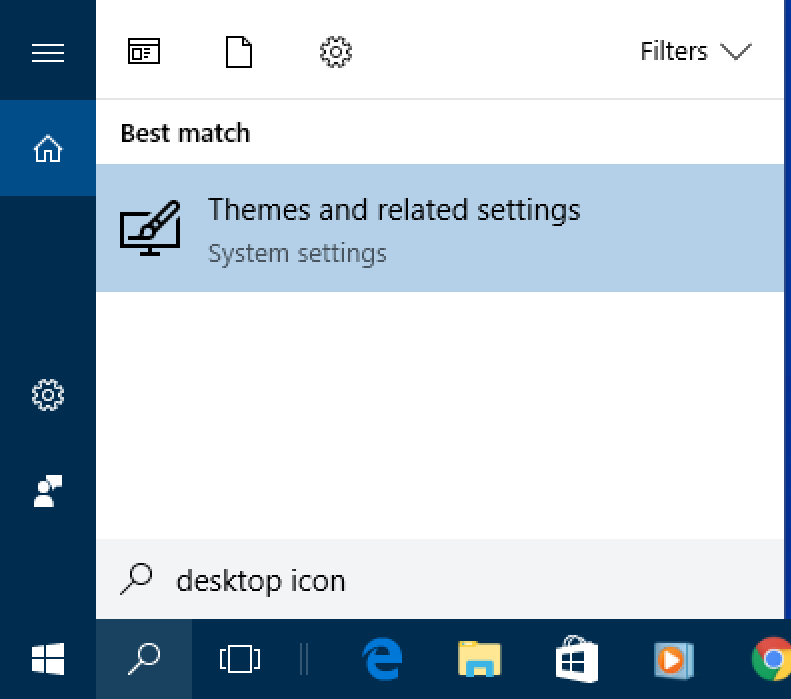 Choose "Themes and related settings" as it's the closest we can get from this point in Win10.
Here's the Window that pops up:
Plenty of things you can change if you want to customize your Desktop color, wallpaper, cursor size, etc, but hold on, because what you want to click on to fix your Recycle Bin mystery isn't actually visible.
Scroll down a bit instead and find this option near the bottom of the Window:
Finally, that's what you want. Click on "Desktop icon settings", and here you'll be in an old-school preferences window, but you can see where it's easy to enable or hide the recycle bin:
Simply click the checkboxes associated with the "Recycle Bin" and anything else you'd like to have show up on your Desktop. And yes, most people don't know, but you can also have a "Control Panel" icon available too if you like to fiddle with settings and preferences.
And that's it. Click "Apply" and your Recycle Bin will reappear on your Desktop.