I've been playing Words with Friends and am just starting a game with someone who I just realized is a gal I don't want to play games with. We have kind of a history. She's sly, though, not having a real name associated with her Words with Friends account, so it was only a mutual friend who told me. Now I want to resign the game. How do I do that on my iPhone?
This sounds very complicated, somehow, with lots of drama and confusion. On the one hand, I'm tempted to say that perhaps playing a game together could be the bridge that lets you two start to resurrect your friendship, but then again, perhaps it's not my place to be the adjucator or mediator but rather simply answer your question. 🙂
Okay, okay. I also have a teen daughter, so I am all too familiar with the complexity and confusion of interpersonal relationships, not to mention a few decades of my own experience on this planet too. Still, still, whatever. Let's stay focused.
I actually had a similar situation arise with someone wanting to play Words with Friends with me — I typically have 3-4 games running at a time — and I didn't know who she was but accepted the challenge and began our game. Then my daughter told me she's a friend of hers and, well, I believe that it's healthy for us parents to have a separation between our social lives and theirs so I decided to resign the game.
Here's how I did it from my iPhone 4s.
First off, when you start up Words with Friends, you see the usual game status: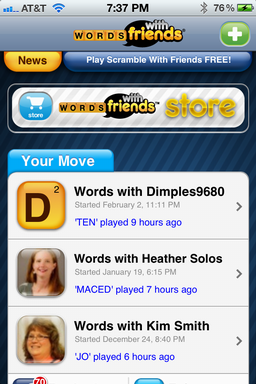 In my case, the account "Dimples9680" was my daughter's friend, so that's the game I wanted to resign. To do that, I needed to pick the game…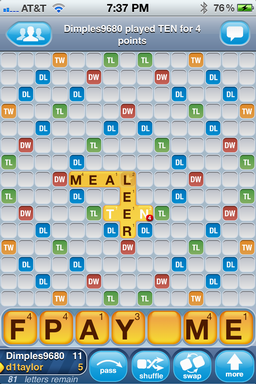 As you can see, we'd just barely started the game and I had a whopping five points. Booyah! It used to be that the "resign" button was along the buttons on the bottom of the screen, but I imagine too many people accidentally tapped it so they moved it into a secondary menu accessed by tapping on "more" with the big up arrow. When I tap on it another set of buttons appears:
You can see the one I need to tap, it's leftmost with a little white flag: "resign". When I tap on it: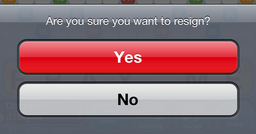 Yup, I am sure I want to resign. I tap on "Yes"…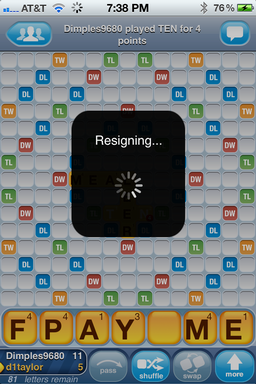 Now Words with Friends is updating the central game database and when it's done — it only takes a few seconds — it'll show her as winning the match: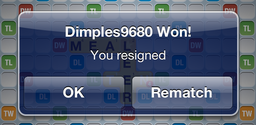 I don't like the fact that I'm listed as losing the game, but so be it. That's how you resign a game from on your iPhone (and the user interface is pretty darn similar on the iPad or even Android systems, heck, even the Kindle Fire version of Words with Friends has the same basic set of buttons). Hope that helps you out and good luck with your ex-friend!