Now that the Nexus 7 Android tablet's come out with the same form factor and Kindle app, but faster processor and better screen, well, why would I keep my Kindle Fire when I can get the upgrade? So I'm selling my Amazon Kindle Fire but before I give it to its new owner, I want to to a full system restore / reformat so I can reset it to factory settings and ensure the new owner can't get to my apps, my Kindle account, etc.
As with any device that's changing hands, it's really important to make sure you log out, disassociated any accounts, remove any purchases, wipe your music and movies, books, etc, from the Kindle before you sell it. I know a lot of people sell devices – or give them to friends or family – and leave all the apps on it, and that's not the end of the world, but leaving your account tied to the reader app or otherwise accessible? Well, let's just say I imagine you don't want to wake up one morning to find that you've just paid for 20 apps and the 30 most expensive ebooks in the Kindle Store, do you?
And so, wiping the device is only smart.
Fortunately, it's not too hard on the Kindle, especially if you're already familiar with the Kindle OS and its various functionality.
Let's have a look.
Start by tapping on the gear icon on the very top right of your Kindle screen. You'll pop up the settings toolbar: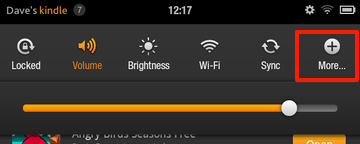 At that point, tap on "More" and scroll down on the resultant Settings list to find "Device". Tap on it and you'll see all sorts of interesting information about your Fire: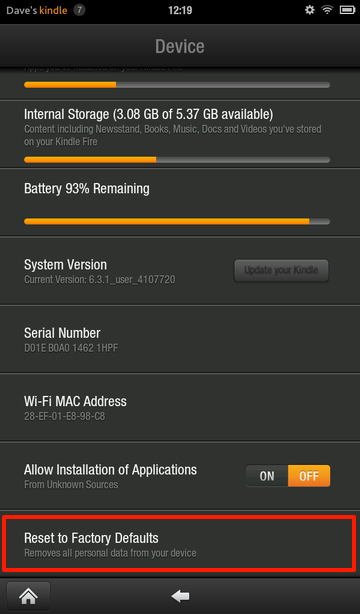 Obviously, the important choice to tap on here is "Reset to Factory Defaults". Tap on it.
Now you'll be asked if you really want to reset your device: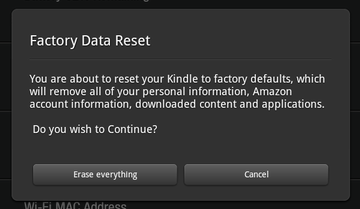 You do want to continue, don't you? Good. Tap on "Erase everything" and away it goes…
Good. Now it's not associated with your Kindle account on Amazon. But there's more…

All of your files, books, movies, PDFs, etc are now wiped. One more step…

Finally, after a few minutes of whirring away, it's done. Time to restart the device:

The Kindle Fire now does a full system restart and when it's back up, it's in exactly the state you'd see if you bought a new one and pulled it out of the box: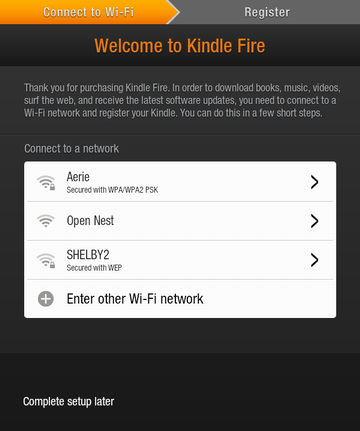 That's it. Now you're ready to sell your Kindle Fire and buy a Nexus 7. One requirement, though: do come back here and let us know what you think of the Nexus. So far, it looks terrific from what we've read about it, but we haven't gotten any hands-on experience yet.