My Dad gave me his old Windows computer and I want to access his data, but don't know his password. Is there a tool, program or hack where I can reset or delete his password and get into his account?
For what I hope are obvious reasons, there are situations where knowing how to bypass a Microsoft Windows account password or general login security is problematic. On the other hand, though, there are definitely situations where it's reasonable and necessary to be able to log in to an account without the required PIN, fingerprint or password. Certainly some people do legitimately forget their passwords, and if an employee leaves a company there needs to be a way to reset that computer.
Your situation sounds familiar too: You buy or inherit a computer and rather than reformatting it and installing apps and customizations from scratch, want to just log in and clean up unwanted files and programs. To show you how to do that, I'm going to demonstrate a program called PCUnlocker. It's not free, but it's quite reasonably priced for a specialized program of this nature: $19.99 for the basic utility.
With PCUnlocker, you can either "reset" a password or "bypass" a login password. The difference being whether the local computer password is synchronized with a master Windows online password or not: If it is, bypassing the login works once, then Windows resets the account password to the online password, while resetting decouples the local PC account from the online password entirely . In neither case can it change the master online password, but that doesn't sound like an issue in your situation.
The basic idea is that you need to create a bootable device or disk with the PCUnlocker software on it, then it can burrow into your standard Windows 7, Windows 8, or Windows 10 system OS and make the change or changes required. So it's a bit technical!
The first step is to download the install disk image. It's what's known as an ISO disk image file. Once you've grabbed that, you'll have it and some rudimentary instructions sitting on your PC (you can safely use a different PC or the same PC with the locked account, just logged in to a different account):
To burn the ISO onto an external CDROM, DVD or, easiest, USB flash drive, you'll need a second program called ISO2Disc which is a free download from Top-Password, makers of PCUnlocker:

Easy enough to download. I decided to burn my recover image to a USB flash drive [which, I will note, requires the "Pro" version of PCUnlocker which is $29.99 instead of $19.99. With the less expensive version you can burn to a CDROM instead. The process is identical]. Once launched, the program's quite easy to work with, as you can see:
The first line shows the ISO image that I'd previously downloaded (that's PCUnlocker) and the second portion identifies the output device. I used all the default settings. When ready, a click on "Start Burn" gets you going…

Well, not quite. I need to confirm that there's nothing I want to save on the USB flash drive. There isn't, so a click on "Yes" causes the ISO disk image to be copied, bit by bit, onto the little device. After a few seconds, this pops up: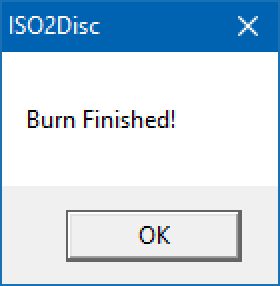 Believe it or not, that's all the hard work done. You can safely quit the iso2disc program, you're done with it.
Now all you have to do is reboot the target Windows PC with the CD/DVD in the disk reader or the USB flash drive inserted into the USB plug. Most all PC computers are set up so that they'll automatically boot off a disc or flash drive before they try to boot off the hard drive (for just this sort of reason), so it'll do the right thing.
Note: If it insists on booting into the regular operating system, then reboot and hold down F10. Then you'll need to go into the basic i/o system (BIOS) and change the order of boot devices. A bit tricky, I have a tutorial on how to accomplish that coming up soon. In the meantime, do a quick Google search to learn how to work with the particular BIOS included with the target computer to make sure you don't do anything wrong. In 99% of situations, however, you should be able to ignore the BIOS completely.
Once it restarts off the PCUnlocker device, instead of the usual login screen, you'll see the program itself pop up:
(these last few screenshots are actually photographs of the computer screen. Sorry they're a bit harder to read!)
Notice on the top section you have the option of resetting the local admin or user password or resetting what's called the Active Directory Password. Stick with the default and it'll be that one-time change, as discussed earlier.
The second section you should definitely leave alone if you're not a Windows expert.
And, finally, a list of accounts and their password and login settings. Notice on this computer there are four accounts but (as shown in the "Disabled" column) two are disabled, including Guest. The account "Dave", however, is tied to an email so that suggests it's a Microsoft Live account. That's the one I want to change, so I select it and click "Reset Password" below.
A window pops up confirming I want to reset the password:
Notice that the default password it's going to use is Password123. Obviously easy to hack but it's a one-time password so there's no need for it to be more secure or harder to guess. To proceed, click "Yes".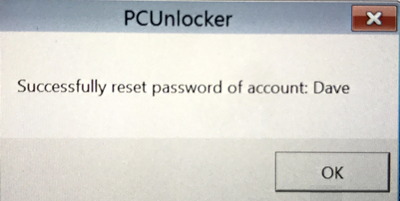 Success! Now all you have to do is restart the computer again, which is easily done by clicking on the "Restart" button on the lower right of the PCUnlocker window. The computer restarts (you can remove your media at this point if you want, but it's smart enough to know it should restart from the hard drive into the real Windows OS) and you're prompted to log in again, as usual:
This time, however, the password is a known quantity: "Password123". Use that to log in, then go into password management and add a PIN, fingerprint or otherwise salvage whatever files and data you need from the account.
Mission accomplished!
Learn more about PCUnlocker and its different versions at top-password.com.
Disclaimer: Top Password supplied us with an enterprise license to PCUnlocker for the purposes of this review.