I dig Twitter and use it a lot to stay in touch with friends and chat, but recently I've been noticing that if I mention certain words or phrases that I get "@" replies from people I don't know, generally trying to sell me things or convince me to visit their Web site. I don't want this spammy pollution in my twitterstream. Can I report them as spammers if I'm using the Twitter app on my iPhone?
The day that spammers realized that it's straightforward to create a tool that monitors the public twitterstream for certain keywords and respond to those twitter users with an automated response is the day that Twitter began its slow downhill slide, unfortunately. Known as "bots" (short for robots) these apps are really making a mess of Twitter and can at times make it darn frustrating to use the service at all.
You're not the only person who experiences this, however, and it seems like some of the bots are even savvy enough to only respond to Twitter users who have certain account characteristics (the alternative would be two bots that @reply each other non-stop!). If you've a lot of followers, you might see more twitter spam than the rest of us.
Since you're using the iPhone app, here's the basic strategy for reporting a Twitter spammer when you encounter one: hopefully it's one step towards at least slowing this problem down and ensuring that the vast majority of tweets received are legit…
Here are the @replies (pronounced "at-replies", btw) that I received after I tweeted about my new iPad 2: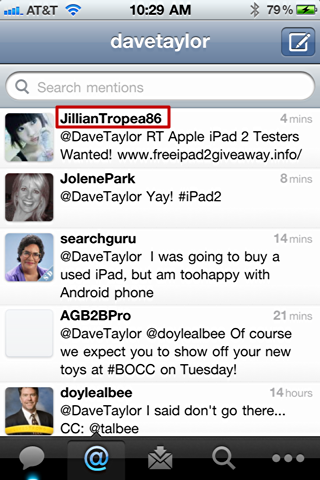 I know everyone else, but that first person, the bogus spam about "iPad 2 testers" (really? are people that stupid?) is from someone I don't know and definitely has the earmarks of a spam bot. I'm going to report it.
To do that, I tap on the Twitter account name, as highlighted with the red box.
Doing so brings me to that individual tweet and a bit more information about the twitter "user":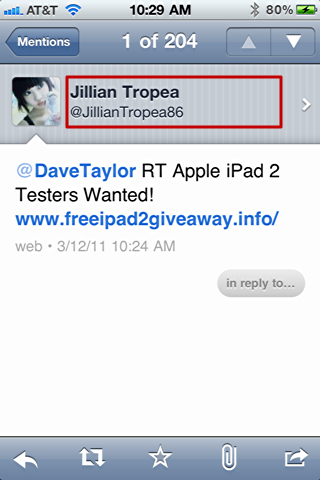 Tap on the account name again (section highlighted) to learn more about them:
Look at that. No followers, no-one they're following, but 67 tweets. What's betting that each and every tweet is exactly the same as what I received? Definitely a twitter spambot.
To report them as a spammer, you need to scroll down to the bottom of this particular page of account information, looking for the "More" option:
Tap on "More" and additional choices pop up:
It's the very last option, "Report Spam", that we want. Tap on it.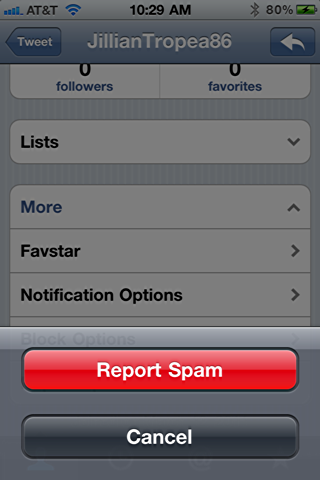 Yup, a single tap on "Report Spam" and it's see ya later "Jillian".