I played hooky today and came to the Custom Electronics Design and Installation Association (CEDIA) trade show and exposition in Denver, Colorado to see what's new. Sadly, not much. If you're a wirehead this is a cool place to visit, since much of the action is about flexible HDMI cables, very high quality speaker cables for recessed and invisible speaker systems, and lots of subwoofers for high-end home theater systems.
Nonetheless, I did see a few cool gadgets and gizmos that are worth writing about…
Nothing impressed me more than the brand new Internet-ready Logitech Squeezebox Boom all-in-one music player. A while back I looked at the Polk Audio I-Sonic music player (see Review: Polk Audio iSonic XM Radio/HD Radio System) and, well, I liked it, but didn't like its price point. $599 for a high-end clock radio seemed a bit out of line, and, worse, it was kinda ugly.
The Logitech device, introduced this week at CEDIA, trumps the iSonic with features, it's smaller, has a less cheesy looking display, and is far less expensive too. At $299, a device that lets you listen to any music on any home audio player (via wifi), Internet Radio, subscription services like Pandora and Rhapsody, and is XM ready, it's a steal!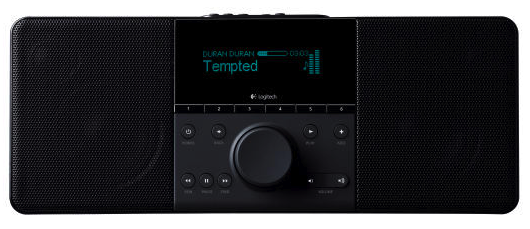 Logitech's Squeezebox Boom
I'll quote just a snippet from their press release: "With the Logitech Squeezebox Boom all-in-one network music player, you can listen to your digital music in the kitchen, the bedroom or any other room in your home – without needing to attach external speakers. Just plug the new Logitech network music player into a power outlet – there are no additional wires to connect. Then, using your existing home network, you can listen to the music you love from the personal collection on your computer, your favorite Internet radio stations, and subscription services such as Rhapsody, Last.FM, Slacker, Pandora and Sirius – even when the computer is off."
Even more interesting to me, though less mainstream, the
Logitech Squeezebox Duet
offers a superb low-profile solution for people wanting to access all of the server-based and Internet based music services but already have a stereo system accessible. That's exactly the configuration I have and compared to the more expensive — and larger —
Sonos
alternative, it's very nice. At $399 retail (
$386 at Amazon
) it's a darn cool gizmo and I want one!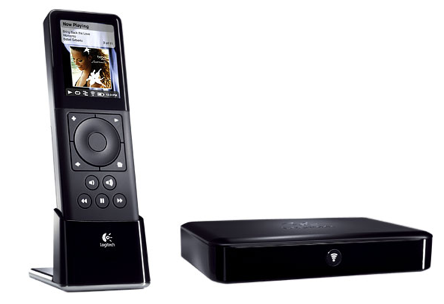 Logitech's Squeezebox Duet
By the way, the remote on the Squeezebox Duet is very slick too, with a color display and controls very reminiscent of an earlier iPod device. Simple and straightforward.
Sadly, that's about all I found compelling here at CEDIA. Remember, though, I go to the
Consumer Electronics Show
every year too, so a lot of the TV's, projection systems, etc, I've already seen before. Nonetheless, with a show that's focused on wood frames around those fancy HDTV units, theater-like curtains, hidden speakers and high end recliner chairs for the true home theater experience, well, there aren't that many gizmos to go around.
Oh, one more wierdness: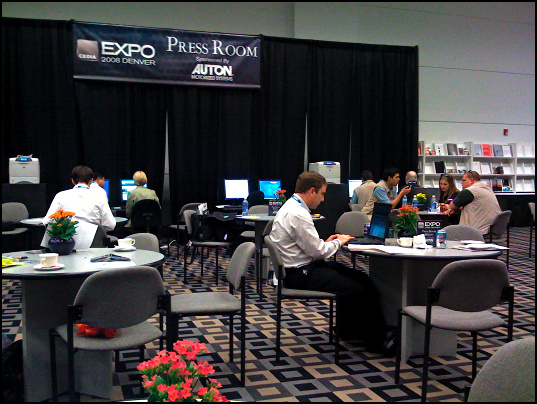 The Press Room at CEDIA: Where are the bloggers?
In the press room at the CEDIA conference, I was the only person blogging. I checked three times and saw reporters watching movies on their computers, sending email, etc, but nary a sign of weblogs. Which is weird.