I'm really liking Ubuntu Linux but miss Google Chrome. Firefox just isn't cutting it for me. Can I replace Firefox with Chrome in Linux? If so, how?
While completely eradicating Firefox from your Ubuntu Linux installation is rather a bit of overkill – there's not much reason to just delete the default Web browser, and it'd probably resurface after your next system update anyway – there are some ways to make it recede into the background. Google does indeed have a version of Google Chrome that works on Linux and it even uses the same shared bookmark and history mechanism (once you've logged in) that the Windows and Mac version does, so synchronized bookmarks. Nice!
Firefox has a great history, however, and there's still a team of developers doing their best to keep it updated with the latest standards, security issues, features and capabilities. Don't be too quick to toss out that bathwater and baby! 🙂  And yet, I completely get your preference for Chrome; that's my default browser on every computer I use nowadays.
So there are really three steps to what you want to accomplish: download and install Chrome, then replace the Firefox shortcut on the Launcher with a Chrome shortcut, then ensure that your default Web browser is set to Chrome.
Ready? Let's start by launching Firefox and going to google.com/chrome: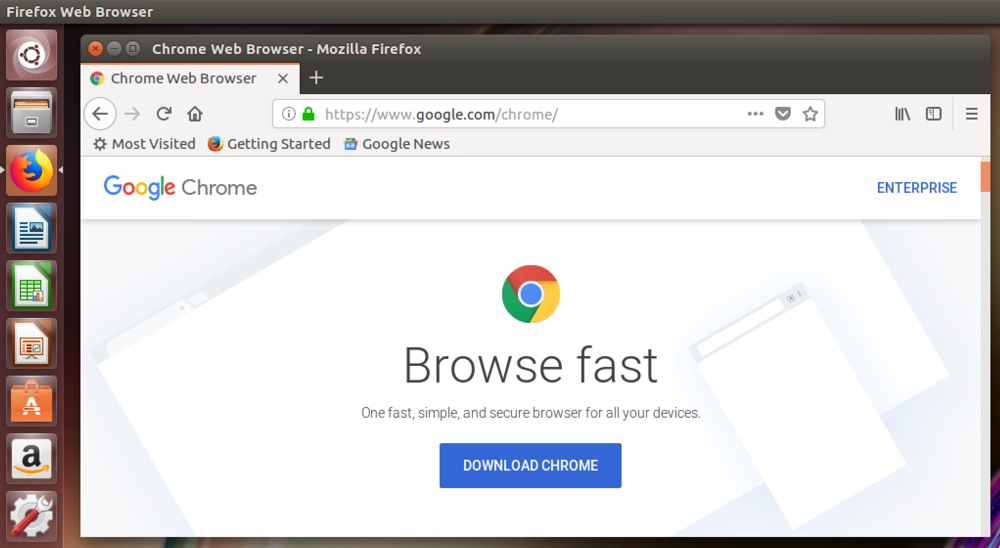 Easy enough to proceed, just click on the blue "DOWNLOAD CHROME" button!
Once it's downloaded, double click and you'll start the somewhat Byzantine installation process (this is the one area where Mac and Windows still have a leg up on the Linux world, in my experience).
Eventually, you'll have it installed and can launch Chrome. How? Ah, that's a good question because the app doesn't just show up on your Desktop and there's no Start menu, right? Instead, do a quick search for "chrome":
Once you click on it to run, it'll show up in the Launcher on the side as a running program.
Right click on the icon in the launcher and you'll see a small menu of options. It's the last one you want to choose:
Just about done. Now get rid of Firefox by simply doing the same thing – a right click on the app shortcut in the Launcher – but this time choose "Unlock from Launcher":
Done. Oh, except one more step, setting Google Chrome as your default Web browser. That's most easily done within Google Chrome; just go to Settings and scroll down until you see this:
Don't want to muck about in the Settings in Google Chrome? Okay, there's a system-wide settings panel you can get to too. In the Launcher search area last used to find Chrome post-install, search for 'details' and choose the System Preference. Here's what you'll see:
Simply change "Web" to the newly installed Google Chrome and you're done.
And that's it. Enjoy your Linux explorations!
Pro Tip: While you're here, do check out our extensive Linux help area. I've been writing about Linux for many years…