I forgot the code to unlock the maximum volume limit on my iPod nano, is there some way to hack around it or otherwise get rid of it? I can't even hear my music when I'm on the bus!
First off, a parental disclaimer: if your folks have set the maximum volume limit on your iPod then you really should talk with them about changing it. Honestly, a lot of kids are finding that their hearing is taking a hit from all the loud music and having the speaker shoved into your ear with an earbud, well, that's even worse. Before you decide to change it, can I suggest you read this article: Watch the Volume on your iPod. In it the researcher says:
"Maxing out the volume on a typical MP3 player — such as the popular Apple "iPod" — for anything more than five minutes a day can permanently damage a listener's hearing."
Still want to proceed? Well, okayyyyy….
If you know the code, you need to turn the iPod on but pause the music, then go to Settings –> Volume Limit and enter the combo by using the click wheel. Then move the maximum level to your desired point (or all the way to the right to disable it) and press the center button to accept the new setting.
If you don't know your code — which is why you're reading this article in the first place, I bet — then here's the bad news: the only way to get around the combination is to restore your iPod to the factory defaults, which means that it'll wipe out all your music, all your videos, photos, games, anything you've put on it. It'll end up as if you'd just pulled it out of a box, brand new.
If you can deal with that, which shouldn't be too bad if you have the disk space on your computer to do a full sync and double-check that all the content on your iPod is mirrored on your Mac or PC, here's how you restore the iPod to its pristine factory state.
Step one is to download iTunes, the very latest version, onto your computer and install it. Back up all the content from your iPod onto your computer using the program and double check that it worked so you don't end up losing your favorite songs and material.
Click on your iPod name on the left panel and you'll see a summary view of how much space you have on it, what kind of material you have taking up space, what version of the iPod software you have, and so on. On that screen you'll also see a Restore button in the middle of the screen, as shown in this image:

Once you click that, you'll see a warning:

If you're good with that, click on "Restore" and you might find that you need to download a newer version of the iPod software. If so, you'll have four options: "Restore" using the same software version already on your iPod, "Use Same Version", which uses the same version even though there's a newer one available, "Use Newest Version", and "Restore and Update", which is the choice you should make of these four. Either way, you'll next see: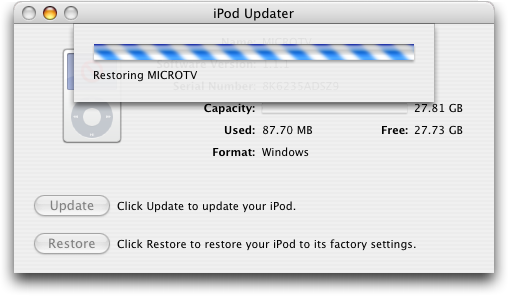 And, after just a few minutes, you'll be looking at the initial screen of the iPod configuration setup sequence: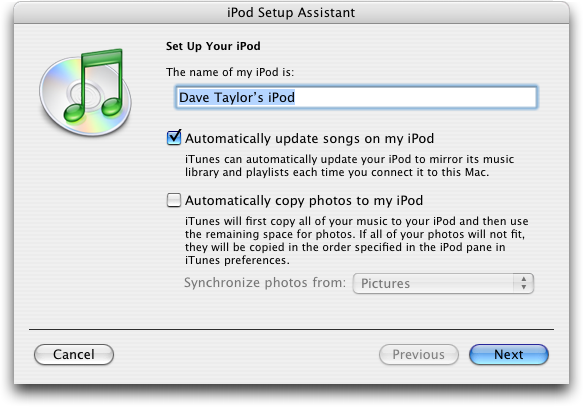 Now you should be able to pour all your music, audiobooks, video, photos, games, etc etc onto the newly restored iPod and enjoy it all without any volume limit.
Please, though, be careful. Immersive music is one thing, but losing your ability to hear is something else entirely. It's not worth it. Really.