It drives me crazy! I try out a new show or movie on Netflix and then I have to see it in my "Continue Watching" list forever. Is there some way to remove it since I am NEVER going to continue watching it??
You're by no means the first person to observe that the "Continue Watching" list on Netflix really needs an edit feature. The logic behind it make sense; if you take a break from a series, you want to come back to it without having to search or hunt, right? But that assumes people love everything in the massive Netflix archive and will never want to just bail and not return to watch it later. It kind of makes me wonder if Netflix developers actually watch their own streaming library, but that's another story 🙂
Anyway, it turns out that there is now a way to remove movies and TV shows from your Netflix "Continue Watching" list, but you must use the mobile version of the Netflix app, you can't do it from the Desktop, your Web browser or most other interfaces (since there are a zillion ways to connect to Netflix). Why? Dunno, maybe those Netflix engineers all watch on their smartphones??
Let me show you, step by step. I'll start by showing my Continue Watching queue from the Web browser interface to Netflix:

Some really good content, but that show The English Game about the history of soccer in the UK? Rather flat and I gave up after a few episodes. Which means I really don't want to see it in my "Continue Watching for …" list forever.
I can hover over that particular program with my cursor…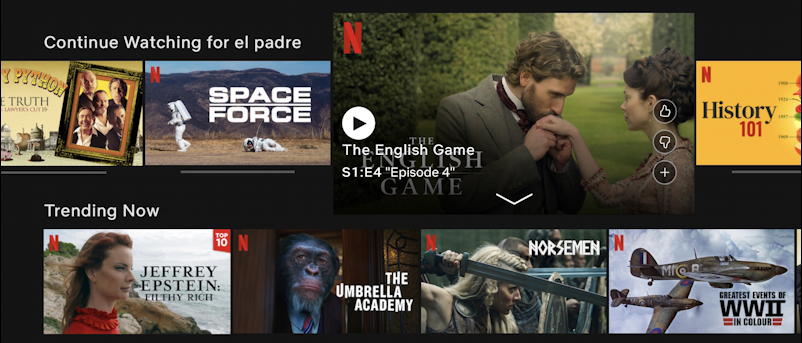 I can even click on the down triangle "V" to expand the window and access various controls and options: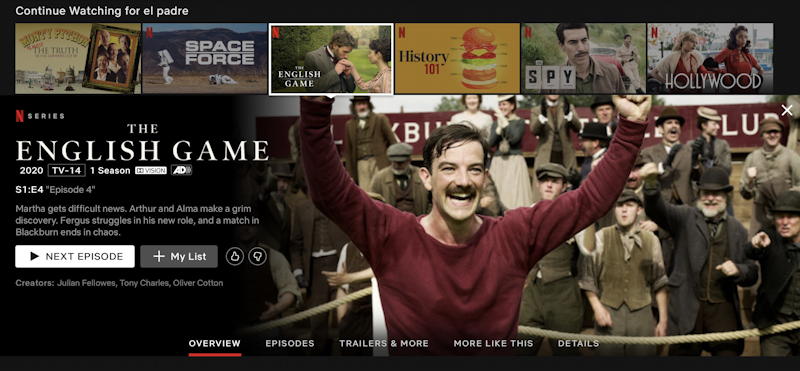 But while you would think it'd be logical to have a "remove from list" option along the bottom, it's NOT there. In fact, there's no way from within this particular Netflix interface to remove a program or movie you'd rather not continue watching.
If we switch to Netflix for Mobile, however, the story's different. On my Apple iPhone, here's what the Continue Watching queue looks like within the Netflix app:
As we mobile users have long since been trained, the three dots piled one atop the other offers access to a menu with a single tap, right? So if I tap on it immediately below The English Game thumbnail, here's what happens: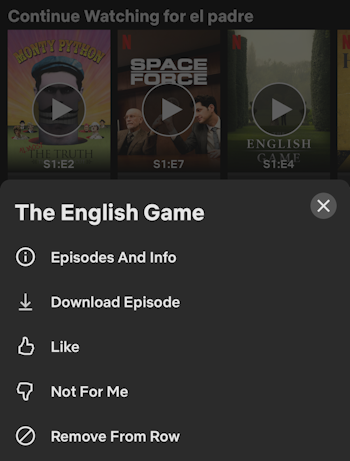 See it on the bottom? It's really a different interface in so many ways, where the thumbs up and thumbs down actually make sense (did you know that's what they were for in Netflix?) and – ta daaa! – there's a "Remove From Row" at the bottom.
Cool. Okay. Tap on "Remove From Row" and you'll just have to confirm you don't want this show or movie to hang around your Continue Watching forever:

And that's it. A tap on "Remove" and it vanishes. Everywhere. Even in the Netflix Web browser on your laptop:

Nice. Why it's so convoluted if you're not using mobile is a question I cannot answer, but now you know how you can remove content from your Continue Watching for list. Go to it!
Pro Tip: I've been subscribing to Netflix since they mailed DVDs in little red and white envelopes. I've also written a lot of Netflix help articles to help you get the most out of the popular service. Please do check 'em out while you're here. Thanks!