My iPhone 6 keeps running out of space and while I know I can remove apps, music and movies, do I need to worry about all the data that Web sites store on my phone from within Safari on iOS 8?
While it's true that many Web sites sneakily store data on your computer or device when you're browsing and using their site, it's rarely more than a few kilobytes of space, so unlikely that's a huge contributor to you running out of space on your iPhone 6. More likely is that some of the apps you have are storing huge amounts of data that appear as "Other" in your iTunes disk space usage indicator, something you can ascertain by checking out this tutorial: What's "Other" and why is it using space on my iPhone?
Still, it's always interesting to know what Web sites are leaving presents behind in your browser space, so let's have a look.
The easiest way on your iPhone is to go to "Settings" in iOS 7 or iOS 8: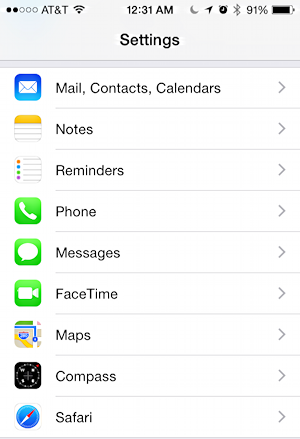 Look for "Safari", as you can see at the bottom.
Tap on it and swipe down to find the following:
You can see that I suggest enabling "Do Not Track" and "Fraudulent Website Warning", but what we want is at the very bottom, the "Advanced" link.
Tap on it. It'll show you what's up: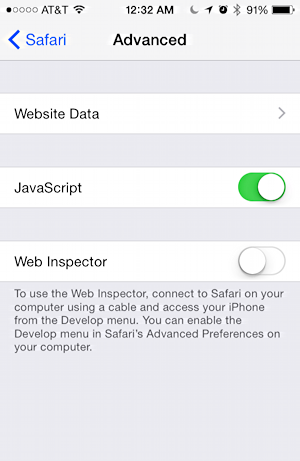 Tap on "Website Data" to reveal what sites are dropping information on your phone: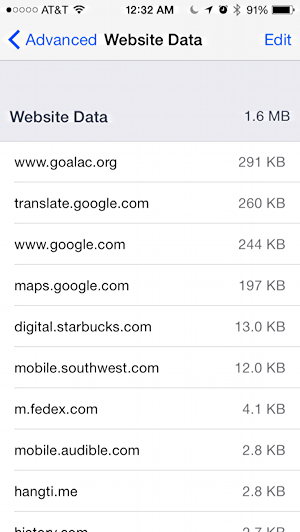 Conveniently organized by size, you can see that www.goalac.org — whatever that is — is the biggest culprit with a fairly modest 291KB. In total, all of the combined website data is 1.6MB. Not much space even on the smallest mobile device.
To delete any of these, simply swipe to the left and a Delete link will appear: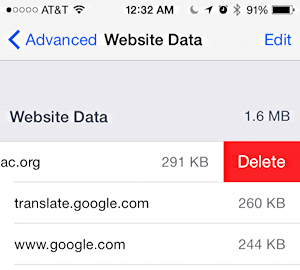 Tap on "Delete" and that space has freed up. I'll get rid of a number of these, though really, it's all so tiny compared to my movies and apps. Still, when I'm done, here's what it looks like: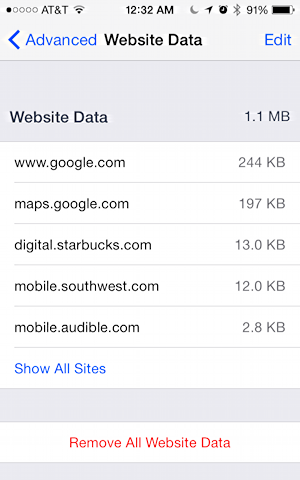 From 1.6MB to 1.1MB. Not much savings, but that's okay. At least know you know how to figure out what's going on!