My Windows 10 computer included a free one year subscription to McAfee Anti-Virus. I don't like it much at all. How can I get rid of off and remove it from my PC?
Until a few years ago, anti-virus and anti-malware / spyware software was the exclusive purview of third party developers, companies that were on a definite treadmill, a weird symbiotic relationship with hackers where the bad guys would innovate new ways to sneak onto your computer and they'd have to come up with ways to identify and stop the malware. Then Microsoft finally realized that as the creators of Windows, it really needed to be in the picture too. Enter Microsoft Windows Defender.
Suddenly the picture changed because you no longer needed to pay for expensive annual subscriptions to keep your computer safe from most all threats. That's when the anti-virus companies started to get more in your face about threats, protection, upsells to other software they sell and more. Anti-virus went from being easily forgotten behind-the-scenes software to something that popped up multiple times a day with warnings and other anxiety-provoking messages.
It's no wonder people get fed up! Unlike many anti-virus programs [we're looking at you, Norton] one great benefit of McAfee LiveSafe is that it's quite straightforward to remove and you don't even need to use a special uninstall tool to do so!
One of our Windows 10 systems has an expired subscription, which is subtly indicated when the program launches: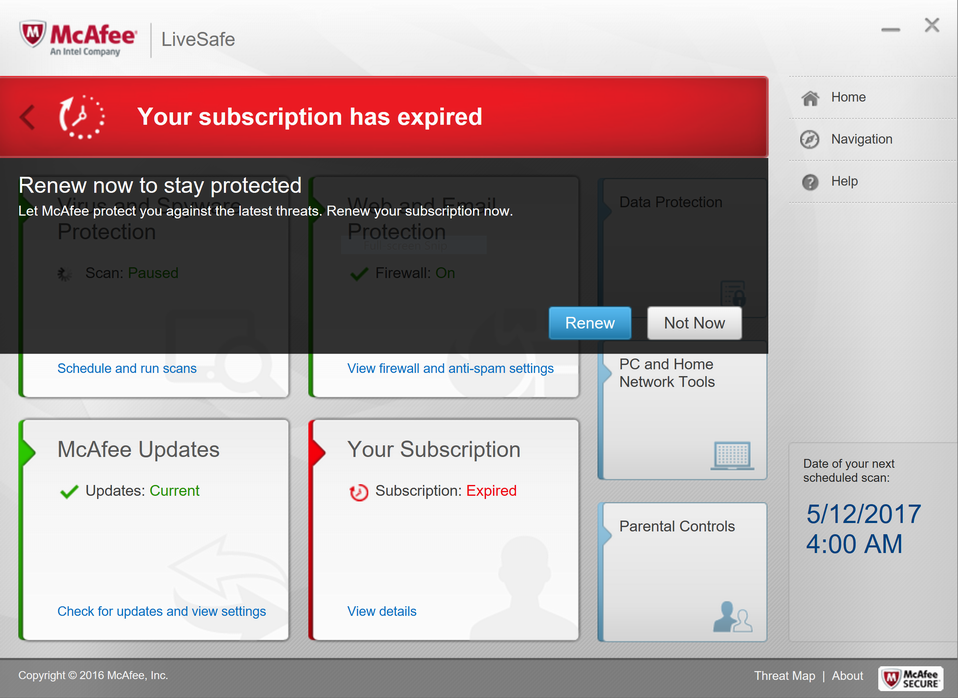 At least there's no skull and crossbones or "YOUR COMPUTER IS almost INFECTED!" messages, right? Still, yeesh.
To remove McAfee, quit the program and go to the Windows 10 search box and type in "remove":
You can see the first match is what you want: "Add or remove programs". Click on it or tap it to launch that particular system setting.
Once it launches, type "mcafee" into the little search box in the middle of the window itself:
There's the program – and its helper companion McAfee WebAdvisor. Let's remove the first one, as you might consider keeping WebAdvisor if you aren't using a Web browser [like Google Chrome] with built-in malicious site warnings.
Do that by clicking on the name "McAfee LiveSafe" and two buttons will appear:
Don't click on Modify. It's greyed out anyway! There's always one in every crowd… 🙂
Instead, click on "Uninstall" to begin the removal process.
Proceed? Okay, click on "Uninstall" once again to move forward. Now you'll be prompted to decide what software you actually want to remove:
As I said, you can remove everything, or you can just focus on McAfee LiveSafe. Check the appropriate boxes and click "Remove" on the lower right. (Note: If the button's still greyed out it's because you haven't checked any of the boxes)
Meanwhile, McAfee will see that it's being removed and pop up yet another one of its ubiquitous warning messages:
Nice of them to remind you that if you're still paying, you can still install the software again. Um, if I delete the software, wouldn't you think that automatically cancels a subscription? Best to check on their Web site for that answer, I think.
Anyway, you can ignore the PC at Risk message (other than realizing that it's true; you really don't want to run without any anti-virus software. But you can always enable Windows Defender easily enough).
Eventually the uninstall completes and just before it goes, McAfee asks for you to indicate why you're leaving:
My suspicion is that there are some help pages that'll pop up depending on how you answer this. Don't want to give 'em the data? No worries, click on "No thanks" and you're done.
Well, almost. You still need to reboot, as the program reminds you:
My recommendation is to click "Restart now" and get it over with. This reboot seems to take longer than usual too, so don't be too alarmed if it's not as speedy as usual.
Now, please, don't run even for a day without any sort of anti-spyware, anti-malware and anti-virus protection. If you don't want to go to another commercial solution, at least go ahead and turn on Windows Defender as your first line of defense.