I just read that LinkedIn is no longer supporting the LinkedIn Intro tool on iPhones and other iOS devices. Ah jeez, how do I remove it from my iPhone 5s?
Seems like just a few weeks ago I was writing up a tutorial on How to add LinkedIn Intro to your iPhone and now they've already cancelled it because of lack of adoption, presumably. There has been some negative feedback related to privacy too, which is a bit odd because fundamentally LinkedIn Intro operates the same as the service does as a Gmail plug-in called Raportive, but somehow people learning that LinkedIn was going to be scanning every message as they came into your inbox got people upset in a way that the Gmail extension never did.
Removing LinkedIn Intro from your iPhone isn't difficult, but it's hard to find where to decouple it because it operates as a separate profile in iOS, so it's not as easy as just removing an account.
Let's jump in, shall we?
Start out by going to "Settings":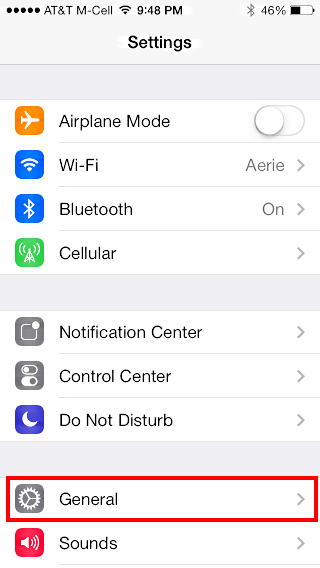 As you can see, choose "General" to proceed…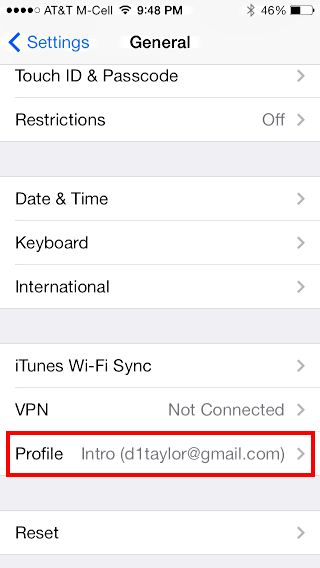 You'll need to swipe your way down a bit to find "Profile" but that's what you want. You can see my default profile is for my Gmail account. That's actually my LinkedIn Intro profile, as will become obvious in a second.
Tap on "Profile" to proceed.
See the line under "Intro"? That's your confirmation that it's your LinkedIn profile, but above it is, of course, "Intro". Between the two, it's a fairly good bet that this is your LinkedIn Intro profile. 🙂
Tap on "Remove".
Confirm that you really do want to remove the LinkedIn Intro profile from your Apple iPhone 5s by tapping on "Remove".
Now it'll confirm you have administrative access to this device:
Once you've done that correctly — and you do know your PIN code, right? — the phone will start removing the profile…
For reasons I don't understand, it can take quite a while for this to complete, upwards of a minute. I guess there's a lot going on behind the scenes.
When it's done, you'll be unceremoniously dropped back on the main screen. At this point you can either download the Gmail app and access your Gmail messages from that (which is what I do) or you can set up a new account profile and access Gmail via the IMAP interface.
Either way you're now free and clear of LinkedIn Intro.