I'm a pro auction seller on eBay and have accumulated a fair amount of money in my Paypal account. I know, I can get a check or transfer it to my account, but it'd be more fun to have it charge my Starbucks card instead, since I basically live at my local 'bucks. Possible?
Wow, where do these questions come from? I mean, there are a ton of ways you can access your PayPal balance, including a PayPal Debit Card (which I have and really like: looks just like a regular MasterCard but gives me super-easy access to my account balance).
Like you, I also spend a lot of my time in cafes, and Starbucks is definitely in the rotation, sometimes even 2-3 times in a single day! So I also have a Starbucks card, actually one of their frequent caffeinators "gold cards", and with a bit of investigation, I figured out that you can indeed reload your Starbucks Card with money in your PayPal account.
To accomplish this, you'll need to register your Starbucks card on the site and have an account set up that owns the card. You can do it all by going to Starbucks.com and clicking on "sign in" on the top right of the home page, if necessary.
Now when you log in and have connected your card to your account, you'll see something quite similar to what I have: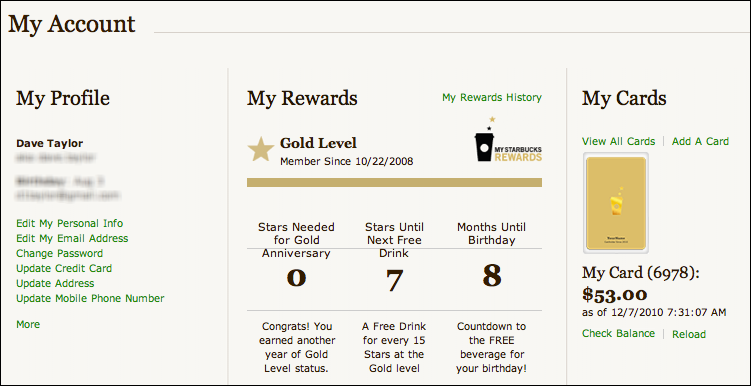 You can see I definitely visit Starbucks based on my card remaining at the gold level for another year. Really, they should send me cool stuff as a thank you for my patronage, like a fancy coffee machine or something! 🙂
Below the picture of the gold card, find the small text link "Reload" and click on it…
Pretty easy to figure out how to proceed from here, I'd say, but let's go through the steps. I'll chose an amount – $50 – and then click on the PayPal logo. It immediately moves me to the Paypal site where I'll need to log in to my PayPal account…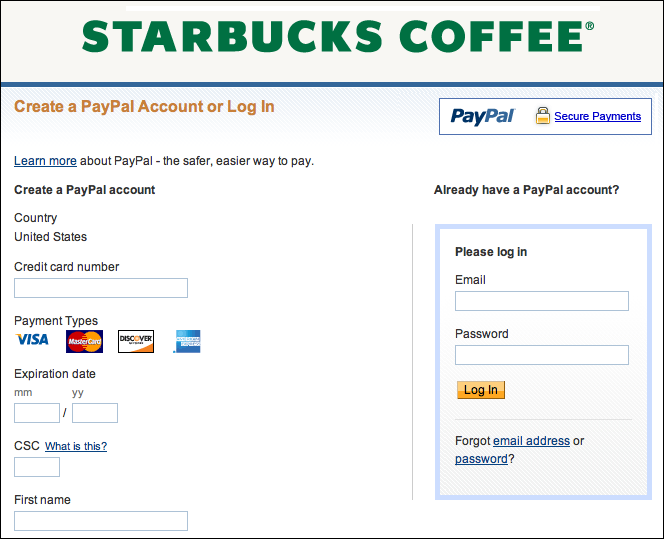 Logged in safely to PayPal? Then you'll go straight to a transaction summary page: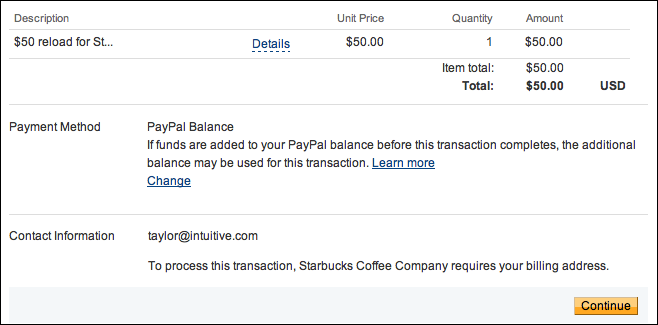 Looks right to me, and I'm on the correct PayPal account, so I click on "Continue" to proceed…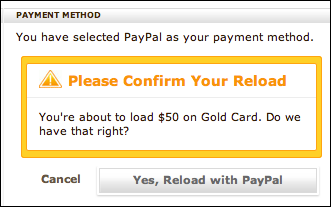 Dig those groovy confirmation dialogs. I do want to proceed by reloading my Starbucks card from my PayPal balance, so I'll click on "Yes, Reload with PayPal", which takes a few seconds to process, then: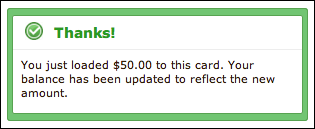 Score! Of course, if you want to help out the AskDaveTaylor coffee fund, you also have the splendid option of
buying me a cup of coffee
too. Just click and contribute, and thanks very much!