My Dad gave me a spare external disk drive and while it's something I imagine will be useful, it's really slow to work with. My Mac pal said it's because it's formatted for a PC and that I need to reformat it to be in Mac OS X disk format. How do I do that?
Your friend is correct. While the Mac works perfectly well with Windows formatted disks it works a lot faster if you use a drive that's formatting for the Mac OS X system. There are a couple of different Mac-friendly disk formats, but what I recommend is what's called "journaled" "extended" format, which minimizes the risk of the disk being corrupted if it's interrupted during a data write or accidentally unplugged.
I'm sure it's obvious, but the first step to reformatting your disk is to make triple sure – not just double sure – that there's nothing already on the drive that you want to keep, because a reformat is a completely destructive process where every single bit is overwritten. If there's even the tiniest chance you might one day want to have some of the data then copy it now, before we proceed!
All backed up and ready to proceed?
The first step is to plug in your drive, then go to "System Preferences…" on the Apple menu. Look for "Disk Utility":


Once that starts, it'll show you all of your hard drives: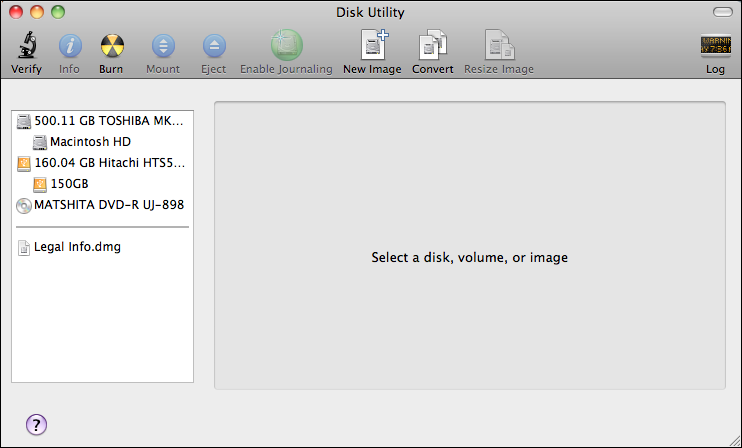 This step is a bit dangerous, truth be told: make sure you pick the external drive. If there's any doubt at all of which is which, unplug the drive and watch which vanishes from the listing. Plug it back in then select it: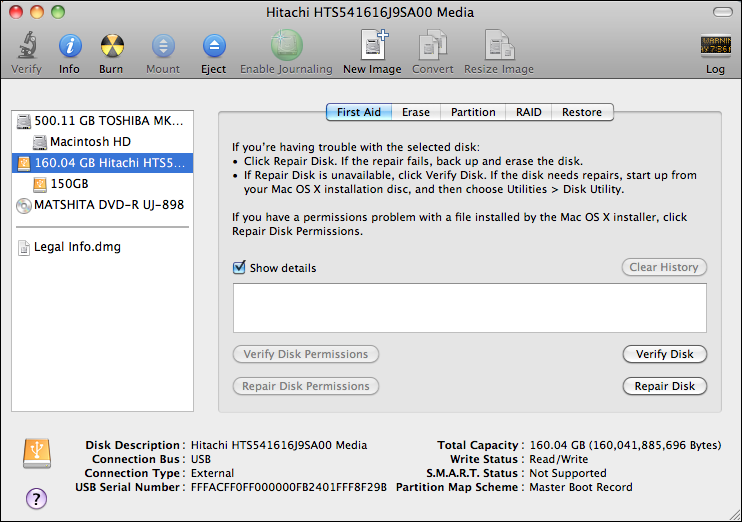 First you'll want to click on the "Erase" tab along the top, then let's have a closer look at the information on the bottom of the window:



Ready to go? Click on "Erase…"



Here's where you want to select from all the different Mac-friendly disk formats. As I said earlier, I recommend Extended (Journaled), as shown.
Give your disk an interesting or memorable name and click on the "Erase" button a second time…


At this point, you can select any of a variety of different erase options. Generally the lower on the list, the longer the process will take. Even the simplest, Zero Out Data, can take an hour or more…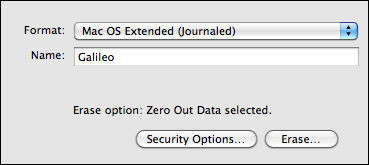 Another click on "Erase…"


And one more "Erase", and…


You can see that even with a 160GB drive, a relatively tiny external disk, it's going to take over an hour to zero out. Eventually, however, it finishes and begins the actual format and partition process:


I gave my disk the name "Galileo", in honor of its job shuttling data between computers (yes, that's an obscure reference. You can Google it if you need), and once it's done with the format process, it shows up as an external drive. A quick "Get Info…" and you'll see that it's now in the format desired: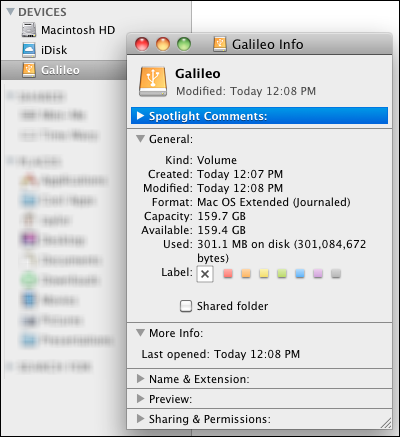 That's all there is to the process. If you wanted to switch the drive to a PC-friendly format so you can use it to exchange data between a Mac and a PC, you'd go through the same steps but choose NTFS as the format instead.